16 Weekend Events in Boston This Month That Have Nothing to Do with Halloween
Fun things to do in Boston this weekend and every weekend of the month.
Banners Kitchen & Tap

| Photo credit: Melissa Ostrow, photo courtesy of Banners Kitchen & Tap
Banners Kitchen & Tap

| Photo credit: Melissa Ostrow, photo courtesy of Banners Kitchen & Tap
The annual lead-up to The World Series has made October a near-sacred time for baseball lovers. The chilly air, apple pie, and frenzied fanfare combine for a month of intense autumn tradition. Admittedly, the Red Sox—and us devoted fans—have to endure another quiet October in the Park (author quietly mutters a Babe Ruth-based mantra), but at least there are plenty of places along Lansdowne to commiserate and dive headlong into the football and hockey season.
World Series season aside, you can't tamp down our New Englander spirit with an empty baseball diamond, no siree. We're leaning into sweatah weathah season with a passionate quest for the area's Stunning Fall Foliage and bundled-up nights of Stargazing in and Around Boston. We're also gearing up for a Boston Oktoberfest with a nautical plot twist, the cozy art of bonsai, a splash of the green fairy, and good ol' National Boston Cream Pie Day. Is it a pie or a cake? Who cares—grab a fork; it's free.
We'll update this monthly, so visit again soon. Here's everything fun to do on the weekends in Boston this October.
Drinking in Boston
October 1, 3 pm
East Boston, $12 (includes four beer samples)
Celebrate Oktoberfest with a nautical plot twist as The Tall Ship (aka the 245' boat turned oyster bar) hosts its third annual event. With over twenty local beers and live music from the Mad Bavarians German Band, this is one Octoberfest that won't leave our gluten-free friends feeling left out; East Boston's Down East Cider will be there to fill steins with October-savvy hard cider. Expect lots of oyster shucking and cornhole but start shopping now for that Lederhosen—there's a best-dressed contest!
Every Weekend
Back Bay, Cocktails starting at $10
The elusive green fairy, absinthe, proves as beguiling today as in the late 18th century, when it was first sold commercially. Though initially believed to cause hallucinations, that has long been debunked, allowing us to indulge responsibly with the glint of enchantment in our eye. Rochambeau serves specialty absinthe cocktails—under the glow of dimmed green lights, no less—every Monday through Friday from 5 – 7 pm. Green Hour, as it's called, just so happens to overlap with dollar oysters, so double down on edible folklore and chase that green fairy to the outermost edge of the chaotic weekday forest.
October 14, 12 pm
Chestnut Hill, Free Admission (movie tickets not included)
Will there be friendship bracelets and Taylor-themed cocktails? Absolutely. Together with Showcase Superlux, The Street Chestnut Hill is throwing a Taylor Swift The Eras Tour film release party, and the lounge area is set for live DJ music, sipping, nibbling, and—yes—creating more friendship bracelets. The movie premiers Friday, October 13 (as if you didn't know), and the lounge will be bejeweled and ready for fun on Saturday, October 14, starting at 3 pm. So, grab tickets for the noon show, then keep the celebration going.
Every Weekend
South End, Brookline & Cambridge
If there's one DIY project we can all get behind, it's building your own wine flight. Each Barcelona Wine Bar location boasts about 500 wines—from Spain, as the name suggests, but globally as well—with a keen eye on sustainability and natural wine-making practices. About 40 wines are by the glass within the near-endless wine cellars, and you can choose any three to create a flight of three-ounce pours. From small vineyards to vinos that mirror the colors of autumn leaves, this is a fun way to explore your wine preferences or hone your burgeoning tasting skills, so order a few and make a night of it.
Music in Boston
October 7, 2 pm
Back Bay, Free
Get ready for one of the coolest performances you'll see this season. The iconic Celebrity Series is taking to the outdoors, this time along The Charles River, in all its autumn leaf-bedazzled glory. They've gathered one hundred Boston musicians into 25 unique jazz ensembles—each tasked with playing the same Boston-inspired setlist—simultaneously—along a mile-and-a-half stretch along The Charles. You can walk the route, following the Dudley Bike Path from Community Boating to the Esplanade walkways of Storrow Lagoon and Charles River, or hunker down, wherever you'd like, with one ensemble. It's a unique opportunity to immerse yourself in the musicians' artistic interpretations of the same songs— all while getting an early glimpse of Boston's fall foliage.
October 14, 6 pm
Cambridge, Free
Starlight Square in the Central Square area of Cambridge is an open-air shapeshifter like no other. One day, it's a farmer's market, and the next, an incognito banger. The wrap-around walls of the outdoor space create a mini-amphitheater feel, and on October 14, the stage is set for DJ Nomadik's Fall Silent Headphone Party. Join DJs Nomadik, DeeJay JL, and Rugged One for three hours of free dancing—just change the color (aka the channel) on your headphones to switch from one DJ to the next. It'll be like an open-air bazaar of disco, hip hop, Soul, and house, plus there will be a mirror-style photo booth.
October 20, 7 pm
Seaport District, Free admission
The Lady A: Request Line Tour is in town, and the Omni Boston Hotel at The Seaport is throwing a humdinger of a Boots-in-Boston' party at its bar, The Sporting Club. Along with country music, but guests can sip cocktails with a touch of southern flare, served in elegance-meets-nostalgia copper growlers. Each growler serves about five or six people and makes a great pre-concert ritual far from the sticky-floor sports bars of collegiate fame. The Sporting Club has a refined aesthetic—and an outrageously tasty pork belly carnitas platter. Plus, once you recover from all that line-dancing, pop in, again, on October 28 for their Rugby World Cup Watch Party.
October 29, 4 pm
Brighton, Free admission
If you follow the traditional New England fall agenda (stay outside until the air morphs from delightfully crisp to a frozen runny nose), then an evening of live music and knee-buckling good barbecue is just the ticket. Head to Boston Landing for free bluegrass music, and bring a chair or blanket to chill under the cozy lights. Better yet, bring along extra funds to splurge on the Sarcastic Swine food truck or cocktails from the Broken Records' hosted bar.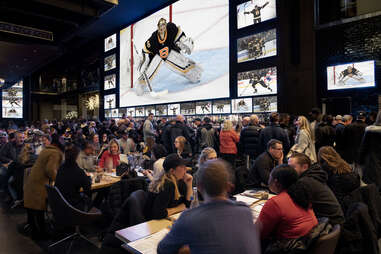 Sports in Boston
Keeping Fenway (Properly) Boston-Boisterous
Every Weekend
Fenway, Cost varies by venue
Hang out on our beloved baseball boulevard, Lansdowne Street, while licking your 2023 season wounds. Game On! is hosting NCAA Saturday with Daily Fantasy and NFL Sunday Football Funday, so order some $4 Miller High Life bottles and settle in for the day. Red Sox fans looking to soothe their souls with comfort food can stop by Loretta's Last Call for the Brisket Onion Dip or some Back Door Donuts. Of course, sometimes you just need to slather your baseball bruises with the tried-and-true salve of comedy. Luckily, Bill's Bar hosts live comedy every Friday night, and Lansdowne Pub offers a bonus night of laughs on Saturday, October 7.
October 15, 10 am
Back Bay, $25
Whether you live for a long run on the weekends or consider yourself a casual runner, Tracksmith welcomes you with open arms—and usually some post-run treats. Tracksmith Trackhouse, located on Newbury Street, is a hub for running gear, training events, and get-togethers. October's calendar offers plenty of preparatory runs for the big fall marathons—Berlin, Chicago & New York, and the leaf peepers special—a one-mile fall fun race. Registration closes at 11:59 pm on October 13. Check the calendar frequently, and you'll often find Sunday funday-style runs for all levels.
Football Food and Big AF Screens
Every Weekend
Citywide
The 2023 NFL football season is underway, and we—not surprisingly—have a hankering for crispy, saucy wings and things. South Boston's City Tap House clearly called in an all-star team to deliver dishes like Pulled-Pork Stuffed Pretzels. Chase it down with a $3 Boston Tea Party shot (white tea vodka and peach schnapps) and more Game Day at City Tap specials available during Sunday games (and Monday and Thursday, too!)
For a mind-blowing screen to watch the game on, at Banners Kitchen & Tap (adjacent to TD Garden), their claim to fame is having the biggest in-restaurant LED TV screen on the East Coast. But they didn't stop there: There are 60 additional televisions, so you can choose your screen and have a lovely kale salad. No, seriously. They have a lovely Kale Caesar Salad, but if that's a hard pass, try the Fat Rooster Fried Chicken—a crispy-hot chicken riff with ranch.
If your love of southern game day goodness gives a hankerin' for barbecue, all six locations of The Smoke Shop offer game day-only wing special: six for $10 Lemon Chili Crunch Wings, a zesty take on a football classic.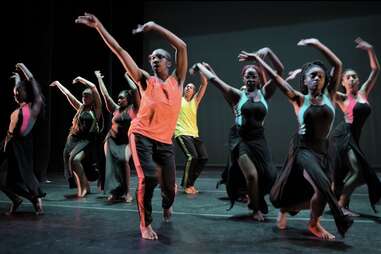 Arts & Culture in Boston
Starting October 12
Seaport District, Starting at $65
The Great Mr. Swindle's Traveling Peculiarium commingles the astonishing athleticism of acrobatics with vintage-esque absurdity. This theater-in-the-round experience is a jaw-dropping show that leaves you wondering how humans can possibly do such things; the only reprieve from holding your breath in awe are the side-splitting laughs. The set, costumes, and theme rely on a lighthearted vintage-vixen theme. Be sure to arrive an hour before the show when The Drink-Ory Garden opens, serving Peculiarium-inspired elixirs—otherwise as cocktails to us modern-day folk. Just look for the classic circus big top near Harpoon Brewery.
October 14, 8 pm
Fenway–Kenmore, Starting at $50
Over in Jamaica Plain, The OrigiNation Cultural Arts Center uses performing arts to put African and African American culture center stage—with Roxbury, Dorchester, and Mattapan's youth the driving force. In conjunction with The Huntington Theater, the young, predominantly African American and Latinx performers from OrigiNation's Professional Dance Division and fellow dance troupes will take the stage to help celebrate the nonprofit's 29th anniversary. Directed by Shaumba-Yandje Dibinga, guests can expect a powerful evening of music, dance, and spoken word. The silent auction adds a fundraising element to the night—and an opportunity to contribute to the artistic mission.
October 20, 5 pm
Somerville, $75 (and cocktails for purchase)
Tiny trees can deliver a surprisingly hefty serotonin boost. There's such a focused, meditative quality to the ancient art of bonsai, and, quite frankly, it's just oodles of fun. Somerville's Wild Child is the stuff of bookstore lore, keeping the deeper meanings and community-centric aspects of food top-of-mind—one cookbook and food zine at a time. In other words, it's already a treasure trove of top-quality Zen vibes, so there's no better place to embrace the harmony of itty-bitty scissors and teeny-tiny tree limbs. You'll leave with the basics of bonsai (potting and pruning and such).
October 22, 5 pm
Back Bay-South End, Free
Local author Caroline Kepnes rose to popularity when Netflix turned her novel series YOU, into the award-winning series, starring Penn Badgley. The next book in the series, For You and Only You, is set in Cambridge, and Kepnes is on the road for book signings. With local radio station Kiss 108 personality Lisa Donovan hosting, enjoy complimentary nibbles, cash bar cocktails, and literary chit-chat. Donovan's book club is all about local authors, and this Revere Hotel Boston Common event allows guests to connect with Kepnes—not just during the book signing but during a Q & A session as well.
October 22 preparation day for October 23, 3:30 pm
Downtown, Free
While this event is on a Monday, it's deserving of an honorary mention to use the previous day of Sunday to plan ahead. Invented at the Omni Parker House (originally, the Parker House, which also boasts the culinary honor of creating the oh-so-tasty Parker House Roll), Boston Cream Pie is as Boston as it gets. And since Monday, October 23 is National Boston Cream Pie Day, skip out of work early and hang out in the Kennedy Room of the hotel to grab free Boston Cream Pie. The only thing better is a chance to win a free night at the hotel (among other awesome prizes) during the raffle. Though the debate lingers on—since, you know… it's a cake, not a pie—Boston is perfectly comfortable letting others squabble while we devour the dreamy sponge cake, custard, chocolate ganache delicacy—our official state dessert.
Melanie Carden is a private chef turned travel writer. She's equal parts adrenaline-seeker and
Golden Girls
vibes. You can find her trying new things, thrifting for treasures, grinding it out on a trail, or lounging on a picnic blanket—Aperol spritz in hand. She's fickle about social, but the sporadic nuggets are worth the wait—cricket tacos, anyone?