This weekend, it's official: We're in peak New England fall. It starts with the Head of the Charles, then continues with the Boston Book Festival—two essential events we can't wait to welcome back to the city. But not everything this weekend is about big sweaters and lattes. We've also got a Halloween-themed double feature, the annual Boston Asian American Film Festival, and an animal tracking class (fine, bring your big sweater and latte for that one). Here is everything you must do in Boston this weekend.
Friday, October 22 – Sunday, October 24
Online
The 13th annual film fest is completely virtual this year, which actually makes it a lot easier for you to take in all the features, shorts, documentaries, filmmaker Q&As, and panel discussions, all spotlighting and celebrating the Asian American experience.
Cost: $10-$12 per screening; $100 for all-access film pass; $50 for all-access shorts pass
Friday, October 22 – Sunday, October 24
Copley Square and Roxbury
Yes, it's mostly online, but it's still epic. Join virtual sessions on topics like "Self-Publishing Your Children's Book" and "Memoir: Finding Your Way as a Black Person in a White World;" listen to moderated discussion with writers like Anita Diamant and George M. Johnson; and catch a screening and post-film discussion of the documentary A Reckoning in Boston, all in the name of reminding you that reading is awesome. Be sure to hit up the virtual marketplace, and if you crave more contact with your fellow wordsmiths, join them for the Saturday ribbon-cutting at the new Roxbury BPL branch.
Cost: Free
Friday, October 22 – Saturday, October 23
Mendon Drive-In
Halloween event planning doesn't need to be complicated: Hop in the car, head west, and snuggle up for a cozy screening of Halloween followed by Halloween Kills. Here's your additional motivation: the drive-in's beer garden features ciders and fire pits. Costumes are certainly encouraged but not mandatory.
Cost: $30 per car
Saturday, October 23 – Sunday, October 24
Faneuil Hall, Rose Kennedy Greenway & Rose Wharf Plaza
If you find yourself wandering the city and needing to blow off a little steam, we have just the thing. Archery, axe throwing, and rock climbing should do the trick—all free of charge, which should further lower your blood pressure.
Cost: Free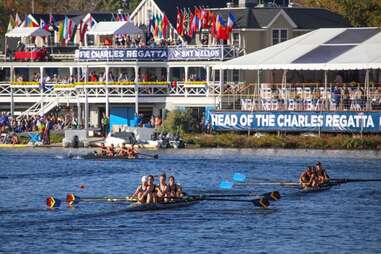 Friday, October 22 – Sunday, October 24
Cambridge
It's as iconic as it gets, and it's back in the format we prefer (last year's global remote event wasn't even, well, remotely the same.) Dress in layers—the forecast looks chilly and a little wet—and settle in for three days of cheering on thousands of the world's great rowers.
Cost: Free
Saturday, October 23
Franklin Park
Animals are all around us—and not just the ones that get into your garbage cans at night. Join Bob Metcalfe, a 30-year tracker vet, who will teach you what wild animal marks and signs to look for as you wander the city's Emerald Necklace.
Cost: Free; registration required
Friday, October 15 – Sunday, October 17
Eataly Boston
We don't need an excuse to overindulge at Eataly, but we'll take it. Take the next two weeks to sample two-course, prix-fixe lunch and dinner menus at three of Eataly's restaurants, along with $29 expert-selected bottles of wine. La Pizza & La Pasta is offering Neapolitan-style pizzas and pumpkin-filled ravioli; La Piazza has a two-course menu of fresh counter delicacies; and Terra is offering wood-fired dishes like Italian bombette and slow-cooked duck ragu with housemade pappardelle pasta.
Cost: A la carte
Saturday, October 23
LongCross Bar + Kitchen
The Oktoberfest fun should never end. So start the day drinking at 2 pm when live music cranks up courtesy of the Frau Power Band. Then pace yourself with brats and German beer, because the TubaFrau Hofbrau Band then comes on at 6 pm and oompahs for the next three hours.
Cost: A la carte
Friday, October 15 – Saturday, October 16
W Boston
You can now get the summertime drinking experience even as the temperatures drop. W Boston has paired up with Dorchester Brewing Company to launch an indoor beer garden that exclusively features 10 of the brewery's drafts, plus specialty cocktails that incorporate beers, ciders, seltzers, and sours. Add in an Oktoberfest-influenced menu of bratwursts, pretzels with beer-infused cheese, and braised beef sliders, and we can safely guess where will be finding you on chilly fall nights.
Cost: A la carte
Friday, October 15 – Sunday, October 17
The Seaport
Behold our newest public green space, which includes a unique audio installation and landscape design unlike anything else currently seen along the water. The Rocks is the first phase of Harbor Way, a one-third-of-a-mile pedestrian promenade that will create a long-overdue pedestrian link between Summer Street and the Boston Harbor.
Cost: Free
Meaghan Agnew
needs to restock her oversized sweater collection. See where she lands by following her on
Instagram
.