Enjoy December Weekends in Boston with Music, Sports, and Seasonal Pop-Up Bars
Fun things to do in Boston this weekend (and every weekend of the month).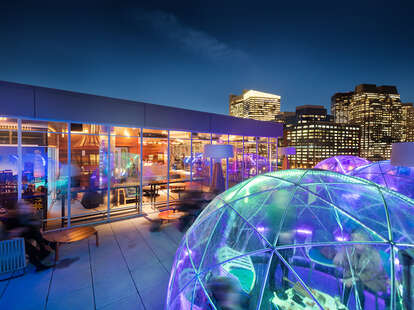 Lookout Rooftop and Bar at The Envoy Hotel

| Photo courtesy of The Envoy Hotel
Lookout Rooftop and Bar at The Envoy Hotel

| Photo courtesy of The Envoy Hotel
Green is trending this month, and not just because it's a popular holiday hue. The T is making news (again) because TLDR: the Green Line is a bit of a hot mess. However, the work is set to be done mid-month, so we can easily celebrate the most wonderful time of the year at Boston's best holiday events. Speaking of celebrations, go Green! In a fairly epic plot twist, the Celtics beat the Bulls and advanced to the IST Quarterfinals. Fingers crossed, but, regardless, we've got a busy sports month ahead with the Army-Navy game and a big-time Bruins-Rangers match-up.
In between all the go-team-go vibes, we'll be hosting out-of-town friends and family, sharing the All-Time Greatest Things to Do in Boston as part of our holiday shenanigans, and dabbling in rooftop domes, fancy AF hot chocolate service, and a blacklight party. We'll update this monthly, so visit again soon, but here's everything fun to do on the weekends in Boston this December.
Where to Enjoy Live Music in Boston
December 2, 7:30 pm
West End, Starting at $130
Doja Cat takes the stage at TD Garden with special guest Ice Spice, and the hottest ticket in town is set to be a spectacular sensory overload. Scores on Canal Street is offering a 20% food discount with proof of concert ticket purchase, so stop by for some pre-concert fuel like the Title Town Burger with a smashed patty, onions, and bourbon aioli. Tickets or not, it's the right vibe for Doja Cat fans on the first Saturday of December.
December 15, 10 pm
Beacon Hill, Free
Bust out that fluorescent outfit hiding in the back of the closet; Alibi Bar & Lounge is hosting its monthly blacklight party. Every third Friday of the month, they gather the very bestest ever DJs and special effects to create the perfect blend of mayhem and magic. Alibi occupies the old Charles Street Jail, specifically where the drunken revelers were held, so obviously, the late-night hangs here are infused with the spirit of age-old mischievousness. The décor is proper moody with red and black leather throughout and even celebrity mugshots. Along that theme, of course, there's a photo booth to capture those late-night laughs.
December 30, 9:30 pm
West End, Starting at $28.40
People—it's happening. Cue the guitar and tiny flower vibes. In fact, cue all the vibes because San Holo is non-discriminant in his fluid use of musical genre. You'll ride the waves of acoustic, EDM, and beyond as he strings them together like a seamstress with a DJ mixer. There's no denying San Holo's instinctual ease, and there's no better way to close out 2023 in Boston than a night of epic music for under $30. At that price point, you can splurge on some tacos and tequila at Guy's Fieri's Tequila Cocina—located within the Big Night Live venue.
Sports Events in Boston
December 3, 1 pm
Charlestown, Free
Winter is setting in for real, and it's so easy to become a human-shaped Patriots potato. Instead, head over to Charlestown Navy Yard's Anchor Boston for their free weekly Pats watch parties. The waterfront venue is a pretty sweet upgrade from the same ol' couch, but just as comfortable—and with better food. The multi-level hub will offer house-smoked additions to the menu and all the game day libations you need to stay hydrated through half-time and beyond.
December 8–9
Citywide, Prices Vary
For the first time in over 120 years, the delightfully divisive Army-Navy Game is coming to Boston. Although the game itself is at Gillette Stadium on December 9, there's plenty of Boston-based fun in the lead-up to the famous football face-off. The Army Navy Patriot Games are scheduled for December 8 at locations throughout the city, including an 11 am parade from Boston Common to Faneuil Hall and an afternoon relay race at Charlestown Navy Yard. Whether you rally behind "Go Army" or "Go Navy," those looking to get closer to the action can fill out the 2023 Army Navy Game Volunteer Form.
Outdoor Curling
Month-long
Seaport District, Free
Snowport is the Seaport's winter wonderland—grab a piping hot mulled wine, meander, and make some festive season memories. There are 120 vendors with gift-worthy ornaments, vintage tees, and handmade goods, but there's also a fabulous faux ice curling rink. Every Saturday through February, North End Curling Club will be onsite from 2 pm–4 pm for free curling lessons. Though slots book up quickly, be sure to watch for cancellations. If you already know the basics or want to grab a cocktail and wing it, CLINK at The Liberty Hotel also offers outdoor curling shenanigans.
December 16, 7 pm
West End, Starting at $198
In another classic Boston-NYC match-up, the Bruins hope to best the Rangers, especially after their 7-4 loss on November 25. This time, with the home-ice advantage, the Bruins can hopefully rally a win. If tickets are scarce, Banners Kitchen & Tap is a top-notch backup plan. It'll be wall-to-wall B's fans, and the floor-to-ceiling TVs create an immersive vibe that's almost as loud as the Garden itself. Less raucous but still abuzz with Bruins spirit, the Lovejoy Wharf location of Nightshift Brewing is down the road, and you just might find one of only five Golden Nite Cans in their latest giveaway.
Drinking in Boston
Until December 31
Cambridge, Cocktails $16
The Hanukkah pop-up Maccabee Bar has arrived in Boston and is serving up libations and latke at Noir at The Charles Hotel in Harvard Square. The name Maccabee is an homage to the disrupters at the heart of the Hanukkah story, and the bar's founder, Naomi Levy, is excited to share the joy, food, and cocktails of The Festival of Lights with absolutely everyone. The space at Noir Bar has been transformed into an epic Hanukkah-style hang, complete with decor and cocktails like the vodka-based Hebrew Hammer or tequila-spiked Oy, Wat a Night.
Month-long
Somerville, Prices Vary
There's a husband-and-wife duo in Somerville, and they're kind of a big deal. Andrew Brady, the palate and prowess behind the beloved natural wine bar Dear Annie, has teamed with his partner Sara Markey on the newly opened, wood-fired concept, june bug. Imagine an elegant yet cozy dinner party hang with your besties. Well, that and wood-charred seasonal delights pretty much sum up the vibe, where intensely local foods are prepared with love. Of course, they're bringing their natural wine know-how, but also spritzy bits like the Bog Spider, featuring vermouth, sherry, cranberry, black pepper, and soda water bubbles.
Essential Winter Warm-up Spots
Month-long
City-wide, Prices Vary
Don't miss the table-side hot chocolate service at the Avery Bar at The Ritz-Carlton, where you can sit next to the roaring fire with hot cocoa topped with treats like caramel whipped cream, house-made marshmallows, and a splash of festive spirits. Of course, The Envoy Hotel is coming through with quintessentially cozy rooftop domes at Lookout Rooftop. Order a hot toddy while cuddled up in the heated nook overlooking the city. Then again, if your definition of chill aligns with jazz and bourbon, head over to The Notch Holiday Bar at Mandarin Oriental, Boston. It'll be decked out in holiday opulence, serving flights and holiday cocktails from Nantucket's Notch Whisky and other local producers.
Boston Tea Party Cocktails
Month-long
Cambridge, $14
It's the 250th anniversary of the Boston Tea Party, so let's raise a glass to those tea-tossing Bostonians from days of yore. Throughout December, Henrietta's Table (inside The Charles Hotel in Harvard Square) celebrates with tea-infused cocktails like Overboard the Dartmouth, which brings together tequila, hibiscus tea, and lime. Among the spirited sips, the zero-proof rebel, 1773, is a spruce-tip tea with grapefruit syrup, elderflower, and notes of citrus, clove, and cinnamon.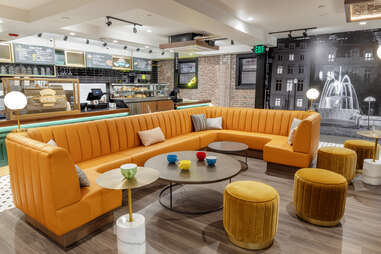 Where to Explore Arts and Culture in Boston
Month-long
Back Bay, Coffee starts at $2.95
The sitcom Friends has made its way back into popular culture because, obviously, coffee chat and relationships are timeless. Central Perk Coffeehouse opened in November, and the space looks to capture the mood of the famed sitcom's beloved hangout spot but doesn't necessarily match it chair-for-chair or cup-for-cup. Yes, fans can experience a reminiscent vibe while sitting on the iconic orange couch, while laughing and sipping lattes. But it's not a stuffy, old-school museum vibe; it's a place to make new memories while feeling nostalgic about the friends who launched our collective love of oversized mugs.
December 8, 7 pm
Theater District, Starting at $53.50
Hasan Minhaj is a hilarious human—one of those comedians gifted with next-level storytelling skills. Any comic can tell a joke, but Minhaj weaves his humor into a larger story, so there's no lag between bits. There's also no topic he shies away from in his latest Hasan Minhaj: Off With His Head Tour. Prices are reasonable relative to his stardom, and they'll be just two shows, so buy tickets early. It's a phone-free performance, so all cell phones and similar devices will be secured in a personal Yondr bag that will be re-opened for you at the end of the night.
Last-Minute Holiday Shopping
Month-long
City-wide
December is a blur of gift-giving—the party host, friends, family, and people you appreciate. This is often a last-minute endeavor, but grabbing a $60 tray of elegant holiday cookies from the Seaport's Cocorico, a French-inspired pastry shop in the Omni Boston Hotel, is easy. Cookies are versatile AF, but if you're looking for an experience-based gift in Boston, the Shubert Theater's Urban Nutcracker (December 16–23) delivers a funky riff on traditional holiday shows. Naturally, however, sometimes you have no idea what to get. That's where The Prudential Center's December 14–17 Cultural Survival Bazaar comes in, with its Indigenous artisan-led market full of art, clothing, jewelry, and home goods.
Month-long
Chinatown, Free
Through February 2024, The Pao Arts Center is hosting the poignant "Lunchbox Moments" exhibition by artist Amie Bantz. Although many people view lunchboxes as a nostalgic school accessory, Bantz uses it to explore the real-life experiences of Asian-American children. The artist gathered school lunch narratives from the AAPI community, specifically the experience of eating a traditional Asian meal in front of their non-Asian peers. The spray painted lunchboxes tell these often-painful stories in just a few words and is a beautifully presented, yet emotional, look at the decisions surrounding cultural endurance.
Melanie Carden is a private chef turned travel writer. She's equal parts adrenaline-seeker and
Golden Girls
vibes. You can find her trying new things, thrifting for treasures, grinding it out on a trail, or lounging on a picnic blanket—Aperol spritz in hand. She's fickle about social, but the sporadic nuggets are worth the wait—cricket tacos, anyone?