Everything Fun You Can Do in Boston This Weekend
Slurp bivalves at an oysterfest, bop to an outdoor concert, and have more fun to usher in summer.
Sponsored By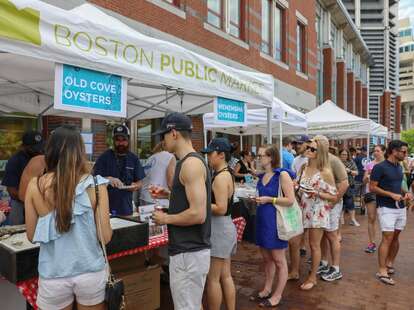 Happy Solstice and happy long, warm evenings. Summer is officially upon us, which means classic warm weather events like an oysterfest, an outdoor movie night, and a day-to-night food truck festival. Add in a citywide film fest, a complimentary wine tasting, and an ice cream pop-up, and you'll be celebrating the fact that you stayed in the city for this summer weekend while others fled. So stay put and gear up for a lot of fun with all the best things to do in Boston this weekend.
Friday, June 24 –Sunday, June 26
Kenmore Square
Time to explore a new maki spot. Blue Ribbon, a NYC-born sushi restaurant that's attracted a buzz, is touching down in Boston with a 120-seat restaurant featuring extensive rolls (many vegetarian) and sashimi, on top of mains like New York strip steak and chicken teriyaki. Add in a bespoke cocktail program and an ample Japanese whiskey, beer, and sake menu, and you've got a new Friday night date destination.
Cost: A la carte
Friday, June 24 – Sunday, June 26
Various locations
This year, the Roxbury Film Festival is doing a hybrid model—some in-person screenings, some remote—but this weekend it's all about the in-person events: features, short films, and documentaries, plus panels and workshops, all celebrating the global creative work of BIPOC filmmakers.
Cost: $15 per screening; festival passes are $165
Friday, June 24
Eataly Boston
Time to toast the halcyon days of summer. Italian food destination, Eataly, is kicking off its Vino Days with a full day of complimentary wine tastings. More than 20 sommeliers and Italian wine experts will set up shop and invite guests to sample their pours. And if you find a favorite bottle, you'll get 20% off all weekend long as part of the celebration.
Cost: Free
Friday, June 24
Ends at Fenway Park
For the 40th anniversary of ET, the feature film will be shown on the center field board for this year's Fenway Movie Night. Yes, it's been digitally remastered, but you'll be too distracted by a teeny Henry Thomas and a teenier Drew Barrymore to even notice. Before the opening credits, you'll have the opportunity to walk the warning track and yes, ballgame concessions will be available.
Cost: $10
With summer festival season well underway, Coke is helping you and your friends drink it all in with 100 days of exclusive music experiences—only at Coke Studio. Featuring tracks and concerts from the best artists in the game and amazing offers dropping all summer long (including chances to win free festival tickets), drink, scan, and enjoy a Coke today to never miss a beat.
Saturday, June 25
OddFellows
As if Joanne Chang couldn't seduce us with tasty treats any more. She's now paired up with the beloved ice cream shop OddFellows to create a limited-edition ice cream version of her famed pecan sticky bun. Order a pint ahead of time or stop by to get your hands on a drool-worthy sticky bun ice cream sundae.
Cost: A la carte
Saturday, June 25
Suffolk Downs
Don't let the name fool you. It's not all hot dogs, but sausages are front and center at this food truck festival that includes more than a dozen local beers, live music, and outdoor games like cornhole and giant checkers.
Cost: Presale tickets are $5 (or $10 at the door)
Saturday, June 25
ONCE at Boynton Yards
It's time to celebrate both the height of summer and our local music scene. Summer-ville Solstice starts out with daytime family time and the segues to adult time. No matter which portion of the day is more your speed, come out to listen to local musicians while shopping local clothing, record, and art vendors.
Cost: $18.03
Saturday, June 25
Harvard Square "Pit" & Dunster Street
It's hard to believe now, but once upon a time, Harvard Square had a legit counterculture scene (we miss you, Rocky Horror Picture Show midnight screening!). And ground zero was the sunken gathering spot outside the Harvard Square T stop, immortalized as "the Pit." Relive those glory days at an evening gathering that features Boston punk band Nothing But Enemies, a beer garden from The Hourly, DJed '80s and '90s tunes, and yes, a Rocky Horror tribute from performance group Full Body Cast.
Cost: Free
Sunday, June 26
Boston Public Market
We know we don't have to ask you twice. The market's bivalves festival features our region's best oysters from Red Best and also includes live music on the Plaza, discounted oysters, and of course, summer cocktails from the newly opened The Pine Bar.
Cost: $25