You endured the holidays, and now it's time to settle into 2016 properly. Only four days in, and that resolution to drink only one cup of coffee a day has failed (that was a bad one anyway). So, it's back to eating and drinking, like only Bostonians can, and there's plenty to do this winter that assists with just that. Here are eight of those things you can do around the city in January, sans regret.
Newburyport hotspot Ceia just turned five, and they're maxing out their birthday celebration for five full days. (See what they did there?) They'll have a special five-course tasting menu (with drink pairings) featuring longtime favorites such as the house-cured prosciutto, mushroom ravioli (cured egg, pork bottarga), and lobster with wilted spinach. They'll also be cooking up a variety of pinchos for a mere $5 each, and the offerings will vary day to day. Ergo, you should go every day to check what's on the slate.
Fresh powder awaits, but you should start your season with a bang at BSSC's BrewSKI party at Lir from 7-9pm. The $5 ticket scores you drink deals, complimentary apps, giveaways for everyone, and chances at killer raffle winnings. Prizes include lift tickets, winter gear, gift cards, day ski trips, and the top take: a pair of Patriots-themed skis from Bud Light. (You know you want them.)
Chef/Owner Daniel Bojorquez has teamed up with his pal Michael Bergin (L'Espalier, Sel de la Terre) to add some flair to La Brasa's Market, and you can enjoy the house-made wares before the other foodies on your block. (Take that, other foodies.) In anticipation of the Spring 2016 launch, the crew will prepare an Italian feast of braised meats (of course), fresh pasta, and local produce to show off the selections you'll be able to buy in the market. Suddenly, spring feels really far away. Call 617-262-3023 for your spot at the table.
If you're ready to take your Saturday barbecues to the next level, then Formaggio Kitchen's Animal Butchery class is your next move. Starting at 6:30pm, Savenor's chief knife guy Christopher Walker will demonstrate his nose-to-tail approach to butchering different animals so you can get the most out of your meals. He'll also share cooking tips for each portion, as well as insider info on how to use those lesser known cuts.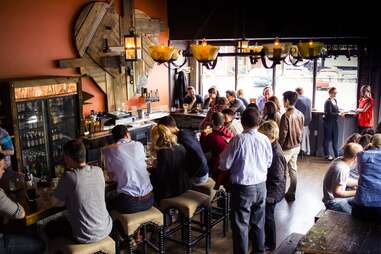 Chef Tim Wiechmann goes for a full-on pork-apalooza during his annual Pig Week with a different tasty pig part on the plate each night. Your Monday just got better with Trotters & Waffles (fried pork feet terrine), and your Friday looks stellar with bier-braised pork shoulder. Then there's the Sunday finale of Szalonna, a braised Hungarian-style bacon with pickled black mustard. Dishes are only $20, and come with sauerkraut and fried potatoes.
Yes, this is exactly what it sounds like: a live stage version of everyone's favorite Keanu movie, Point Break. And the audience gets to be part of the action as "extras" during the show... so you get to be IN Point Break, too (#bucketlist). Don't worry, your ticket comes with a stocked survival kit containing ear plugs, a poncho, and Bodhisattva money, just in case you need some backup. Vaya con Dios, Bohdi.
By the numbers, this is one beer fest you don't want to miss: two days, three sessions, 50+ brewers, and 200+ beers. Local, regional, national, and international breweries will be together under one roof for your beer drinking pleasure, but the current lineup is still a closely guarded secret. You can already assume that you
need to be there
.
This ain't your grandaddy's bar crawl, as Get A Clue channels the Amazing Race with a devious scavenger hunt through a series of local watering holes beginning at 12pm. Assemble your team of two-to-five solid playahs to compete for prizes in "Fastest" and "Best Costume/Theme" categories, all while supporting the fight to cure ALS. Win-win. The entry fee gets you swag for every team member, drink specials, free Polar beverages, and a massive buffet at Wild Rover once you've run the gauntlet. Totally worth it.