Your gym or favorite workout studio may be closed until further notice, but that doesn't mean you can't work up a sweat from the comfort of your living room. It's a safe way to squeeze in a workout while keeping you at your healthiest both physically and yes, mentally. These are also great opportunities to show love and support for your local businesses while staying indoors. So check out our list of beloved classes in Boston that you can now access online right now.
For full body and sculpting workouts, row studio SweatFixx is offering Stream360 classes for $10 per video -- or a 30-day full library for $39 per month. If you'd like to pick up a class, the $10 option lasts you 24 hours so you can go back and view in case you're up for double the challenge. Heads up, you don't need a rowing machine or much equipment to sign up.
For barre fans, Boston Body has free barre and pilates online classes through Zoom to keep you feeling toned. If you fall in love with the exercises, you can purchase a subscription for $20 per month and gain access to over 100 workouts led by founder Zayna Gold.
If you're interested in getting fit with the whole family (or just need more homeschool ideas), North Shore studio barre n9ne is making that possible. The boutique barre and pilates studio is hosting kids virtual classes for $5 per family and a $25 three class intro package for adults on Zoom.
Mission Hill's boutique fitness studio TrillFit is moving their signature hip hop classes online with "TrillFit at Home." Choose from at-home workout videos, written workouts and live daily classes through Zoom, weekdays at 6:45pm and weekends at 9:30am.
If you're missing your daily dance cardio with 305 Fitness, don't fret! The studio is hosting live classes on YouTube everyday at noon and 6pm. If you missed a class, you can still browse the page for free "cardio party" workouts.
For members of Down Under Yoga and newbies alike, visit the Boston-area yoga studio's "Down Under @ Home" page. If you have passes already, you can use them for the online offerings. There are also packages you can purchase ranging from $18 for one class and $80 for its monthly "Yogi Pass."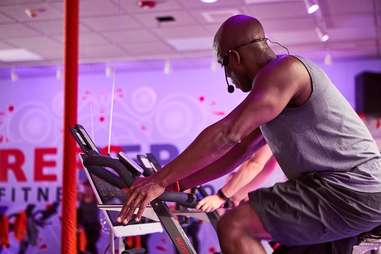 Beacon Hill and Jamaica Plain-based REPS, a cycling and strength studio (plus yoga at Beacon Hill), is sharing 45-minute, full-body workouts led by owner and personal trainer Renvil on Zoom. Classes are $15 and in order to sign up, DM REPS on Instagram for the link.
With locations throughout Boston -- and across the country -- CorePower Yoga has plenty of devout followers. If you're missing the heat and the stretches, you can turn up your thermostat and pick from a variety of classes on CorePower's "Keep Up Your Practice" page at no cost. If you'd like even more options, the studio offers a free trial week for $19.99 a month on-demand classes.
We all know someone in our lives who can't live without Barry's. If that's you, you're in luck. The studio is streaming 20-minute workouts on Instagram Live. You can even access the videos on their IG TV so you can get your sweat on anytime of the day.
Both Boston gyms may be closed tentatively until April 7 (and likely beyond), but you can join EverybodyFights on Instagram Live for daily classes including cardio, bags, and full body workouts. To check out the schedule, and what intense workout you're signing up for, head to their website for the latest.
Sign up here for our daily Boston email and be the first to get all the food/drink/fun the Hub has to offer.