The Best Indoor Workouts in Charleston
When January rolls around, exercise becomes a priority again. Some people are testing out a new, healthy resolution while others are trying to burn off some of those extra pounds we all inevitably put on during the holidays. But, motivating yourself to go to the gyn can be difficult, which is why we prefer attending some of these unique workout classes to help jumpstart the process. And, while we're lucky enough to have beautiful weather all year long, the winter months can bring some chilly days, so when you can't do your regular outdoor workout, head to one of these studios and learn everything from krav maga to aerial fitness.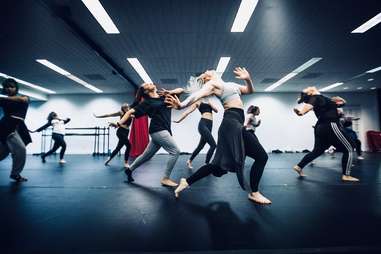 West Ashley
Let out your inner Beyoncé at one of the Dance Lab's many different adult dance classes. Whether you've been a dancer your whole life or you're just interested in starting out, there is a class level for you. Those seeking a challenge can attend the intermediate or advanced classes while newbies can learn the ropes in the beginner-friendly or beyond classes. Dance Lab touches on every type of music -- from jazz and hip-hop to ballet and tap dancing. If you really want to go for a challenge, break out your heels and head to the Stilettos: Rock Ya Heels class.
West Ashley
Have you ever how in the hell Pink learned to twist and turn in the air while remaining so graceful? Well, now you can learn. Aerial fitness is a new type of indoor workout class that has spread across the nation, demonstrating how to master the aerial arts while also fitting in a great workout. At Aerial Fit, master the hoop, hammock, sling, or even trapeze. You'll also work on the art of other acrobatic skills like handstands, flexibility, and inversions. This class is a truly unique way to get yourself back into the exercising groove.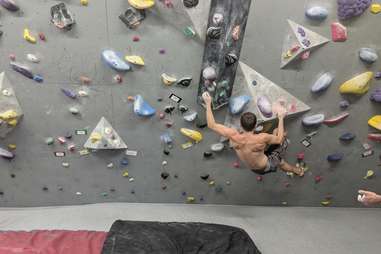 Downtown
Typically, we think of rock climbing as an outdoor activity, but indoor gyms have become popping up to allow climbers to get active all year long. Although many think that bouldering only works your upper body, it's actually a full-body workout. You use the power of your arms and back to pull yourself up, but your legs and glutes are working just as hard to propel you higher up the wall. Climbing is also great for your core and, all the while, you can pretend you're scaling El Capitan. Pay for an entire day pass at Coastal Climbing Gym or sign up for a membership. The gym also offers yoga classes if you're looking to work on your flexibility.
Mount Pleasant
Rowing is an intense workout that pushes your body to exercise several different muscle groups at once, sculpting your arms, legs, back, and abs simultaneously. Led by an experienced instructor, this class simulates the experience of rowing with a crew team without having to brave the elements. You can try the interval-based PowerRow class, rowing/HIIT combination class called Row + Go, or open row. For an extra challenge, the studio also offers TRX suspension weight classes.
West Ashley
Krav Maga is a unique form of martial arts used as a method of self-defense. It was originally created to be used by Israel Defense Forces and uses a combination of martial arts techniques. At the Charleston studio, you'll learn some of the basic elements to this exercise and defense method. This class is unusual in itself as it is considered to be a form of working out and will improve your physical health, but it also provides valuable tools to defend yourself if you are ever stuck in a dangerous situation. Charleston Krav Maga & MMA also offers other classes including Brazilian Jiu-Jitsu and mixed martial arts.
Downtown and West Ashley
Learn the art of kickboxing at Grit Box Fitness, where you'll combine a mixture of arms, legs, and core workouts for killer results. This type of exercise was created from a combination of martial arts and boxing techniques. At Grit Box Fitness, each class focuses on building strength and stability through the kickboxing techniques taught by experienced instructors. This is another class that would come in handy for self-defense, as well.
Mount Pleasant
If you've been too nervous to try a pole dancing fitness class, you are missing out. This unique workout will leave you feeling sexy and strong every time. Learn the art of dancing with a pole while building some serious upper body and core strength. As you become more advanced and learn to incorporate legs into your movements, you'll be working the muscles in the lower half of your body as well, making it a full-body experience. At Inversions Pole Fitness, select from a variety of skill levels. Once you want to learn how to add a little something extra to your pole work, you can try classes like spins and combos or inversions. This studio also offers pole yoga, chair fitness, and a butt and abs pole class. You'll look like J. Lo in no time.
Sign up here for our daily Charleston email and be the first to get all the food/drink/fun in town.
Samantha Connors is a Charleston-based freelance writer whose work has appeared in
Charleston
magazine,
Charleston City Paper
,
The Local Palate
,
Culture Trip
,
Eater
,
Time Out
and
Edible Charleston
. Follow her on Twitter and Instagram at @_gypsyscholar.