Everything You Have to Do in Charlotte This Summer
By now you've absolutely made multiple comments to friends, loved ones, and even strangers about how hot the summers are in the Queen City. And although you may be a sweaty hot mess, that's no excuse to hide inside with the A/C on for the next three months. We've already covered outdoor summer concerts and what should be on your Charlotte bucket list, but there's still so much more to do, see, and experience. Here's our Charlotte summer to-do list.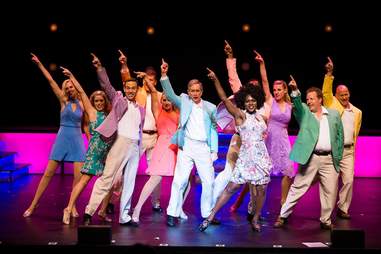 Charlotte Squawks

| Blumenthal Performing Arts
Celebrating the (un)lucky 13th edition of Squawks, the team of talented local performers make mincemeat of pop-culture, sports, life, and politics both local and national to the delight of viewers. The final performance is June 25, so get your tickets now before they sell out.
Called "a study of power and its affects," #CAKE (Year Zero), presented by XOXO, will not have their audience sitting for long. #CAKE is a performance that will take audience members on an artistic and literal journey. You will be walking around different areas of Charlotte and meditate on what it means to pursue the American Dream. The last performance is on June 24, and tickets are $50.
The folks at the Bechtler Museum of Modern Art will channel their inner Bob Ross for the monthly Bechtler by Night event this month. Play games, paint happy trees and clouds, drink the (spiked) lemonade, and view the art in the gallery for free!
GENDERED: An Inclusive Art Show is the second annual art show presented by the Young Affiliates of the Mint (the "YAMs"). These young supporters of the art are presenting an inclusive exhibit around gender and its common intersections with race, class, sexuality, and identity. The opening is free and the exhibit runs until July 21.
The 35th Annual HeroesCon is a weekend for fans, creators, and exhibitors to gather and share a mutual love of all things comics. Dressing up is encouraged. Tickets start at $20 a day or $50 for a weekend pass.
Charlotteans have looked forward to (and enjoyed) this annual event for over 20 years. Bring a blanket, dinner, and some wine to dine al fresco while listening to the Charlotte Symphony Orchestra perform. Located in Symphony Park at SouthPark Mall, the two remaining June performances are Star Wars (June 18) and Best of Broadway (June 25). Ticket prices start at $12.
Margaritas and Mariachi bands... does it get more summer than that? Bartenders will battle it out for the coveted title of Best Margarita at this tequila-fueled event. Admission starts at $20.
Culinary Fight Club Charlotte:The Pitmaster Throwdown is the perfect place for people who like barbecue, beer, and being judgmental. With your ticket, you'll get a ballot to cast your vote for the "Taster's Choice" winner. Tickets start at $30, but will increase closer to the event date.
Already established as having the world's largest pub crawl for St. Patrick's Day, Rich & Bennett have added another crawl to their belt. Launching their inaugural Americrawl, participants can expect drink deals and epic people watching. Wear your finest red, white, and blue. Tickets are $10 to participate.
Although we've already mentioned the Summer Pops in SouthPark during the month of June, their July 4th show deserves its own listing. Classical music and fireworks, in addition to BYOB and BYOF, make this one of the highlights of the summer.
Although there are firework shows throughout Charlotte on July 4 (US National Whitewater Center, Carowinds, etc.), the best of the best is the SkyShow at BB&T ballpark. Watch the baseball game, enjoy a hot dog, and then wait for the after show. If you're not able to get tickets to the game (act quickly as it sells out fast), go to Romare Bearden Park, directly across from the stadium, and have a picnic. You may not get to see the game, but you'll get to see the fireworks show.
Twice a year Charlotteans can eat at some of the city's priciest restaurants for a fraction of the price. More than 130 restaurants around the metro Charlotte area offer three courses at dinner for only $30 per person (not including tax and gratuity). The final restaurant roundup for the Summer Feast will be announced in July. Be sure to make your reservations early as the priciest tend to book quickly.
The Duke Mansion is known for being beautiful and pricey (but worth it). Enjoy a free self-guided tour of the property including event spaces, rooms for overnight guests, and the 4.5 acres of gardens. Wine, beer, and cocktails will be available for purchase and you can sip and stroll throughout the property. Tours are free but require an RSVP.
For the third year in a row, the QC Summerfest brings a weekend of jazz, funk, and soul music to uptown. The weekend features mid-day and evening concerts of jazz and contemporary R&B. Tickets for various events start at $39.50.
You never know what is going to happen at the Bojangles' Summer Shootout's season finale race. A champion will be crowned and guests can enjoy fireworks at the most exciting show in this series. Adult tickets start at $8, while children 13 and under get in free.
This year marks the eighth year of the Joedance Film Festival. Established in honor of Joe Restaino, who passed away from cancer, Joedance is a celebration of art and life. Joedance showcases Charlotte filmmakers, producers, writers, and directors by screening their films. All proceeds go to support rare pediatric cancer research at Charlotte's own Levine Children's Hospital. Tickets go on sale in July.
Celebrate Charlotte's LGBTQ community at this free two-day cultural event in uptown. Vendors, art exhibits, and entertainment acts such drag, dance, comedy, and music add some color and fun to Center City.
During the weekend of Labor Day, Downtown Matthews is transformed into a street festival known as Matthews Alive. Get your funnel cake fix and feel good about your purchase as all proceeds go to various local charities. Run by volunteers, the festival focuses on fun for the whole family. Tickets for rides and games start at just $1.
For almost 40 years, the Yiasou Greek Festival has been one Charlotte's largest cultural events... there is even a drive-thru so you don't have to wait in the lines for your food. Yiasou is the Greek word for hello, goodbye, and cheers. With authentic Greek food, live music and dancing, wine tasting, and shopping, there is something for everyone at the festival. Admission is $3.00 for adults and free for children 12 and under.
Do you love Mad Men, or just the aesthetic? If you answered yes to one or both of these, then this is the event for you. The Charlotte Museum of History presents the Mad About Modern Home Tour. The tour will celebrate Charlotte's unique mid-century modern architectural history via home tours and educational programs. Tickets are limited and sell out quickly.
Don't be fooled by the term "lantern," as this festival is filled with illuminated animals and flowers crafted by masters from Zigong, China, the site of the original lantern festival. The theme this year is "The Wild," and is Daniel Stowe Botanical Garden's largest exhibition to date with hundreds of lanterns that will fill more than 12 acres. Evening Kung Fu shows, Asian food, and authentic Chinese folk art and crafts will keep you occupied for hours. Tickets are $25 at the door.
Sign up here for our daily Charlotte email and be the first to get all the food/drink/fun in the Queen City.
Erin Maddrey loves summertime in the Queen City, but is a huge fan of air conditioning. Follow her and her Charlotte adventures on Twitter and Instagram. (both @ErinMaddrey).