If you thought you were desperate to see the backside of 2016 last New Year's Eve, no doubt you are even more thrilled to see the unrelenting chaos that is 2017 finally come to a close. Will 2018 be any better? There's always hope. Bottom line: It's been a hard year. So throw off the shackles of 2017 and look toward the future while you toss back shots and sip Champagne. Chicago's top New Year's Eve parties look spectacular. You can worry about tomorrow... tomorrow.
Recommended Video
Club Getaway Is an Adult Summer Camp With Awesome Activities & Booze
Apogee
No, it's not a toga party. It's more of an upscale "Grecian inspired" party at one of Chicago's finest cocktail emporiums equipped with live music, elegant Greek décor, and enough booze to placate Dionysus himself. So leave the toga at home.
Cost: $125-$2,000
Aragon Ballroom
Ring in the new year with some raging EDM and candy kids thanks to this annual React Presents-hosted end-of-year dance marathon, this year featuring performances by Adventure Club, Bear Grillz, and Ookay.
Cost: $45-$90
Ravenswood Event Center
One of the most awesomely out-there NYE events in the city is this annual high-concept event inspired by the Voyager spacecraft featuring live music, exotic art, and a desert landscape inspired by the movie Dune. The music lineup includes performances by Clap! Clap!, Shigeto, Nick Monaco, and many more.
Cost: $115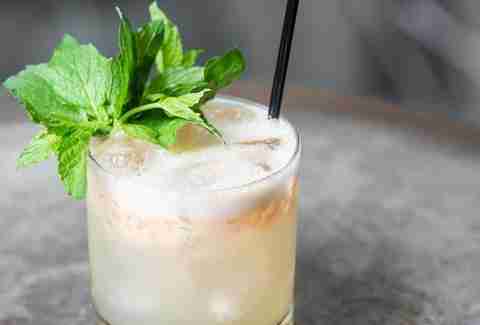 Drumbar
Of all the New Year's Eve parties in Chicago, this is one of the classiest featuring some of the finest cocktails in the city paired with spectacular city views atop the Raffaello Hotel, high-end catering, and (obviously) copious amounts of Champagne.
Cost: $100 and up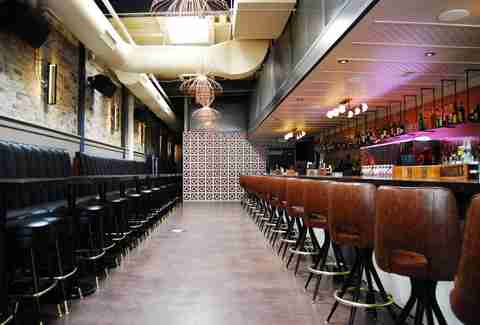 Remedy
Rage until 4am at this Studio 54-themed bash with drinks package, DJs, food buffet, and Champagne toast at midnight. The ticket price gets you in from 8pm-1am, but it's open to the public from 1am-4am -- if you can last that long. Only one way to find out.
Cost: $75
Tuman's
Tuman's skips the inclusive party packages this year and instead offers their regular a la carte food menu, their regular beverage lineup, and NYE drink specials including $4 Paddy Irish whiskey shots and house vodka cocktails in addition to party favors and a champagne toast. It's a great Chicago bar, and the best part: there's no cover here.
Cost: No cover
ROOF at the Wit
Roll the dice at this sexy Monte Carlo-themed rooftop party with all the trimmings: gaming tables, DJ, and extravagant food offerings such as a wagyu beef tenderloin carving station, oysters, and chocolate cigars. The Champagne toast is complimentary, of course.
Cost: $150-$3,000
The Drake Hotel
New Year's Eve in Chicago means ridiculously massive parties in fancy hotels, like this long-running monster sprawling out across five ballrooms of entertainment with thousands of guests and enough booze to keep a small army nice and warm on a wintry night.
Cost: $145-$2,995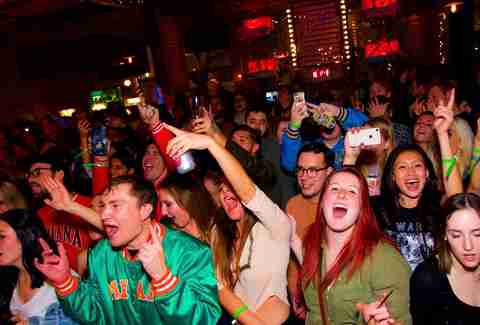 Headquarters
At Headquarters' party, 10 lucky winners will receive tickets to any 2018 Chicago concert (including Lollapalooza) while the rest of you losers will settle for a chef-driven buffet, confetti cannons, a balloon drop, and (obviously) plenty of arcade games to hone your 2018 joystick skills.
Cost: $60-$70
Bunny Slope
Instead of rubbing shoulders with the great unwashed masses this NYE, reserve an intimate affair for you and your 29 best friends by renting out Chicago's one and only hot tub-equipped après-ski bar with private open bar and access to Berkshire Room.
Cost: $3,000 for one group of up to 30
Sign up here for our daily Chicago email and be the first to get all the food/drink/fun in town.