How to Celebrate Black History Month in Chicago This Year
These are the best ways to spend February recognizing and celebrating Black history, locally and beyond.
It's Black History Month, a month dedicated to highlighting the significant contributions, achievements, and joy of the Black community. Most people don't know how this month-long holiday originated. In 1926, American historian Carter Woodsen—known as the father of Black History Month—set out to organize a week that would be devoted to preserving the history of Black Americans and educating future generations. At the time, the second week of February was already a celebratory week, in honor of Frederick Douglas and Abraham Lincoln's birthdays. But instead of focusing on the impacts of only these prominent figures, Woodsen also wanted the week to serve as a time to honor the contributions and legacy of all Black Americans across the country who impacted history. Of course, that week-long celebration is now what we know as Black History Month. And so, from learning about Black culture, dining at Black-owned restaurants, to dancing at a concert, this year in Chicago there's plenty to do. Just remember that it's important to continue to uplift and commemorate Black history and culture all year long.
Learn about Black history and culture at museum exhibits/events
This month, museums all across Chicago are filled with exhibits and events centered around African American history, artists, performers, musicians, and more. The Dusable Museum has several ongoing exhibits including the feature film project Equiano. Stories, and The March, an immersive exhibit by Viola Davis that focuses on the 1963 March on Washington for Jobs and Freedom. The museum will also have other events happening all month long.
At the Art Institute of Chicago, visitors can catch the exhibit, The Language of Beauty in African Art, a display of over 250 sculptures that span across the African continent, that's up until February 27.
The MCA has a powerful exhibit up until February 12 called Martine Syms: She Mad Season One, an immersive show that features videos about how the Black experience is depicted through film and TV. Also there, the exhibit Forecast Form: Art in the Caribbean Diaspora, the 1990s–Today is up until April, and is a wonderfully curated group exhibition that talks about place and identity. The museum will also be hosting events including discussions and screenings, artists' talks, and a soundtrack series with DJ sets and bands occupying spaces around the museum.
The Illinois Holocaust Museum's exhibit The Negro Motorist Green Book, is up until April 23 and includes images, artifacts, historic footage, and firsthand accounts of individuals who used and interacted with the green book, a book that Black Americans used as a guide for over 30 years.
And on February 20, The Field Museum is celebrating its 30th year since opening Africa Hall. Guests can enjoy an afternoon with a dance performance by Muntu Dance Theater.
Support Chicago's Black-owned restaurants
There are countless tasty Black-owned restaurants to choose from all over Chicago—it's hard to choose one. Luckily, Chicago Black Restaurant Week, from February 12 - 26, will be featuring a robust lineup of Black-owned restaurants along with several events.
But you can always eat locally at one of the many Black-owned restaurants in your neighborhood. There's the Hyde Park southern food favorite, Virtue Hyde Park; kings of the shrimp and grits, Luella's Southern Kitchen; home of the french toast flight, Batter N Berries; the creole soul food go-to, Soule; Caribbean hot spot, Garifuna Flava: A Taste of Belize; Ethiopian staple, Demera; sandwich and salad join,t Ain't She Sweet Cafe; and so much more. There are also plenty of other small businesses you can support like breweries, dance studios…you name it.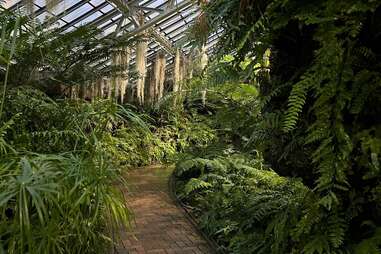 Discover how plants connect us to Black history
It's the coldest time of the year in Chicago which means it's a great time to warm up inside a green paradise. Garfield Conservatory is hosting this event Black History and Botany Tour with Urban Roots Teen Docent as part of Black History Month. Visitors can learn about how the plants growing inside the conservatory can connect us to Back history. The event takes place on February 26 with guided tours beginning at 1 pm. Another nature-filled activity, Poetry Trail, is taking place in Bemis Woods South near O'hare, where visitors can read poetry made for children written by Black artists as they walk through the trails—February 8 from 10 am to 12 pm.
Immerse yourself in the stacks and some fun at Chicago Public Library
What better way to celebrate Black history than to surround yourself not only with books but also with a community that's activated, curious, and motivated. CPL is offering a long lineup of events from film screenings, online and live conversations, to book club meetings, readings, and crafts. Kid-friendly events like Paint and Sip: Martin Luther King Jr. Portrait, or DIY Printing and Traditional West African Systems are a great way to include the younger members of our community. Or engage in hard and powerful conversations throughout the month about many different topics like, Our Brothers: A Dialogue on the Current Perception of Black Men, Race and Trauma, and more. Film screenings include Judas and the Black Messiah on February 11, 2016: Obama's America on February 22, and Monday Matinee: The Woman King on February 27. Or just drop in and check out a book that is centered on Black history.
Let loose at a concert celebrating Black music
Chicago is known for having a rich music history. Genres like jazz, gospel, blues, and soul have deep roots here. What better way to celebrate Black history than by celebrating Black music this month. Head to one of the many concerts around town including seeing the legend herself, Mavis Staples at The Chicago Symphony Center. The rhythm and blues and gospel singer, actress, and civil rights activist will be performing on February 4 at 8 pm— you don't want to miss this. There's also the opportunity to bring your date on Valentines day from 7 - 9 pm. to catch a night of jazz music at Compassion Baptist Church, a night of performances by The South Side Jazz Coalition.
Get inspired at a play, poetry reading, or a dance show
On the last Sunday of the month, you can catch Afrofuturism Stage: Chicago, an all-night-long dance, DJ, and photography show at the Promontory in Hyde Park. Or catch a spectacular dance performance by A M.A.D.D. Rhythms who are paying tribute to Nina Simone in a two-hour-long performance that will include tap, song, and storytelling. The show will be at the Harold Washington Cultural Center on February 26.
The Second City's Dance Likes There's Black People Watching: A Black Excellence Revue is a lively show beginning February 3, which will include new sketches, music, songs, and an all-around good time.
Poetry has long been a powerful way to share the Black experience. On February 9, Poetry Foundation is hosting Open Door: José Olivarez, Britteney Kapri, Vic Chávez & Raych Jackson, an event that is celebrating Olivarez's book, Promises of Gold.
And through February 26, you can catch Toni Stone at the Goodman Theatre, a play based on a true story by Lydia R. Diamond. This play tells the story of the first woman to play in baseball's Negro Leagues and the challenges she faces.
Elanor Bock is a Chicago born, New York-based professional dancer, writer, and renaissance woman, excelling at philosophy, mathematics, outdoor adventuring, and balancing six martinis on a tray in a crowded bar.