Fireworks on the Fourth of July is the American tradition, and in Chicago, there are plenty of ways to take part in that celebration of patriotism and general loudness. This year, with the holiday falling on a Thursday, the biggest spectacle in the city starts at 9:30pm at Navy Pier. It's an additional -- albeit humongous -- show alongside the twice-weekly fireworks displays that run through Labor Day.
Navy Pier, a destination for tourists, tourists, and more tourists (shoutout to the WBEZ crew, though), is going to be slammed. You could try your luck watching July Fourth fireworks there, but it's not the only place in town to get a good view of the show. If you are looking for another vantage point, you should also check out a few other parades and awesome events going on around town.
Where to watch fireworks
Navy Pier
Streeterville
This is a mention for those who just didn't read the intro at all. Yes, Navy Pier will be the spot per usual to watch Fourth of July fireworks. The show starts at 9:30pm on Thursday, and the pier will be open from 10am to 10pm. Another option for seeing the fireworks this year is to board any of the pier's fireworks cruises, some of which are mentioned here. If you want to avoid Thursday's festivities but still want to be patriotic around the pier, fireworks are also planned at 9:30pm on Wednesday after the Navy Band Great Lakes Wind Ensemble Independence Day tribute concert. Wednesday's free musical performance starts at 7pm at Lake Stage in Polk Bros Performance Lawn.
DuSable Harbor
Loop
A harbor in the heart of the downtown Loop area, DuSable is just south of Navy Pier on North Lake Shore Drive. With this location, you're going to see tons of yachts and skyscrapers. Right across from the docks is Lakeshore East Park, a near-5-acre space that's dog- and child-friendly.
Grant Park
Loop
A sprawling urban park that includes Millennium Park (yes, where "The Bean" is), Maggie Daley Park, and Grant Park, which is full of gardens, open fields, harbors, and, at its center, Buckingham Fountain. Before the fireworks display Thursday night, get to the park's Jay Pritzker Pavilion at 6:30pm for the ticketed Independence Day Salute, featuring the Grant Park Orchestra. An open rehearsal of the show runs from 10:30am to 1pm, Wednesday, July 3.
North Avenue Beach
Lincoln Park
Perhaps North Avenue Beach is Chicago's most popular beach. This destination has a bit of everything: a beach house that looks like an ocean liner; a bar and restaurant named Castaways; kayaks, jet skis, and bikes available to rent; and volleyball courts. Right across the way on the Fourth of July, the Chicago History Museum will host its 60th annual celebration. The event starts at noon and includes musical performances and a children's costume parade.
Promontory Point
Hyde Park
A man-made peninsula with a promenade in Burnham Park, this is a frequent spot for locals, perfect for those wanting to observe the lights and sounds a bit further away from the hub-bub.
Ohio Street Beach
Streeterville
Located within walking distance of the pier, Ohio Street Beach is known as an ideal setting for open-water swimming training. Due to its proximity, this beach will fill up quick, but is surrounded by the Addams Memorial Park and Milton Lee Olive Park for those who want to relax in a greener space.
Montrose Beach
Uptown
For the families and friends up north who don't want to deal with too much of the fuss, Montrose Beach at the northern edge of Lincoln Park will have a good/more widescreen view of the fireworks.
Oak Street Beach
Gold Coast
A larger area than the pier's nearby Ohio Street Beach, Oak Street Beach is a popular, fashionable summer hotspot with a restaurant and bar, concessions, and volleyball courts. The view is nice and more upclose for the fireworks.
Northerly Island
South Loop
A 91-acre man-made peninsula with an ever-popular pavilion concert stage, Northerly Island will be full of those wanting a good view of the fireworks. The most popular spots in and around Northerly Island include Adler Planetarium, Shedd Aquarium, and Burnham Harbor.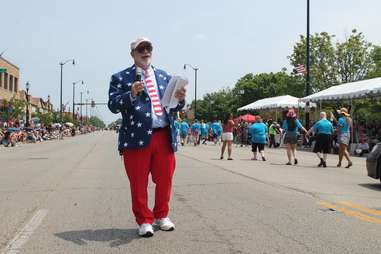 Events around town
Tinley Park Fourth of July celebration: Annual celebration that kicks off with an 8am stars and stripes 5K run/fun walk before moving along with opening ceremonies at 4pm with live music and free games. Fireworks start at 9:15pm. Free and family-friendly. McCarthy Park, 16801 S. 80th Ave, Tinley Park.
4th on 53rd: This year marks the 28th anniversary of the Independence Day parade that starts at 11am before heading into a free festival with a picnic and musical performances.
Harper Court Summer Music Series: A free, jazz concert series hosted by Mario Smith in the Hyde Park neighborhood, the Fourth of July show runs from 6pm to 9pm and features the soulful sounds of Byron Stingily with Ten City. Downtown Hyde Park will also host its monthly First Thursday event from 5pm to 8pm. Get more information.
Fourth of July parade at Independence Park: Annual event with bicycle parade, games and family-friendly fun, starting at 10am. Free. Irving Park. 3945 N. Springfield Ave.
Skokie 4th of July parade and festival: Annual parade starting at noon at Oakton Community College on Oakton Street, with a free festival including music at 6:30pm and 3D fireworks at dusk. Get more information.
Evanston 4th of July: The fun in this suburb begins at 9am with playground sports, then a kids' fun run at 12:45pm, followed by a parade at 2pm at Central Street, a musical performance from the Palatine Concert Band at 7:30pm and fireworks at 9:30pm at Dawes Park Lagoon. Get more information.
Oak Park July Fourth Parade: Annual parade starting at 10am, beginning at Longfellow Park, marching north. Fireworks starts at dusk in the football stadium of Oak Park and River Forest High School. Free.
Winnemac Park: Unofficial spot for locals to watch and shoot fireworks around dusk. The type of thing everyone and no one knows about. Consider yourself special.
4th of July Celebration in Itasca: A suburb of Chicago, located about 30 miles northwest of the downtown area, Itasca has the largest fireworks display in the area during its annual Independence Day celebration, which starts at 4pm. The event also includes music at 7pm. The fireworks begin between 9:45 and 10pm and last approximately 25 minutes. Free admission. On-site parking is $25 per car. Get more information.
Or just get to a rooftop bar
Perhaps the best way to celebrate a nation that brands itself as a "City Upon a Hill" is to get to some higher ground. Granted, a rooftop isn't exactly a hill, nor is a bar a city, but a rooftop bar is surely close enough for ceremonial purposes. We've rounded up the best rooftop bars in Chicago here, featuring upscale spots, more PBR-leaning places, and even some that have dancing. Just pick the one that'll make you feel proudest to be an American.
Sign up here for our daily Chicago email and be the first to get all the food/drink/fun in town.
Matthew Sigur is a Chicago-based journalist who writes about movies, music, and restaurants.