How to Celebrate the 4th of July in Chicago
Because partying is your patriotic duty.
Photo courtesy of Choose Chicago
Though a pandemic is still in fact happening, it's America's 244th birthday. We're just gonna have to do things a little differently this year. With the Navy Pier fireworks cancelled and Chicago's largest 4th of July events moving online, you're gonna need to trek out to the burbs (or your backyard) to see live fireworks this year. Or you can elect to stay closer to home with star-spangled specials and holiday grill-at-home kits available from local restaurants. Here's how to celebrate the 4th of July in Chicago this year.
Thursday, July 1 - Monday, July 5
DuSable Harbor
Chicago Party Boat is hosting not one, not two, but 11 booze cruises over the holiday weekend including special fireworks-themed and late-night departures. If a booze cruise is good enough for Michael Scott, it's good enough for you.
Cost: Tickets start at $20 per person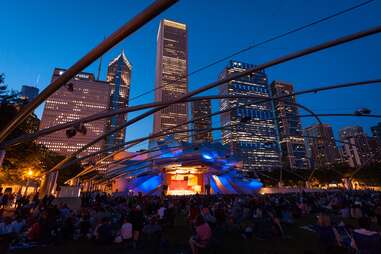 Friday, July 2 - Saturday, July 3
Grant Park
Gather at Pritzker Pavilion for this two-day classical music showcase from the Grant Park Orchestra featuring appropriately flag-waving tunes such as the "1812 Overture" and "Stars and Stripes Forever."
Cost: Free
Saturday, July 3
Commissioners Park, Bridgeview
Get an early jump on the red, white, and blue action as the Bridgeview Park District hosts this family-friendly get-together with live music, fireworks, food trucks, fireworks, and… wrestling?
Cost: Free
Sunday, July 4
The Promontory
Organizers of this event are requesting guests to bring their "summertime sexy vibes" to this post-pandemic day bash featuring live DJs and the emcee prowess of WGCI's Kyle Santillian.
Cost: Tickets start at $10 per person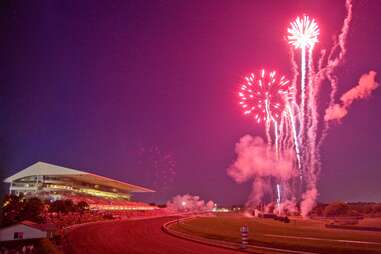 Track down a suburban fireworks show
Saturday, July 3 - Sunday, July 4
Various locations
While Navy Pier hsa officially pulled out and Mayor Lightfoot has yet to release details regarding Chicago's supposed city-run fireworks display, there's plenty of explosive spectaculars planned for the greater Chicagoland area (and we're not just talking about setting off M-80s in the alley). Make the trip out to see Cook County lit from above by hitting up weekend-long celebrations in Arlington Heights, Elgin, Lemont, Oak Lawn, Orland Park, Palos Heights, and Tinley Park.
Cost: Admission prices vary
Sunday, July 4
Navy Pier
The rockets might be dimming their red glare at Navy Pier this year, but you can still toast Old Glory at Live on the Lake, a special free concert taking over the Navy Pier Beer Garden this Sunday. The whole shebang kicks off at 1 pm with shows from smooth rockers OSTON, The Shades, and Creedence Revived.
Cost: Free
Monday, July 5
Darien
Gear up for a day-off well spent at the Darien Lions Club's 50th annual Independence Day Parade this Monday. A bill of 60 or so, let's say, "colorful," acts have signed on to join the festivities, including the Hinsdale South High School marching band, the Chicago Bears Drumline, the Honey Bear dancers, the antique car-driving Salt Creek Model A Club, a fleet of BMX stunt riders, and several grown men dressed up as characters from Ghostbusters riding a life-sized Ghostbuster Ectomobile down the parade route. The rest is up to you.
Cost: Free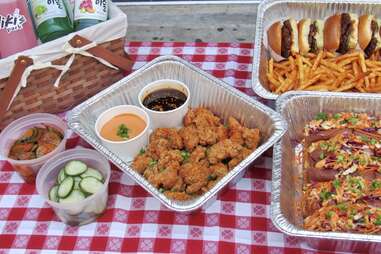 Fuel up on Independence Day-themed specials at local restaurants
Friday, July 2 - Monday, July 5
Various locations
Take advantage of gangbuster holiday weekend take-out and dine-in offerings at top bars and restaurants around the city. Whether you're packing up for a fireworks-strewn picnic or posting up for some post-party brunchtime sustenance, spots like Miki's Park, Takito Street, The Gage, Acanto, Avli Taverna (plus Avli River North and Avli Winnetka), BLVD Steakhouse, El Che Meat & Provisions, El Che Steakhouse & Bar, Recess, The Smith, Rye Deli and Drink, Soul & Smoke, Cafe Robey, Milk Money Brewing, and Daisies have you covered with take-out platters, limited-run inhouse menus, and more. Suffice it to say, you won't go hungry this weekend.
Cost: Menu prices vary
Jay Gentile is an award-winning freelance journalist specializing in travel, food & drink, culture, events and entertainment stories. In addition to Thrillist, you can find his work in
The Washington Post
,
The Guardian
,
CNN Travel
,
Chicago Tribune
,
Lonely Planet
,
VICE
,
Outside Magazine
and more. Follow @thejaygentile.