KAMIL KRZACZYNSKI/AFP/Getty Images
It's time to break out the glitter and rainbows to celebrate Chicago's LGBTQ+ population. Our city recently elected its first openly gay mayor and pronoun buttons are gaining popularity, but the 2019 Pride parade is still just as much a gathering of people fighting for a cause as it is a celebration of what's been won. This year is particularly special as it marks the 50th anniversary of the Stonewall Uprising, when Stonewall Inn patrons protested New York City police raids and started the gay liberation movement.
Hundreds of thousands of people are expected to participate on the sidelines as 150 over-the-top entries parade by and Mayor Lori Lightfoot presides over it all as grand marshal. You're also pretty much guaranteed to have the time of your life. Here's everything you need to know to make the most of it.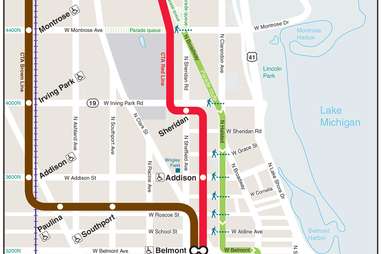 Where and when will the parade take place?
The parade starts at Broadway and Montrose at noon on Sunday, June 30. This year's route is the same as last year's: south on Broadway to Halsted, south on Halsted to Belmont, east on Belmont to Broadway, south on Broadway to Diversey, and ending at Diversey and Sheridan.
Where are the best places to watch the parade?
For the best views, wherever you decide to watch, show up early. Since anyone is welcome to participate and the event is free to attend, the sidelines will certainly get rowdy. If you're just looking to enjoy that ambience, showing up anytime before the parade kicks off will be fine. The busiest spots on the parade route are in Boystown (Halsted between Grace and Belmont), while spots toward the north and south of Boystown tend to be a little more reserved. But this is Pride, so be sure to scale your ideas of "reserved" toward the energetic side.
How do I get there?
If you can, public transportation is the way to go -- and even better if it's the train. Many buses that would be regular go-to's for the area will be rerouted, including the 8, 22, 36, 76,77,78,151, and 152.
All the train stops will be open, with Belmont being the most crowded. The Wellington and Diversey Brown lines will get you close, along with the Addison, Sheridan, and Wilson Red lines.
What about road closures?
If you have to drive, park a walkable distance off the parade route. The cross streets along the route will have rolling closing times as the parade travels south. Note that the lineup is along Broadway north of the parade starting point, so those cross streets will be closed as early as 10:30am.
Many of these areas will have no parking signs up as well, so check here for all the latest updates on closures and parking.
Where should I stay?
If you're traveling in from out of town and need a place to crash, booking lodging as soon as possible is recommended. In general, Boystown will be best for night owls and after-partiers, while Andersonville and Lincoln Park both provide quieter accommodations. Andersonville is an excellent destination for those looking to get to know the neighborhood and participate in more LGBTQ+ activities for the weekend, while Lincoln Park is a more centralized location for checking out other parts of the city.
What should I wear?
Whatever you'd like! The weather is expected to be quite warm (the average high is 84, with a low of 64), but it's Chicago, so check your weather app before heading out. Rainbows, glitter, and any accessories that help you show your best self are encouraged. Just don't forget sunscreen and a water bottle -- you're sure to need both during the day. Many people will be going all out, so don't be afraid to get wild with your attire!
Can I bring my pets?
You can, and many people do bring their puppers to the parade! Remember that it's a hectic scene, so if you have a dog that gets nervous in crowds, this is not the event for them. Rainbow bandanas welcome.
Is alcohol allowed?
No. While you'll probably see many people imbibing on the sidelines, the Pride Parade coordinators are trying to have a tighter rein on public alcohol consumption this year. There's a $1,000+ fine if you get caught, plus security will be throwing away all open containers. Public urination is also grounds for a ticket, so be sure to utilize the porta-potties along side streets.
All that said, many bars along the parade route will be open and serving specials. If you want to drink and cool down for a minute, take the party inside.
Where do I go after the parade?
Once the parade is over, the barricades along the side of the street will begin to clear and the roads will open back up. For those looking to continue the party, Boystown will be the best spot, with the biggest parties happening at the LGBTQ+ bars.
In addition, many of these bars will be having events all month talking about pride, from Sidetrack's Stonewall dance party to Kit Kat's special pride weekend brunch. Whatever you decide to do, make sure to embrace the reason for the parade and celebrate LGBTQ+ pride.
Sign up here for our daily Chicago email and be the first to get all the food/drink/fun in town.
Elizabeth Atkinson is a Chicago food and drink writer, a huge fan of gin cocktails and a minerally white, and will definitely ask to pet your corgi. Follow her @elizabethrose14.