There's just something about summer in Chicago that makes you want to go drinking in a park, especially when live music is involved. In that spirit, we scoured the city's summer lineup to find all of the season's upcoming occasions for al fresco rocking, from high-minded wine sipping at Ravinia to full-throated mullet parties in Tinley Park. Let's make this summer count, people.
An appropriate first concert of the season at Northerly Island. Flowery shirts required.
The Auto-Tune expert, and some of rap's hottest up-and-comers, in action.
Ever heard of them? They're the band with that guy with the glasses. The Lumineers, with the suspenders and such, support.
Armin van Buuren, Diplo, and Martin Garrix headline summer's big EDM fest.
Gary Clark Jr., William Bell, and Billy Branch and the Son of Blues top the world's largest free blues festival.
A triple bill of great punk rock. Expect a political joke or two.
Dave returns with his virtuoso guitarist buddy for an acoustic evening.
Ravinia, the oldest outdoor festival series, kicks off its 2017 season with a true legend. (Sorry.)
And then Huntington hosts another legend.
A true storyteller, Taylor provides a unique take on classic Chicago blues.
Old Town School of Folk curates this series of free shows at The Park at Wrigley on select summer Tuesdays.
Paul always makes for a great evening outdoors
Yes, Eddie will be in attendance.
Performing The Life Aquatic: A Tribute to David Bowie, in which the Brazilian singer covers the Thin White Duke's hits.
The spirit of New Orleans runs into East Coast funk for a great party.
Something might smell skunky at Willie's show.
You better not think about the Queen of Soul.
The Eagles' founding member tours in support of 2015's Cass County.
On the WorldWired Tour. Expect much shredding.
Courtesy of the Milwaukee Symphony Orchestra. Work on your Ryan Gosling and Emma Stone impressions.
Petty's first show at Wrigley is part of the band's 40th anniversary tour. He has a few hits you might have heard.
Yep, the
Cabo Wabo
founder and one-time Van Halen front man still plays music.
The jazz acts perform for Millennium Park's
Juneteenth
abolition celebration.
Cool folk tunes with an energized drive, courtesy of the New Orleans act.
Miranda Lambert, Rascal Flatts, and Thomas Rhett headline Chicago's big country music fest.
You won't hear better flamenca all summer.
The local hero performs in support of his most recent album, Black America Again.
Bret Michaels will be so happy to see you, as will the rest of the '80s metal dudes.
Kim Gordon and co. play the cemetery's annual "Beyond the Gates" summer solstice concert.
German hard rock at its loudest. Pretend you know the words.
Might as well take a booze cruise before the Yacht Rock stylings of Mr. McDonald.
Old Town School of Folk curates this series of free shows at The Park at Wrigley on select summer Tuesdays.
A great evening with the jazz vocalist and pianist.
A protege of Missy Elliott, the soulful Lady Wray is an act you should know about, stat.
A few members of the Dead and John Mayer come to Chicago for the first time. And they're back on July 1.
He's just a singer in a rock and roll band.
Relive that crazy game of poker, and wash yourself off in some drops in Jupiter.
Mullets encouraged.
Take in some light college rock with the Dispatch: America, Location 12 tour.
Wouldn't it be nice (if all the band members were still alive and got along)?
Skate or die, dude.
The Fleetwood Mac members go their own way.
Celebrate Independence Day with the sounds of this chamber-pop group.
It's billed as "The Summer Gods Tour." Do with that what you will.
A great chance to see the local blues legend and some soul royalty outside of his usual South Loop digs.
Just a band out of Beantown and a hard-rocking lady who doesn't care if she has a bad reputation.
Playing all the hits on her Be Myself Tour.
The former Kenny Chesney/Keith Urban songwriter is now a bona fide country star in his own right.
Expect "healthy" amounts of bong smoke and tattoos.
From the Pitchfork Music Fest stage to the Pritzker Pavilion, the singer-songwriter puts on a great show.
Old Town School of Folk curates this series of free shows at The Park at Wrigley on select summer Tuesdays.
Chicago in Chicago. What more do you need?
Check out the musical blend of Colombia's African, Indian, and Spanish cultures.
LCD Soundsystem, A Tribe Called Quest, and Solange headline the annual hipster-palooza.
Kiss, Korn, and Ozzy Osbourne are the biggest names at the Bridgeview metal fest.
Night one of a three-night stand (or stagger).
Fitz is worth the admission price alone.
Suburban dads, rejoice!
Carolina may be on his mind, but this is Wrigley dammit. See these two legends together while you can.
Two indie rock acts you'll be hearing much more about soon.
Old Town School of Folk curates this series of free shows at The Park at Wrigley on select summer Tuesdays.
Patterson Hood and company are still doing their acclaimed Southern rock thing after 20-plus years.
The Chicago favorites return for more jams.
The Rage and Rapture Tour, featuring two of the most badass women in rock.
The long-running punk tour features Anti-Flag, Bowling for Soup, GWAR, and about a billion others.
Solid bill of stalwarts.
The whistling violinist singer-songwriter headlines the finest indie rock show at Ravinia this year.
MGMT, Walk the Moon, Local Natives, and Flying Lotus perform at this annual South Side beach throwdown.
Another opportunity to relive your '90s glory days.
The blind African duo provides one of the best free shows of the summer.
Sir Paul returns for more epic sets of Beatles, Wings, and solo classics.
Does it get more '90s than this?
It's just like Crosby, Stills, and Nash without Crosby and Nash, but with Judy Collins.
The three-act country bill is coming in support of Bentley's 2016 concept album, Black.
Fat Tire's annual
Tour de Fat
carnival of oddities brings the tireless hip-hop outfit and a bunch of circus performers to Chicago.
Still kicking ass after all these years.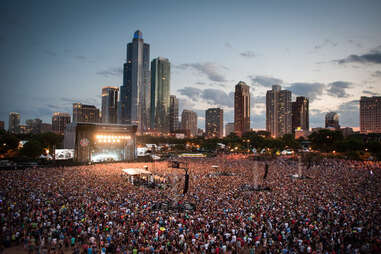 Chance the Rapper, The Killers, Muse, and Arcade Fire headline North America's largest music festival.
90 years old and still smooth as ever.
72 and still looking for hot legs.
The former Hootie and the Blowfish front man continues his solo success.
Punk never dies (it just gets a little older).
Old Town School of Folk curates this series of free shows at The Park at Wrigley on select summer Tuesdays.
Expect some serious air-guitar action at this one.
The piano man doesn't know the word quit.
Keeping it smooth.
And the Grammy for weirdest billing of the year goes to…
Go to this show. We dare you.
If your sex is on fire, go see a doctor.
Hear the iconic "Rhapsody in Blue" as well as favorites from Fred Astaire and Gene Kelly films.
Some of the best bluegrass and Americana you'll ever see.
Bring plenty of tissues to this emo extravaganza.
Bring your mom and best Gwyneth insults.
It's a two-night stand for Pretty Lights' touring festival, featuring sets from EDM and rap heavyweights.
The live performance of the film score might even be better than the book. Continue to nerd out the following two evenings when the the CSO gives the rest of the trilogy the same treatment.
Seven Grammys, 52 awards and counting.
Old Town School of Folk curates this series of free shows at The Park at Wrigley on select summer Tuesdays.
The Revolution Radio Tour brings the Bay Area trio to the home of the Cubbies.
Hopefully the Green Day fans didn't trash the place the night before...
If you're going, hopefully there's no rain and it's not your wedding day
Zac and the Band's third time at Wrigley. He must like the place.
What happened to the Cougar?
Memorize your Pitch Perfect jokes before seeing the a cappella group.
If you're stilling hanging by the moment or hanging 10.
Cake on the black eyeliner to catch Dave Gahan and the boys.
Deadmau5 and Eric Prydz, Damian "Jr. Gong" Marley, and Ween headline the always eclectic end-of-summer bash.
No, not the guy from Office Space.
Yeah, he's cheesy, but the dude can wail.
With plenty of red red wine.
From the band that brought you "Smoke on the Water," the first riff everyone learns on guitar, and the shock rocker who taught you about Milwaukee.
We want to hate this show. But we want to see The Offspring more.
Do something nice for once in your life. Take grandma to a show.
Two SoCal indie rock outfits and an opener that might just be the most interesting act on the bill.
Stop dragging her heart around. The Fleetwood Mac frontwoman packs a lot of power into a 5'1" frame.
Nine Inch Nails, Queens of the Stone Age, and Jawbreaker headline the annual punk carnival
Bring tissues to wipe up the tracks of your tears.
Bryant named this the "Huntin', Fishin' and Lovin' Every Day Tour" in case you were curious what he'll be singing about.
Nostalgia knows no bounds
See above.
Two words to describe this country star: Bad. Ass.
Common's yearly hip-hop fest hasn't announced its lineup, but you can bet it'll be great.
Let Brad sing you a "Whiskey Lullaby" while you sip or slam your drink of choice.
Sign up here for our daily Chicago email and be the first to get all the food/drink/fun in town.
Jay Gentile is a Thrillist contributor and the publisher of local music magazine Chicago INNERVIEW. Follow @innerviewmag