Everything You Need to Know About Chicago's Thanksgiving Parade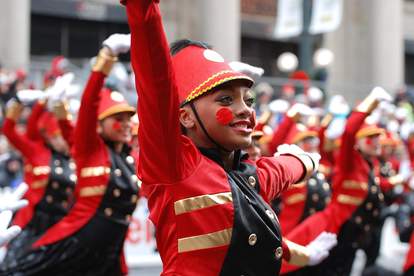 "What's up, Doc?" Chicago's annual Thanksgiving Day Parade, that's what. Just in case this annual shindig, now in its 85th year, fell off your radar, allow us to bring you up to speed faster than you can say "pass the gravy." Legendary Looney Tunes ringleader Bugs Bunny has been tapped as this year's grand marshal, and there's also a new presenting sponsor -- Uncle Dan's outfitters -- in 2018. Have we whet your appetite? Dig out your elastic waistband pants and prepare to gorge on a feast of parade morsels coming your way.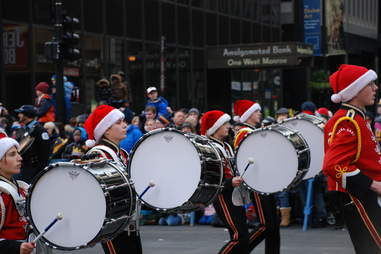 Thankful for drummin'.

| Randy Escalada/flickr
When is the parade?
That's an easy one: The parade officially starts Thursday, Thanksgiving Day, November 22, 8-11 a.m.
What's the route?
You can put away the GPS. The parade route runs straight up State Street, kicking off at Congress Parkway and heading north to Randolph Street.
Prepare to be sandwiched amidst a couple hundred thousand strangers (closer to 500,000 if temperatures are unseasonably warm), all jockeying for position along the mile-long route. If you want to nab a front-row view, organizers say to arrive well before 7 a.m. For a little elbow room, try the corner of State and Van Buren, where a pocket park offers a small opening. People with special needs will find a designated area at State and Jackson.
Want to separate yourself from the pack? Though the event is otherwise free, you can plonk down $60 per person for a VIP experience in the TV Zone, near Randolph and State, which is the only place along the route to catch the performances being staged solely for television. Not to shatter your delusions of being treated like Queen Bey, but the VIP Area consists of general admission bleacher seats, private portable restrooms and the option to buy food and drinks. Kids two and under are free but they have to sit on your lap -- think of it this way, at least your legs will be warm. Speaking of which...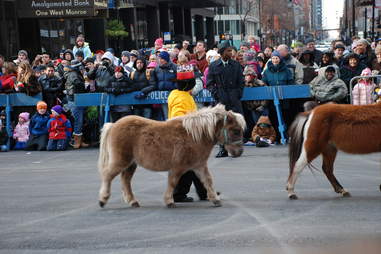 Thankful for animals.

| Randy Escalada/flickr
What should I wear?
Flip-flops and a tank top would be ill-advised. It is Chicago, after all. In late November. Prepare to lose feeling in your hands and feet, especially after standing still for hours on end. Uncle Dan's (bought in 2017 by Marcus "The Profit" Lemonis to join his Camping World family) would probably be really really happy if you piled on gloves, hats, and scarves.
How do I get there?
For the love of road rage, take public transportation. It doesn't get more convenient than the CTA 'L' stations at Van Buren and Randolph, which practically bookend the parade route, or the slew of Red Line subway stops on State Street itself. Metra will also get you pretty darned close to the action. If you absolutely have to drive, or Uber/Lyft, be warned that street closures begin at 5 a.m., not only on State Street, but also the east/west streets intersecting State, from Roosevelt to Wacker.
Why should I go?
Come on, Scrooge, get in the holiday spirit. If Santa Claus can schlep from the North Pole to make a cameo, you can trek from North Center or Northbrook.
Highlights will include festive floats, giant inflatables, marching bands and appearances by parade mascot Teddy the Turkey, the Harlem Globetrotters, the Chicago Blackhawks, and equestrian groups to name just a few of the anticipated 5,000 participants. Performances will feature, among others, Ballet Folklorico Sones Mexicanos and the cast of -- how timely is this? -- "WaistWatchers The Musical!"
Thankful for trumpets that are not really blasting in our ears.

| Chicago Thanksgiving Parade
What if I want to make a day of it around town?
Most shops and restaurants in the vicinity of the parade will be closed for the, you know,
national holiday
, but God bless capitalism, some things will be open. If you're feeling lucky,
try booking a reservation
at the Palmer House, 17 E. Monroe St., for the hotel's Thanksgiving brunch buffet (11 a.m.-3:30 p.m.) or turkey dinner (5-10 p.m.). Macy's
Walnut Room
, 111 N. State St., also hosts a wildly popular Thanksgiving buffet (5-9 p.m.).
Treat yourself to a less traditional feast AND a movie at the AMC Dine-in Block 37, 108 N. State St., which is screening the holiday classic "Ralph Breaks the Internet."
While loads of retailers, including State Street stalwarts H&M and Nordstrom Rack, are backing off from Thanksgiving hours at their brick-and-mortar outposts, Old Navy is bucking this trend. The store at 150 N. State St. has posted hours of 9am-noon on Turkey Day, great news if you need to pick up an extra layer for parade viewing (shhh, we won't tell Uncle Dan's).
Heck, why not skip Thanksgiving altogether and head straight to Christmas. The Christkindlmarket in Daley Plaza will be serving up Yuletide cheer 11 a.m. to 4 p.m.
Of course, you'll want to capture some selfies to show your followers you're having the most amazing holiday ever. The best backdrops: the iconic Chicago Theatre sign, which literally screams "Chicago," Macy's Christmas window dressing and the "Hamilton" marquee at the CIBC Theatre (18 W. Monroe St.). Don't throw away your shot.
How do I watch the parade if I don't want to get off the couch?
Fine, party pooper, it's totally possible to have your pumpkin pie and eat it too: The parade will air live on WGN-TV Channel 9 and WGN America. A live stream will be available at wgntv.com.
For the most up to date information, follow the parade on Facebook, Instagram, and Twitter.
Sign up here for our daily Chicago email and be the first to get all the food/drink/fun in town.
Patty Wetli is a contributor to Thrillist.