Just because summer is wrapped up doesn't mean you can't still drink beer in the street (aka the itinerary for every Chicago festival). So prep for fall by acting like it's still summer with our comprehensive guide to EVERY fall festival in Chicago.
Chicago's longest-running Oktoberfest celebrates its 30th year with a traditional outdoor toast followed by three days of live music, '80s trivia, and prizes.
This beer fest features high-end brews and your chance to win a 30-case "Tower of Beer" in the raffle. Talk about classy.
Farm Aid returns to Chicago with Willie Nelson, Neil Young, Imagine Dragons, and more, plus farm-identified local and organic food. You can also meet and hang out with farmers, if that's how you rage.
Join the Chicago Homebrewers Pride of the South Side at a VFW hall beer garden for a pig roast, German food, and all manner of crazy homebrews.
Craft beers, food trucks, live music, you know the drill... it's a beer fest. This one goes down in Irving Park's Independence Park for its second straight year.
Yes, it's a film festival for cat videos. No, we're not kidding.
Experience a weekend of art, music, food, and community while getting a peek inside the spaces that have helped define Ravenswood.
Tacos take center stage with inventive offerings plus Mexican wrestlers, beer and taco parings, and a best taco contest.
Indie arts and crafts, indie bands, and food/drink from local vendors.
Scour for vintage goods in Chicago's only all-vintage market venue.
The ultimate in fancy-pants dining with 150+ top chefs and restos, plus wineries, spirit makers, and breweries.
Beer, brats, Bavarian pretzels, beer, lederhosen, live pop/German music on two stages, and also beer.
Replace that lava lamp with something a bit more grown-up at one of the country's finest fine craft shows.
Architecture talks + theater performances + literature readings + live comedy + music = culture, now in festival form.
Diplo's uber-cool dance music label sets up shop at Hawthorne Race Course for you to get freaky with Major Lazer, Klingande, Martin Solveig, and more.
The largest Hispanic family event of its kind in the Midwest features live bands, dance, and "activity stations" dedicated to art, science, music, and more.
120+ Chicago artists are paired with live music, a beer garden, and a talent show.
This Chicago street festival celebrates design with hay rides, live music, and a silent auction.
See live jazz on 14 stages across Hyde Park in a variety of settings with 18 hours of free, nonstop live performances.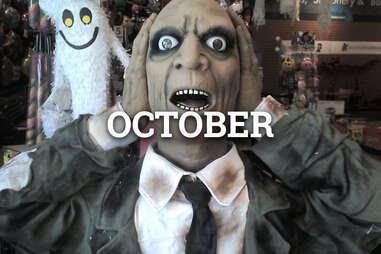 West Town turns into a pop-up art gallery within shops along Chicago Ave in various media including visual, music, and culinary.
This new fest offers live music, vendors, a petting zoo, and drum circles as well as artisanal beer and wine flights plus BBQ tastings.
Food trucks like The Fat Shallot, Babycakes, The Slide Ride, and Yum Dum make this a 5K you might actually consider doing.
Games, chalk art, a fishing pond, duct-tape crafts, and a fire station open house highlight this walk through the Eisenhower Public Library District.
Enjoy bacon bites (David Burke Primehouse, Haute Sausage, Public House, Dinky Donuts, etc.) and beer (Flossmoor Station, Abita, Motor Row, Lake Effect, etc.) in two sessions (brunch and evening) without the Cutler frustration.
Get the answers to life's big questions at this weeklong fest for the brain, with 100+talks and labs including a conversation between Rahm Emanuel and Hillary Clinton.
Pit bulls and other "bully" dogs are the beneficiaries of this charity event featuring five hours of live music, drinks, dinner, and a raffle.
Fight local hunger with this 10K featuring a post-race party with live DJ, afterparty yoga session, and beauty consultations.
Scour for vintage records at the season finale of Chicago's only all-vintage market venue.
Bassnectar, Pretty Lights, 2 Chainz, and more (not to mention carnival rides, games, and haunted houses) invade Toyota Park as this local Halloween dance festival takes to the large-scale outdoor stage for the first time.
Sort of like the Art Basel of Chicago, SOFA is the premier gallery-presented art fair dedicated to three-dimensional art and design. In other words, not the place to buy a new La-Z-Boy.
See live acoustic acts in all sorts of weird Wicker Park/Bucktown locations including dog-grooming salons, jewelry stores, and sex shops.
Get ready to elbow tourists for Beanie Babies with a tree-lighting ceremony, live music, a parade, and fireworks to kick off the holiday shopping season.
The old faithful of fall festivals. Bonus points for heckling Ronald McDonald.
It wouldn't be December without some ridiculous excuse to wear a Santa suit. This one involves running (and Christmas music along the course).
The Chicago College of Performing Arts at Roosevelt University welcomes some of the finest young jazz talent at Chicago's leading jazz venue.
Lucha libre wrestling, a beer replica of Buckingham Fountain, food trucks, and 100+ craft beers = the only acceptable reason to visit Hoffman Estates.
Some call it a festival, some call it a bar crawl, some call it the culmination of everything that is wrong with today's youth. Either way, it's TBOX. And you're drinking early. Real early.