Do you like festivals? Good thing you live in Chicago, because there are about a billion to choose from. Luckily, we put together this handy guide to EVERY summer festival in the vicinity. You're welcome.
The largest Latin event in the nation takes over Humboldt Park with authentic Caribbean cuisine, arts and crafts, carnival rides, and plenty of Puerto Rican flags.
200+ craft beers from 100+ American breweries, all bordered by the Chicago skyline and lake. What's not to like?
The zoo hosts a full-blown brew fest with 75+ specialty craft beers produced by 35 local and regional breweries, plus lawn games, a DJ, and tasting tents set up on zoo grounds.
Chicago goes country with this 3-day extravaganza of mainstream country acts including Jason Aldean, Lady Antebellum, and Tim McGraw. Better pack your cowboy boots.
Chicago's finest food hood also boasts one of the best music lineups of the summer with Peter Bjorn & John, Ms Mr, and Atlas Genius. This year you can even party at a replica stage of Colorado's Red Rocks, should you crave a change of scene.
Did you know where Chicago's real Little Italy is? It ain't Taylor Street. It's Little Village Heart of Italy, as one trip to this celebration of all things Italy clearly demonstrates.
What goes better together than BBQ ribs and pro wrestling? Nothing, apparently, as this fest indicates.
One of the country's top juried art fairs welcomes more than 300 artists selling art that will finally replace that old Bob Marley poster from college.
Party eco-style with a people-powered bicycle stage, ecologically crafted brews by Lagunitas, and a killer indie music lineup featuring Black Joe Lewis, King Khan & the Shrines, and Waxahatchee.
A weekend-long celebration of LGBT pride culminates in the annual Pride Parade's four-mile route from Uptown to Lincoln Park.
One of Chicago's coolest fests takes place (naturally) in one of its coolest hoods with live bands, art, and local eats from the hood.
Formerly know as the Old St. Pat's Block Party, this year's megafest is headlined by Passion Pit and features a "Pot O'Gold Raffle" to win $20K.
Like food trucks? Then park it here (get it?). 2016's lineup is TBA, but last year's trucks included Tamale Spaceship, Haute Sausage, and Fat Shallot.
Encased meats, indie bands, and art converge in front of Abbey Pub for this Chicago sausagefest. Someone alert Abe Froman.
Another Chicago weekend, another Chicago ribfest. Bring napkins.
The African/Caribbean heritage celebration sets up shop in Union Park with live music, reggae, soccer, food, and plenty of good vibes.
Chicago's best summer music fest takes over a laid-back South Side beach with a diverse range of acts including Animal Collective, Atmosphere, and Chromeo.
The annual Chosen Few Picnic has evolved into this new two-day DJ music festival featuring the best in local house music.
It's Taste of Chicago -- the world's largest outdoor food festival. Ever heard of it? This year's bands include The Roots, Billy Idol, and The Decemberists.
Why wait for St. Patrick's Day when you've got this green rager with live music, Irish dancers, a craft beer tent, a "men in kilts" contest, food from local restaurants, and a mashed potato eating contest?
Latin alternative music fest, with plenty to wash down the sounds.
Some of the coolest bands in town hit this underrated fest, which also includes a pet obstacle course and DJ stage.
Get in touch with your inner Jackson Pollock by painting part of the freestanding graffiti wall at this downtown art fest.
Roots rock takes center stage, headlined by Robbie Fulks's Bluegrass Explosion alongside Old Town School of Folk teachers and a deep lineup of 30+ craft brews.
Sample inventive burgers from top local restos including Butcher & the Burger, Chubby Weiners, Dive Bar, Reggie's, and Fatso's Last Stand with live music and an audience vote for best burger.
Chicago's premier celebration of African-American culture, with entertainment lineup TBA.
One of Chicago's more family-friendly fests goes down at St. Benedict Parish with live bands, raffle, and a 3-on-3 hoops tourney.
BBQ, country music, and beer. What more do you need to know?
Music, craft beer, and "gourmet man food" collide at this inaugural metal fest featuring Ministry, Chevelle, and Rammstein.
Artists, DJs, and a car show, plus Columbian coffee, steak, pina coladas, and more.
Peep the work of 75+ local artists' work in oil, acrylic, watercolor, jewelry, sculpture, photography, glass and mixed media. Also, chat with the artists and check out live demos.
This world music fest sets up shop in one of Chicago's most culturally diverse hoods, with 2016 lineup TBA.
This year's hipster Lollapalooza features Brian Wilson, Beach House, Sufjan Stevens, Broken Social Scene, and more.
One of Chicago's more ethnically unique fests features a lion dance procession, a "traveling Children's Museum", a petting zoo, pony rides, a "hot legs" contest for men, a cutest baby contest and, of course, a ton of Chinese food.
Lucky Boys Confusion headline this celebration of River North eats with Goose Island beer, a pet zone, and morning workouts at East Bank Club.
Like gardens? Like drinking? Look no further, you've found your fest.
Held in collaboration with the Sheffield Garden Walk, tickets include 15 3oz samples and live music.
Vendors include Wicked Pepper, Tongue Spank, and Voodoo Chile, so… you get a pretty good idea of the type of cuisine you're about to inhale.
Immerse yourself in all things Central and South American -- music, cooking demos, and (of course) food, from fish panades and empanadas to Brazilian sausage and fried plantains.
Expect Pitchfork-caliber bands and plenty of oddball art at this annual neighborhood throwdown, plus the Redmoon mobile photo factory.
This year, Perry Farrell's mighty Chicago extravaganza expands to four days, and headliners include Radiohead, LCD Soundsystem, and Red Hot Chili Peppers.
The largest Latino festival in the Midwest features live music, DJs, food vendors, carnival rides, soccer games, and a 5K.
Jefferson Park gets into the festival game with Journey, The Who, Pearl Jam, and Led Zeppelin cover bands plus food, drink, and art.
Why does the margarita merit its own fest? Because why the hell not. It's summer in Chicago.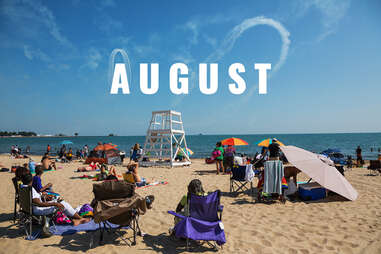 Join top Chicago chefs and wine enthusiasts as you taste during the day and dine under the stars in Lincoln Park. This year's lineup TBA.
Stuff your face in front of the Chicago History Museum with creative hot dog offerings from top local restos. What the hell this has to do with history we don't know, but do we really care?
Bands, food, booze, you know the drill.
Blues Traveler and Talking Heads cover band, Start Making Sense, headline one of Chicago's largest street fests with 250+ vendors, 30+ bands, and a mini craft fair.
Until the Cubs win the World Series this fall, this is the biggest party in Wrigleyville.
Throwback jams, an antique car show, and kids' rides headline this annual blast from the past bash.
Cigar rolling, dominos, pony rides, and classic cars converge at this celebration of all things Cuban. Did we mention they have a white tiger?
Japanese folk dance, taiko drumming, judo, and wood carving art make this no ordinary street fest.
Get blasted with 10,000 pounds of colorful paint as you run a 5K around Soldier Field, then follow it up with a massive post-race party.
This annual back-to-school party is the oldest and largest African-American parade in the country, stretching from Bronzeville to Washington Park, where a post-parade picnic is held.
The Midwest's largest outdoor street festival turns 35 this year, so yeah, it might be fun.
Red, white, and blue and camo will be on full display at this annual tribute to Illinois troops.
Italian card games, Italian singers and dancers and, duh, Italian food takes center stage, plus totally necessary meatball and cannoli eating contests.
Edison Park is a neighborhood in Chicago. Which is good enough reason for a festival.
Check out open studios, live bands, theatre groups, and food/drink as you stroll the cobblestone streets of the underrated Glenwood Avenue Arts District.
Brazilian Carnival comes to Chicago. Be there.
Free fest features top hip-hop acts plus food and drink, with this year's lineup TBA.
The melting pot that is Albany Park gathers cultures and cuisines from all over the world. The live music covers Brazilian beats and salsa to calypso, West African folkloric and Asian drums.
One of the highlights of any Chicago summer will have you peering up into the roaring skies from the beach or, better yet, from your buddy's boat on the lake.
Cultural happening at Chicago's iconic South Shore Cultural Center with a range of acts, food, and merchants along the lakefront.
Tricked-out cars and bikes do their thing plus film screenings, mariachi bands, and Mexican cuisine.
Do you think there will be Greek food at Taste of Greektown? We'll let you answer that one.
Art, poetry, theatre, and dance plus live bands, food trucks, sangria and craft beer.
Check out live runway shows as you consume local eats and drink at this annual fashionista flash mob.
Chicago's historic Motor Row automotive district springs back to life in a river of craft beer and wine.
After taking last year off, one of Chicago's most beloved fests is expected to return this year, although details remain scarce.
Dates are still TBA for this year's famous South Side block party with live bands, horseback rides, and South Side food vendors.
Never fear; there will be a Berghoff Oktoberfest this year, we're just not sure of the dates yet.
The Midwest's largest lobster fest features fresh Boston lobster, surf and turf, live music, and games.
Chicago's most unique music fest brings together hip hop, dance, rock, and jam bands for its annual farewell to summer in Union Park.
Every Labor Day weekend, Washington Park transforms into an African village with tribal drumming, spirituality, and interactive engagements. Not to be missed.
Live bands, folk dancing, casino gambling, and of course, plenty of Polish eats and weirdly awesome Polish beers.
Buckingham Fountain isn't just that place from Married With Children where lost kids at Lolla text their parents. It's also the site of this wine fest, where you can sip 300+ wines with wine seminars, local eats, and live music.
This new fest is all about retro tunes, and we're not talking '90s retro. We're talking '50s, '60s, and '70s retro plus craft beer tastings, art, and kid's activities.
Yes, there will be pretzels. Yes, there will be massive beer steins. Yes, there will be lederhosen. Yes, this is a German fest.
This outdoor gala of Mexican heritage breaks out at the terminus of the 26th Street Mexican Independence Day Parade with food, music, art, and carnival rides.
Are there better ways to kick off the unofficial start of autumn than by slurping oysters in tents housing fresh seafood and other local culinary delights? Not according to this fest.
Experience a weekend of art, music, food, and community while getting a peek inside the spaces that have helped define Ravenswood.
Indie arts and crafts, indie bands, and food/drink from local vendors.
Peep fine art and crafts from 125+ juried artists plus music, food, and family activities.
All we know at this point is that the original Misfits will be reuniting for the first time in 33 years at this year's annual punk rock carnival, which is all we really need to know.
Post up in one of America's hottest hoods for the only street festival that exclusively features Chicago-made craft beers, Chicago music, Chicago food, and a Chicago-made art marketplace.
Combine crazy tacos with Mexican wrestlers and beer/taco pairings and violà, you've got yourself a festival.
150+ juried artists from across the country in a variety of mediums, including paintings, glass, ceramics, photography, and jewelry plus, naturally, food and music.
Sign up here for our daily Chicago email and be the first to get all the food/drink/fun in town.