It's finally, mercifully, time. The leaves are changing and crunching satisfyingly underfoot, socks and slides are being replaced with Doc Martens, and the streets are once again lined with cozy mustard-yellow cable-knit sweaters. It's fall, y'all, and there's so much to do. And no part of fall has more fun things to do than right now, the month of Halloween. There's so much to eat, so many ways to feel vaguely spooked or mortally terrified, and so many festive excuses to drink and drink and drink this month in Chicago. Following this calendar is the best way for you, and the skeleton living just underneath your skin, to make the most of it.
Spending Halloween outside of town? Check out our guides to the best Halloween parties and events in NYC, LA, Las Vegas, Houston, Nashville, San Francisco, New Orleans, Miami, Seattle, Portland, Atlanta, DC & Boston.
Open through November 1
Navy Pier
The holiday lights at Navy Pier get a lot of press (and for good reason), but don't sleep on their Halloween-themed Pier Pumpkin Lights pop-up. Navy Pier brought in local artists to create installations like a Pumpkin Picasso and a Juggernaut of Jack-O-Lanterns, while costumed dancers perform along the length of the pier, culminating in the Haunted Halloween Ball on October 26. Plus, your favorite Navy Pier restaurants and bars will be offering unique menu items and specials for the duration of the pop-up! Make sure to bring the kids along on October 26, 27, and 31 for pier trick-or-treating as well.
Cost: Free
Shows Thursday-Saturday, through November 16
Edgewater
Y'all like true crime, right? Well, instead of binging the entire backlog of My Favorite Murder for the 14th time, head over to Bloody Bathory, an immersive theater experience that transports you to 16th-century Hungary, and the estate of Elizabeth Báthory, the world's most prolific female serial killer, famous for bathing in and making elixirs from the blood of virgins to keep herself young. Audiences will be free to move around the rooms of the estate, following 17 characters and catching glimpses of different scenes before a final scene in which the audience acts as the jury to determine Báthory's guilt. This is as immersive as true crime can get without actually being killed.
Cost: $27
Now through November 1
Goose Island
It's kind of weird to call this a pop-up when Jack's Pumpkin Pop-Up is taking over almost the entirety of Goose Island, but here we are. Nomenclature aside, Jack's Pumpkin Pop-Up is notable in that its sheer size means that it can mimic the feel of a harvest festival out in the boonies in the heart of the city. Attractions include plenty of Instagram-story-worthy photo backdrops, ax throwing, Chicago's largest corn maze, an honest-to-goodness arcade, four full bars, ax throwing, dance parties, and ax throwing. I know I mentioned ax throwing three times, but trust me, you'll be thanking me for reminding you to get your practice in when you're staring down a hockey-mask-wearing murderer wielding a machete. 
Cost: $15
October 17-October 31
River North
If that concert wasn't enough Tim Burton for you, hop over to Headquarters River North to check out their Tim Burton-themed pop-up installations! The pop-up will include art and installations from Burton's entire career, from Mars Attacks to The Nightmare Before Christmas to Corpse Bride to Edward Scissorhands and beyond! Across the length of the pop-up, they plan to host themed events like Tim Burton trivia, and a Nightmare Before Halloween dance party as well. Plus, they're revamping their menu with Burton-themed food and drinks. Dig through your closet for those old Hot Topic T-shirts and drop by.
Cost: Entry is free
October 24
Lincoln Park
The Great Pumpkin Glow is a Chicago Halloween mainstay for a reason. Dotting the zoo with cash bars, pumpkin patches, and corn mazes, while at the same time barring all those loud, meddling kids from entry turns the best zoo in America into a beautiful fall refuge. Be sure to check out the pumpkin glow trail at the children's zoo area, and take a spin on the carousel for free until 9:45pm!
Cost: $15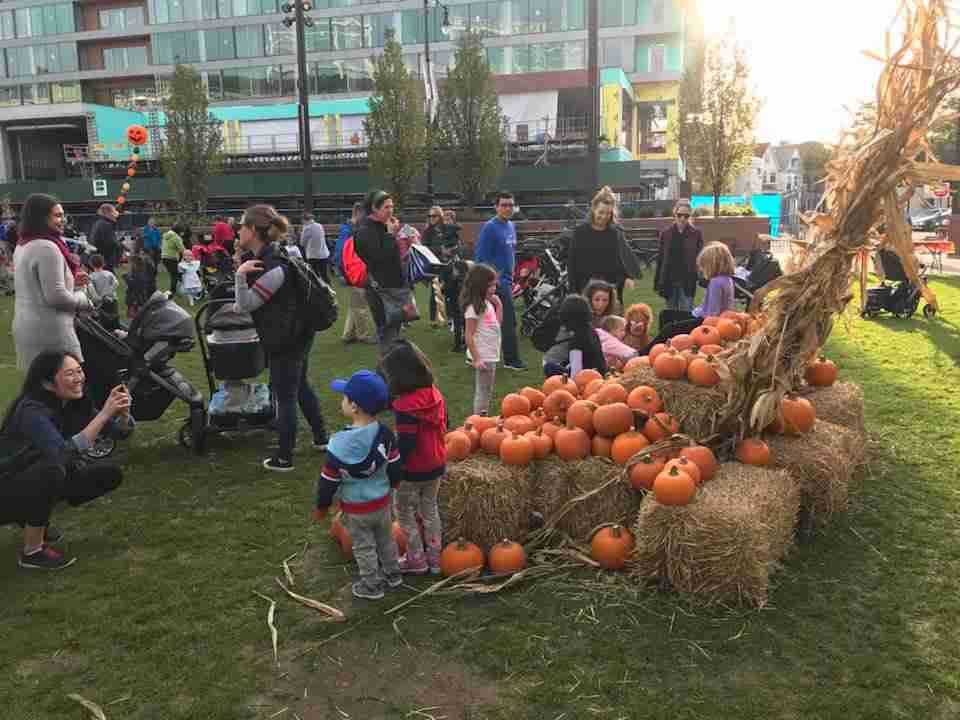 October 24
Wrigleyville
For the third year in a row, Gallagher Way is hosting a huge, family-friendly party right outside Wrigley Field. From 3:30pm until 7pm, the Pumpkin Party will bring tons of fall-themed fun to Gallagher Way, including caramel apple-dipping stations, lawn games, spiked cider for the adults, balloon animal artisans, and arts and crafts stations provided by Kid Create Studio. This culminates in a night showing of Hocus Pocus on that enormous screen that normally shows the live feed of Cubs games. It might not take all the sting off of the Cubs missing the postseason, but it might help a little bit.
Cost: Free
October 25
River North
If your style is more slasher-chic than VSCO girl, hop over to Slayfest at the Chicago Architecture Center, where they're hosting one of the most unique fashion shows you're likely to see. Models will be walking the runway in duds inspired by Hollywood's best and goriest horror films, with the audience voting on the style icon that had the most shockingly stylish outfit.
Cost: $25-40
October 26
Lincoln Park
The 10th annual Bands Being Bands show promises to be one for the ages. Five bands will descend upon Elbo Room in full costume, imitating bands from Queen of the Stone Age to Madonna to Metallica and beyond. Be sure to arrive early and in costume so as not to miss any of the loudest Halloween party in town.
Cost: $7 in advance, $10 day-of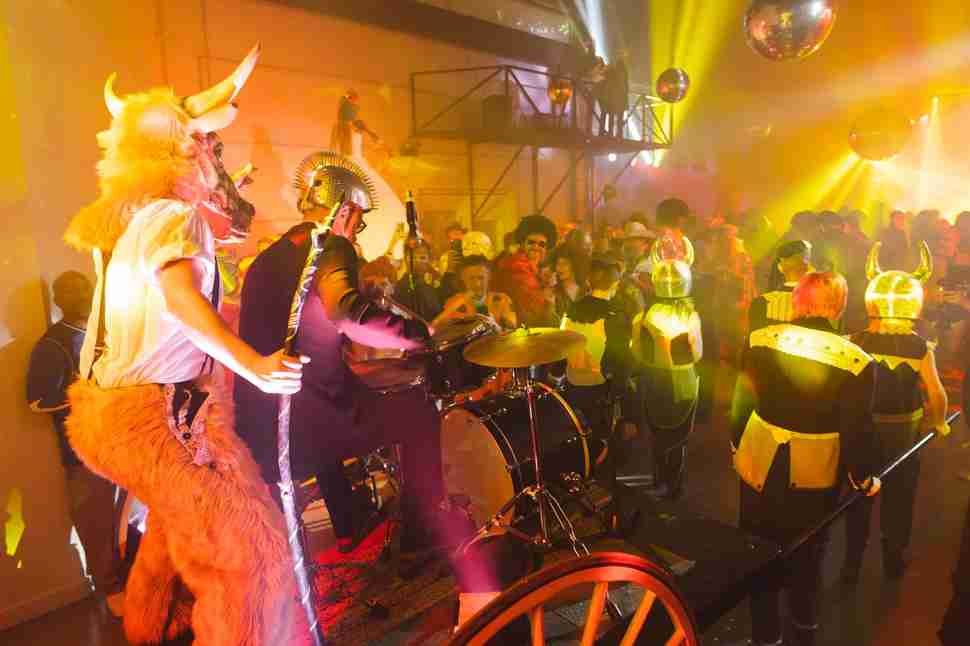 October 26
Fulton Market
Let's get this out of the way at the top:This is, by far, the priciest event on the list, with tickets starting at $125. That said, the ticket sales will directly fund research for retinal vasculopathy with cerebral leukodystrophy, a rare genetic condition. So don't feel bad for treating yourself. The party itself promises to be incredible, with multiple open bars, art installations including a series of "interactive light sculptures," intermittent character performances, and of course, a DJ playing danceable tracks all night.
Cost: Tickets start at $125
October 26
The Loop
The Commons Club and Cerise Rooftop at Virgin Hotels Chicago got a creepy, circus-themed makeover. Not only will acrobats, contortionists, fire breathers, and other entertainers dot the halls and ballrooms here, but Twin Shadow, Will Galvan, Greg Corner, and Brock Manke will all be performing concerts. At a price of $45 (which includes a cocktail and themed circus grub like popcorn balls and cotton candy), if you're looking to go the ticketed party route, this is a great way to make sure you're getting your money's worth.
Cost: $45, $25 Early Bird
October 31-November 1 
Grant Park
Hop over to the Auditorium Theatre on Halloween (or the day after) to catch a screening of the legendary Nightmare Before Christmas, complete with the Chicago Philharmonic playing the score live along with the movie! Trust me, hearing "This Is Halloween" played by a full orchestra is an experience you won't want to miss. Plus, the Auditorium Theatre is hosting preshow events including trick-or-treating and a costume contest! 
Cost: Tickets start at $30
Sign up here for our daily Chicago email and be the first to get all the food/drink/fun in town.