The Best Halloween Events in Chicago This Year
Where to mix potions, catch the 'Rocky Horror Picture Show,' and dance until you drop this Halloween season.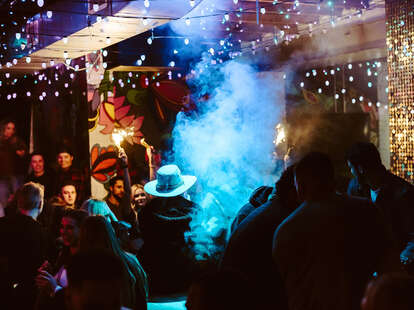 TwiLIT Zone at Bandit on Two

| TwiLIT Zone at Bandit on Two
TwiLIT Zone at Bandit on Two

| TwiLIT Zone at Bandit on Two
In a lot of ways, Halloween in Chicago serves as a last big hurrah before winter hibernation. Like Mardi Gras before Lent, it's one final chance to dress up, let loose, and party before we descend into full-blown weighted blanket season. In other words, it's basically your duty to make the most of the witching season while you can, and this year's slate of haunted happenings has more than its fair share of tempting fun. From potion-making experiences and macabre immersive theater to beer parties and pumpkin pop-ups, these are Chicago's most extraordinary Halloween events and happenings this year.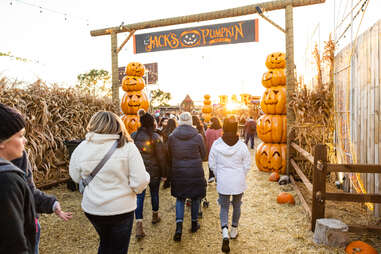 Family-Friendly Halloween Events in Chicago
October 21
Loop, Free
This dazzling, downtown Halloween spectacle, one of the best in the Halloween celebrations in the world, is returning for its ninth year with all manner of quirky floats, artsy costumes, giant puppets, and eccentric performances strutting down State Street between Lake and Van Buren. It will totally freak you out—in a good way. The parade takes place from 6 to 8 pm.
Through November 5th
Goose Island, Starting at $26
It seems remiss to call Jack's Pumpkin Pop-Up a "pop-up" when the monthlong event has effectively consumed all of Goose Island. Nomenclature aside, this massive event is essentially Halloween headquarters for all things spooky and pumpkin-spiced—a full-blown carnival-esque festival that just so happens to be in the middle of the city. Attractions include plenty of Instagram-worthy photo backdrops, apple cider donuts, pumpkins for sale, Chicago's largest corn maze, multiple full bars, gem-mining, fortune tellers, and most notably, axe-throwing. (You might want to hone your axe, considering there will be hockey mask-wearing serial killers roving around.) Tickets are available on the website.
Throughout October
Wicker Park, Prices vary
Could there be a more perfect setting for Halloween than a subterranean bar called The Cauldron? Billed as a "wizard pub", the magical concept got its start in London (which makes sense considering that city's Harry Potter lore) before expanding to Chicago this past May for its largest location yet—housed in the basement bank vault that formerly held The Bedford. The bewitching vibes are evergreen here, but they're particularly befitting during Halloween season, with special events and classes throughout October. These include a Halloween edition of the pub's Potions Experience, complete with cocktails infused with DIY boba pearls (that guests make at their tables using reverse spherification); unique Halloween costume contests October 26 through 28 (atypical prizes include "Most Likely to Haunt Your Nightmares" and "Most Chicago"); ongoing horror movie marathons with caramel apple popcorn; family-friendly pumpkin-carving every Sunday; and a Dia de los Muertos Witches Ball drag show on November 3. Tickets are available through The Cauldron website, and there are also family-friendly and alcohol-free potions classes available at select times.
Through October 31
Wicker Park, Free admission
New Orleans—with all its voodoo history—has Halloween energy built in, which is what makes New Orleans-inspired Ina Mae Tavern a vital stop on your seasonal itinerary. The closest thing to New Orleans in Chicago, this Wicker Park bar has transformed into the Voodoo Lounge for the month of October, featuring all manner of eerie decor and menu specials, plus a full schedule of festive events, like Tarot Tuesdays, Voodoo Bingo on Wednesdays, a Friday the 13th Horror Drag Show, a Halloween party on October 28, as well as family-friendly Halloween happenings—including goodie bags for kids and free hot chocolate—on October 31. Also, look for special Voodoo Lounge cocktails all month long, like the Witches Blood Martini, the Black (Cherry) Magic Cocktail (with black cherry, whiskey, and Angostura bitters), and Jack Skullington Patron Margaritas served in a cauldron.
Throughout October
Fulton Market, $4 per item
You won't find better treats this time of year than those at Swift and Sons. All month long, the swanky Fulton Market steakhouse is rolling out its Haunted Dessert Trolley for all manner of sweet table-side surprises, courtesy of pastry chef Casey Doody. Customers can pick between cute and colorful treats like BOO! "Ghost" Marshmallows, Brown Butter Rice Krispies Treats, Spiced Pear Macarons, Vanilla Cake Pops, Caramel Truffle Pops, and White Chocolate Mummy Brownies. Reservations are available through Opentable.
October 24, 6:30 pm
Lincoln Park, $85.95
For one night only, the all-seasons courtyard at Summer House Santa Monica will transform into a coven of tricks and treats. Guests are encouraged to come in costume as they sip and sample an array of photogenic sweets and themed cocktails, like the Nightmare on M Street Margarita and the Who Shot Tom Collins. Snacks include a 'Yack'-o-Lantern Guacamole station and Devilish Eggs. There will also be pumpkin- and candy-apple-decorating stations, and more. Reservations are available through Opentable.
October 28, 1 pm
Wicker Park, $67.62
The foremost beer-centric Halloween party of the season is touches down at Chop Shop in Wicker Park, where chef Won Kim (Kimski, Lilac Tiger) is hosting his own brew-tastic event, Boo Ha-Ha: The Awakening, for the first time in eight years. From 1 pm to 6 pm, come in costume and sample unlimited pours from more than 20 craft breweries, including Marz Community Brewing, Middle Brow, 18th Street Brewery, and others, along with experimental ales from home brewers and a buffet of food. Along with DJs Mike Slugs and Brother B, Kim will also be spinning records throughout the shindig. Tickets available on Dice.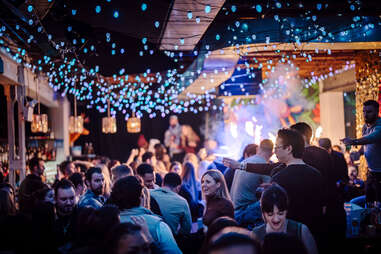 October 26, 6:30 pm
Lincoln Park, Starting at $20
There's something particularly scary about attending an after-hours Halloween event at the zoo—surrounded by some of the world's deadliest carnivores. Thankfully, the apex predators will remain in their exhibits, but costume-clad employees will still try their damndest to jump-scare you on the haunted trail. This adults-only event also includes multiple cash bars, dueling pianos, lawn games, animal chats with the guest engagement team, and live music. Tickets are available through Eventbrite.
October 28, 7 pm
Fulton Market, $95
Leave it to Boka Restaurant Group to throw a Halloween soiree with Hollywood-style glitz. The subterranean Izakaya beneath Momotaro is rolling out the blood-red carpet for its annual Halloween party once again, and this year's theme is Haunted Cinema. The space will transform into a noir-style cinema inspired by vintage horror films. Look for themed confections and cocktails, and all-night tunes from DJ Stryfe. Tickets include access to food and dessert stations, plus three cocktails.
October 28, 8 pm
Loop, $100
If you go big for one decadent Halloween blowout this year, make it the Nightmare on Wacker Drive 23 party at LondonHouse. This downtown event features a haunted carnival theme, which should make for some zany costume possibilities. It's held in the LH on 21 Lounge, as well as the Etoile Ballroom and the LH Rooftop—with river views for days. Doors open at 8 pm, with a premium hosted bar until midnight, live DJs, and a costume contest—with first place earning an overnight stay and two tickets to the New Year's Eve party later this year. Tickets are available on Tock.
October 28, 9 pm
South Loop, Starting at $20 (early bird rate)
For one of Chicago's biggest annual Halloween parties, there's really no better place than a historic downtown hotel that may or may not be haunted for real. For this year's Haunted Halloween Ball, the organizers are going big by transforming the Congress Plaza's 20,000-square-foot ballrooms into zombie-run abandoned hotels. Part nightclub, part hotel gala, part costume contest, and part haunted house, it's really your one-stop shop for all things Halloween. So don your Halloween outfit, and expect a VIP experience, complete with encounters with the ghoulish hotel staff: vampire bellmen, zombie maids, and costumed go-go dancers. Tickets available through Eventbrite.
October 28, 9 pm
West Loop, Free
It's a good ol' fashioned Halloween costume party, complete with trippy decor and festive potables, at Bandit's second-floor bar Bandit on Two. The late-night fete, stretching from 9 pm until 3 am, is an opportunity to drink and dance the night away to DJs and live performances. Expect a ton of Halloween decorations and costumed staffers aplenty.
October 31, 6:30 pm
Northalsted, Free
Northalsted always knows how to put on a party. Bust out your finest costume and head to the gayborhood for the 26th edition of this all-sensory spectacle. Make your way down Halsted from Aldine to Waveland as Grand Marshals lead a Halloween parade featuring a costume contest with $4,000 in cash prizes, plus live performances, a dance party, and an awards show. Register on the Northalsted website.
Halloween Theater and Films in Chicago
Various dates in October
Navy Pier, Starting at $42
One of this year's most unique new Halloween events is an immersive theater experience on Navy Pier, designed to transport attendees into a genetic plant lab gone wrong. Called Garden of Decay, the floral experience follows the narrative of a grieving botanist desperately searching for resurrection, complete with entrancing art installations and narration. After a romp through the garden, finish at the Garden of reCreation for more art, vendors, botanical cocktails, and late-night entertainment. Tickets, with family-friendly time slots and 18+ time slots, available on the Navy Pier website.
October 27, 28, 30, and 31
Lakeview, Starting at $12
It's time to do the time warp again. Screening campy classic The Rocky Horror Picture Show since the 1980s, Music Box Theater is at it again with multiple midnight screenings complete with a shadowcast (live actors perform the film in front of the screen). These are wildly popular events, so snag your tickets ASAP and prepare yourself for an experience unlike any other.