How to Celebrate St. Patrick's Day in Chicago
No parade, no problem.
There may not be any street parades or dyeing of the Chicago River festivities this year, but don't let that stop you from celebrating St. Patrick's Day like you always have... with overconsumption and bad decisions. If you want to keep tradition alive, there's plenty of bar crawls, booze cruises, and green beer-soaked brunches to keep you well pickled until the Fourth of July. But if you're looking to keep things a little more low-key this year, you can always order Irish takeout or run a 5K in your green underwear. Here's a choose-your-own-adventure guide to everything fun you can do in Chicago this St. Patrick's Day. Godspeed.
Now through Saturday, March 13
Virtual
The South Side Irish Parade may be cancelled, but the neighborhood is still getting into the spirit with this home decorating contest that encourages locals to deck out their homes in festive St. Patrick's Day colors. The winners of the contest will be announced Saturday, March 13 on social media.
Cost: $20
Friday, March 12 through Saturday, March 20
Burnham Harbor
You'll have not one, not two—but seven chances to set sail on a St. Patty's Day booze cruise on Lake Michigan over St. Pat's weekend aboard the 140-foot Anita Dee II yacht with multiple bars and a photo contest. If that's not enough, there's also two additional cruises on St. Patrick's Day itself.
Cost: $20 - $75
Saturday, March 13 @ 8 am
D.S. Tequila Company
The boozy brunch is a time-honored St. Pat's tradition, and this event covers all your essentials with bottomless mimosas, green beer, and one brunch entrée per person. Two-hour reservations are available per table, with private tent reservations available as well.
Cost: $128-$436 per table
Hit a bar crawl, obviously
Saturday, March 13 @ 9 am
Various locations
While the sheer volume of bar crawls is on the decline this year, you can still hitch your ride aboard a couple of raucous crawls rambling their way through the city. The 2021 Chicago St. Patrick's Day Bar Crawl covers River North, Lincoln Park, and Wicker Park, while Chicago's Best St. Patrick's Day Bar Crawl sets up shop in Wrigleyville.
Cost: Free - $20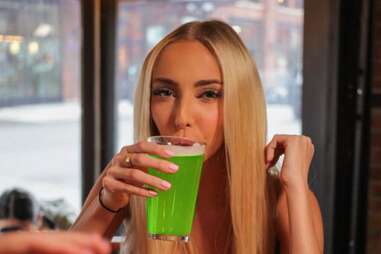 Saturday, March 13 @ 8 am
PB&J
West Loop pizza slingers PB&J celebrate their first St. Patrick's Day in the city with an outdoor pop-up bar Pot of Gold, with additional packages including bunch kits and a "Leprechaun Package" featuring two pizzas, green beer, a bottle of booze, and party swag.
Cost: Free - $75
Saturday, March 13 @ 9 am
Various locations
This long-running St. Patrick's Day celebration starts the party at eight locations across the city, with mostly outdoor events at bars like Rizzo's, The Lodge, and Joe's staggered across various start times throughout the day. ("Staggered" being the operative word.) If you can handle more, there's a smaller encore event on St. Patrick's Day itself as well.
Cost: $25 - $50 per bar
Saturday, March 13 @ 10 am
Diversey Harbor
It's the 20-year anniversary of this festive Lincoln Park lakefront run, in which green-clad runners will make their way through the Diversey Harbor and Belmont Harbor areas before finishing the race with a post-race beer at the afterparty.
Cost: $25 - $44
Saturday, March 13 @ 2:30 pm
Whiskey Business
For a little something different this year, skip the interchangeable Wrigleyville bar package deals and head to Wicker Park's most infamous rooftop for this afternoon bingo bash with green beer, whiskey, corned beer, and raffles for prizes.
Cost: $20
Sunday, March 14 @ 11 am
Lottie's
Not all heroes wear capes. And if you can make it to this Sunday happy hour from 11 am - 3 pm the day after St. Pat's Saturday in Chicago with Bushmills shot specials, Bloody Marys, and breakfast sandwiches, we salute you. And we're also a little concerned.
Cost: No cover
Wednesday, March 17
Mrs. Murphy & Sons
For those not yet ready to tangle with the great unwashed green masses, one of Chicago's top Irish bars hosts this takeaway special that includes everything but the parade with a corned beef dinner for two, a four-pack of Guinness, a dram of Irish whiskey, two Guinness glasses, a bag of Taytos, and St. Paddy's swag.
Cost: $60 (serves two)
Jay Gentile is an award-winning freelance journalist specializing in travel, food & drink, culture, events and entertainment stories. In addition to Thrillist, you can find his work in The Washington Post, The Guardian, CNN Travel, Chicago Tribune, Lonely Planet, VICE, Outside Magazine and more. Follow @thejaygentile