13 Very Chicago Things We Can't Wait to Do When Quarantine is Over
Italian beef at Wrigley Field sounds pretty good right now.
A solid two months have passed since Governor Pritzker brought our fair state to a mandated standstill. Throughout the city, bars and restaurants have shuttered their dining rooms, retail shops have closed their doors, city beaches and the 606 Trail are swathed in caution tape, playgrounds are padlocked, and a trip to Mariano's requires a donning full hazmat suit. The world, as we know it, is on hold.
And while Chicagoans are no strangers to hunkering down indoors for prolonged periods of time with a hoard of booze and some GrubHub (see: winter), the warming weather and constant Zoom chatter have pushed many Windy City dwellers to fantasize about all the glorious things they can't wait to do, see, and eat once the lockdown ends. For a little inspiration amidst the safe and sanitized madness, we asked some of our favorite locals to share their own "first day back" agendas and compiled it all into one epic Chicago-centric bucket list for your daydreaming pleasure.
CJ Jacobson

| Courtesy of Aba
Bike to the lake for a West Town-fueled picnic 
"I can't wait to go to the lake. Get on our bikes, get down there, and have a nice big picnic. Even make three or four stops and really annoy my girlfriend. I'd stop at Aya's to get bread, Graziano's or Tempesta to get sliced meat and cheese, then Eataly to get random olives and spreads, things I can dip the bread into to make a really rad sando. Then if it was a Farmer's Market day, I'd probably stop there to get fruit. A feast on the beach -- that's what I want right now." -- CJ Jacobson, Chef-Owner, Aba and Ema and Top Chef alum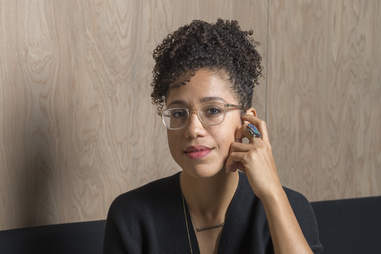 Tara Aisha Willis

| Courtesy of Nathan Keay
Shop, read, and dance all the way from Hyde Park to Roscoe Village
"Spend a warm Saturday window shopping and reading in cafes on some of my favorite main drags in the city: 53rd Street in Hyde Park, Clark Street in Andersonville, and Milwaukee Avenue in Logan Square. I might end up at Links Hall/Constellation for a concert and a late night out dancing around the corner at the Hungry Brain afterwards." -- Tara Aisha Willis, Associate Curator, Performance & Public Practice, MCA Chicago
Peter Saga

| Courtesy of Kyle Cassidy
Run the ultimate victory lap along the Lakefront Trail
"I'm going to run the length of the Chicago Lakefront Trail, south to north, so I get that great view of the Loop coming around the Shedd Aquarium, and I'm going to high five every runner, jogger, and pedestrian I see." -- Peter Sagal, Host, "Wait Wait... Don't Tell Me!" on NPR
Spend a lazy Sunday soaking up Logan Square's finest
"Now that everyday feels like Sunday, I actually miss that special lazy and unplanned feeling that Sunday had before COVID hit. My routine was walking over to Cellar Door for breakfast and likely running into friends and eating with them, doing a wine tasting at Diversey Wine (and picking up a few bottles), then having an espresso over at Four Letter Word."  -- Samantha Lee, Co-founder, Hopewell Brewing
Donnie Madia

| Courtesy of Brian Willette
Get some fresh air with the family and feed the soul at a neighborhood restaurant
"I'd like to take a walk in our neighborhood with my wife and my son to let him be outside and experience life the way a seven-year-old should. On our stroll, it would be great to stop into a little spot to have dinner together as a family at a restaurant in Chicago. Which one? It doesn't really matter. It will be more important than ever to support Chicago's local independent eateries. Restaurant culture feeds the soul and we need some soul right about now." -- Donnie Madia, Partner, One Off Hospitality Group
Paul Hletko

| Courtesy of FEW Spirits
Carbo-load with the Cubbies
"I'm looking forward to having an Italian Beef at Wrigley Field! How Chicago is that?" -- Paul Hletko, Founder and Distiller, Few Spirits
A lakefront stroll to Museum Campus before meeting friends at the gym
"At this point I miss the simplest thing: I miss walking along the lakefront to the planetarium. I look forward to seeing the Buckingham fountain in all of her glory. I also miss watching people breathing very hard with smiles on their faces at my CrossFit gym. Those are the three things I look forward to the most." -- Leonard Suryajaya, Visual Artist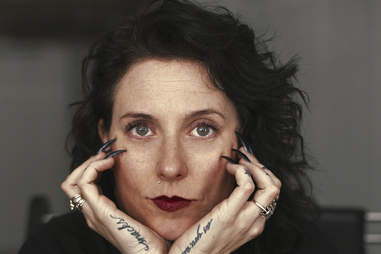 Courtesy of Elizabeth Cronin
Hang a hammock and beach the day away in Kenwood
"I live about a block from the lake in Kenwood, and the thing I'm most excited for is the day when I can pack a snack and a good book and bike over to one of my favorite shady spots on the lakefront, throw up my hammock, and spend the day napping, reading and enjoying the view." -- Elizabeth Cronin, Founder/owner of  Asrai Garden and judge on HBO Max's forthcoming competitive floral arranging show Full Bloom
Courtesy of James McLaughlin
Lunch, a good book, and a little something sweet in Logan Square
"Enjoy a late lunch outside at Lula Cafe, pick up a novel at City Lit Books next door, and finish the afternoon at Intelligentsia Logan Square with a Black Cat Milkshake." -- James McLaughlin, President and CEO, Intelligentsia Coffee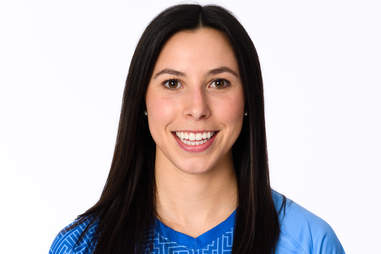 Vanessa DiBernardo

| Courtesy of Dan Bartel, ISI Images
Coffee breaks, dog hangs, and new local eats along the Riverwalk
"Once quarantine is lifted I'm just excited to go for walks along the Riverwalk with my dog, grab coffee from cafes, and try new Chicago restaurants, and support local businesses." -- Vanessa DiBernardo, Midfielder, Chicago Red Stars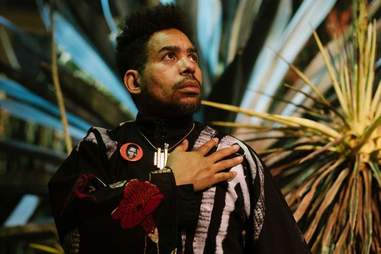 Courtesy of Damon Locks
Hunt for records and threads from the Northside down South
"I'm looking forward to stopping at all my favorite record stores -- Reckless, Dusty Groove, 606, and Squeezebox -- spending the day looking for gems, then going down to 95th to buy some beautiful fabric at Djenne." -- Damon Locks, Visual Artist and Musician, Black Monument Ensemble
Bruce Finkelman

| Courtesy of 16" on Center
Check out a local band and get lost in a sea of fellow fans
"Before the shutdown, Empty Bottle Presents had scheduled shows with Facs and Dehd that I was really looking forward to. Live music has always been my happy place. So post-reopening, the first thing I'll be doing is going to see a band play with my other humans." -- Bruce Finkelman, Managing Partner, 16" on Center Restaurant, Bar, and Music Venue Collective
Julia Momose

| Courtesy of Sammy Faze Photography
Strive to make our city's restaurants stronger than ever before
"I look forward to embracing each other as we did in the past, but in a Chicago where bars and restaurants have the means to succeed within this new landscape. I look forward to a 'new normal' in which hospitality workers have health insurance and don't live paycheck to paycheck. I look forward to helping rebuild the restaurant industry to become the envy it's meant to be, not just because of the talented chefs and bartenders with exquisite menus, but because our city's restaurant industry is built to take care of its community." -- Julia Momose, Award-winning Bartender and Creative Director, Kumiko
Sign up here for our daily Chicago email and be the first to get all the food/drink/fun in town.