According to SuperVagueFacts.com, Chicago has more summer festivals than SOME OTHER CITIES IN THE WORLD, which would be way awesomer if not for the fact that keeping track of that many summer festivals is almost impossible. "Almost," because, theoretically speaking, someone could put every single one into some sort of super-convenient master calendar that looked a little something like, um, well, THIS.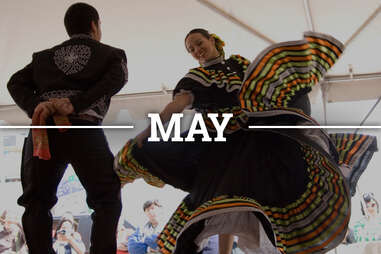 The annual kickoff to the summer street festival season with an outdoor beer garden, live music, sangria, and a pet pageant.
Andersonville's retail shops are transformed into wine tasting rooms at 11 locations pouring 30+ wines.
Local chefs and restos serve up mole dishes with lucha libre wrestlers, live music, and dance. O-freaking-lé.
Live bands, food, booze, art, and booze. Also: Food.
The spring version of Oktoberfest features German Maypole dancing, beer, pretzels, lederhosen, and live music.
Check out 110 juried artists with live music, food, and a graffiti wall.
It's like Blues Fest, only in Millennium Park and with gospel music.
Phew, no math involved. Instead, check out indie bands booked by Empty Bottle including Black Mountain, Temples, and Merchandise. Also: pony rides!
Wine takes over Jonquil Playlot Park with this new fest featuring 80+ varietals, plus live music, food pairings, and on-site sommeliers.
Greek food takes over the grounds of St. George Greek Orthodox Church, plus live music and dance.
This new fest focuses on authentic food from Chicago's Mexican community with a chef competition (chefetition?), dance troupes, and Mexican carnival.
Sample 50+ beers from Goose Island, Ale Syndicate, Revolution, and others, plus FREE Uber ride.
Peep Obama's hood along with art displays, demonstrations, signings, pop-up talks, and live music.
Juried art made from recycled and found materials, plus live music, food, and educational workshops.
Book nerds can geek out and see guest authors from David Axelrod to Bob Saget.
New fest with 40+ food trucks, music from Empty Bottle, and Revolution beer.
Enjoy live blues music and—get this—all-you-can-eat wings for four hours. Giddy up.
Annual celebration of Swedish heritage with Maypole dancing, a pet parade, and plenty of Swedish meatballs. Blurg-d-blurg.
Eat piles of ribs (and non-ribs, as well) while checking out live bands and the annual RibMania eating contest.
It's like Ultra Music Fest invaded Soldier Field at this EDM extravaganza, headlined by Tiesto, Diplo, and Afrojack. Expect plenty of glow sticks.
The Old Faithful of free Chicago music festivals.
The zoo hosts a full-blown brew fest with 75+ specialty craft beers produced by 35 local and regional breweries with lawn games, a DJ, and tasting tents set up on zoo grounds.
Food from local restos, live music, and juried art from 200+ local and regional artists.
Athenaeum Theatre, Chopin Theatre and Wrigley Square in Millennium ParkContemporary circus performances in Chicago that include gravity defying aerials and acrobatics.
Annual celebration of Puerto Rican heritage with authentic Caribbean cuisine, carnival rides, and Puerto Rican People's Parade.
Food from Chicago's No. 1 food 'hood with live music from Dinosaur Jr., Dandy Warhols, and Best Coast, plus a dance stage.
Sample 200+ American craft beers at this new summer festival, plus live music, all while surrounded by Buckingham Fountain.
Annual celebration of Italian culture with food, wine, and live music in Chicago's "original" Little Italy.
New country music festival on the lakefront. Y'all.
Local and national ribbers sling slabs of BBQ, plus live music and pro wrestling shows. Naturally.
Live indie bands perform on a bike-powered stage with craft beer booth and eco-friendly vendors. NATURALLY.
One of the country's top-rated art fairs also offers food, music, and beer.
Gear up for the Pride Parade (the following week) with dance/pop acts, food and drink, and art tailored to the local gay community.
Check out 13 hours of live music with 180 performances at 40 locations around the city.
Outdoor women's festival features live bands, comics, and DJs held in conjunction with Pride Fest.
Craft cocktails from The Whistler, sangria from Lula Café, live bands, and food from local restos including Parson's Chicken & Fish.
Hot Doug's (!) and Goose Island team up for a special day of live music, beer, Hot Doug's food (!!!!), and a chance to party with Doug himself (!!!!!!!!!!!!!!!!!!!!!!!!!!!!).
The annual beer/music fest is moving from its longtime location at Old St. Pat's Church to a new spot in UIC lot.
New fest featuring... sausage and music!
Watch the parade down a four-mile route from Uptown to Lincoln Park.
The African/Caribbean heritage celebration moves to Union Park and along with it: live music, reggae, soccer, and food.
Beer, wine, live music, and BBQ slabs from top local and national rib dudes.
One of the world's largest house music festival events, also known as the "Woodstock of House Music."
The Old Faithful of free Chicago food fests.
Latin alternative music fest with Café Tacuba, Kinky, and Ozomatli.
Live music from the Old Town School of Folk plus 30+ craft beers and food from local restos.
Peep art from 100+ artists at this "all art" show at the base of Tribune Tower overlooking the river.
St. Patrick's Day comes early with live music, Irish dancers, a craft beer tent, a "men in kilts" contest, food from local restaurants, and a mashed potato eating contest.
Take down BBQ from top local restos including Dinosaur BBQ, Chicago q, and Smoque, plus live music and craft brews.
New South Side beach music festival features dance and indie bands including Empire of the Sun, Passion Pit, and Phantogram.
Taste (duh!) eats from the hood including Chicago-style pizza, ice cream, and gelato, plus live music.
Live music and burgers from local restos including Butcher & the Burger, Cortland's Garage, Hackney's, Rockit Burger Bar, McGee's, Trenchermen, Reggie's, and others, plus a best burger contest.
Music from Empty Bottle, DJs, live art demonstrations, and a pet festival.
Live music and food from local restos including Kerryman, Motel Bar, and El Hefe.
Festival named after nearby St. Benedict Parish features food, beer, and live music... including a band named Libido Funk Circus.
Annual hipster Lollapalooza featuring Wilco, Chance the Rapper, and Sleater-Kinney.
Previously known as Summer on Southport with mixed media, live music, and interactive games.
Sample 80+ craft beers from Half Acre, Revolution, Two Brothers, Founders, Hinterland, and others. Also: live music!
Held in collaboration with Chicago Craft Beer Fest, explore 80 of the neighborhood's lushest gardens... with beer in hand.
Two stages of live world music, circus acts, face painting, and global cuisine from Greece to Senegal.
A smorgasbord of encased meats, live music, beer, and the crowning of a Sausage King.
Check out the Lion Dance Procession, Chinese dance, martial arts demonstrations, food from local spots, and a "hot legs" contest... for men (!...??).
Live music, local food, booze, you know the drill.
Live music, food trucks, margarita tastings, and a fireworks show over the lake.
Sponsors include Fat Rice, Al's Beef, Chicago Hot Sauce Club, Dia de los Tamales, and Major League Eating.
See nearly 30 musical acts on three stages with food, booze, and the in-fest Lill Street Craft Fair at Lill & Lincoln.
Live indie bands booked by Subterranean and oddball art, with past installations including inflatable sculptures and flying hawkmen.
The largest Latino festival in the Midwest features live music, DJs, food vendors, carnival rides, soccer games, and a 5K.
Perry Farrell's annual party headlined this year by Paul McCartney, Metallica, and Florence + the Machine.
A celebration of all things Central and South American, including food, art, live music, and cooking demonstrations.
Music, karaoke, food, art, and a dog costume contest.
The annual celebration of encased meats expands to THREE days this year, with live music and all sorts of crazy toppings.
Throwback live bands plus an antique car and motorcycle show, face painting (!!!!!!!!!!), and rides.
Watch the parade wind through Bronzeville followed by a picnic in Washington Park with entertainment and giveaways for underprivileged youth.
Neighborhood munchies, live bands, and a moon bounce for the kiddies.
Live music, people watching, and 300+ food and arts/crafts vendors.
Italian food fest with meatball/cannoli-eating contests, Italian card games, live music, and Italian folk dancing.
Drink Miller Lite while checking out local cover bands like 16 Candles and Wedding Banned.
Check out live bands, dance, and theatre on outdoor stages followed by after parties at the nearby Red Line Tap.
A celebration of West Indian and Caribbean culture where you can dance, eat, and sing with carnival spectators.
Ever heard of it?
The Midwest's largest lobster fest features fresh Boston lobster, surf and turf, live music, and games.
Support the troops with live music, drinks, a live auction, and a raffle benefitting the USO of Illinois.
Globe-spanning beats from Brazilian, to West African, to Asian, with the diversity of food, retailers, and markets to match.
Food trucks, chef demonstrations, live music, and an oyster shucking competition with local chefs.
Live art demonstrations, food, and live music, plus a graffiti wall, art bingo, and a photo booth.
Food from local Greektown restos plus Greek bands and games.
Dance gets its own fest at venues across the city.
Free neighborhood arts fest with 200+ artists, three music stages, craft beer, and food.
Prep the outdoor runways for local fashionistas, live bands, and plenty of sangria.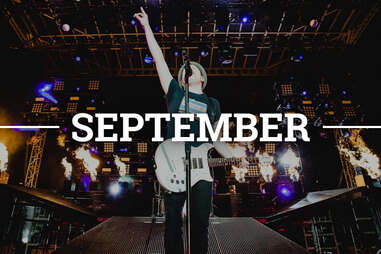 Avant garde theater pushes boundaries at this local theater fest with a commitment to reach artistically underserved communities.
Check out some of the world's top jazz acts for free.
The diverse annual Labor Day dance music bash is headlined this year by The Chemical Brothers, Atmosphere, and Chromeo.
Wide variety of Polish food and beer, plus polka bands and an indoor casino/arcade.
Washington Park is transformed into a simulated African village with art, music, and African spirituality spaces.
House fresh seafood, listen to live music, and watch plenty of shucking.
Sample 300+ wines surrounded by Buckingham Fountain with live music and area chefs/food vendors.
The annual punk rock carnival has grown to encompass more rock acts in recent years. The 2015 lineup is still TBA.
150+ artists plus live demonstrations and entertainment stages.
Expand your musical borders at this free, city-wide, multi-venue 11-day festival.
Chicago beers, music and artisans all come together for a weekend of celebrating all things local.
Experience a weekend of art, music, food, and community while getting a peek inside the spaces that have helped define Ravenswood.
Tacos take center stage with inventive offerings plus Mexican wrestlers, beer and taco parings, and a best taco contest.
Indie arts and crafts, indie bands, and food/drink from local vendors.
The ultimate in fancy-pants dining with 150+ top chefs and restos, plus wineries, spirit makers, and breweries.
Beer, brats, Bavarian pretzels, beer, lederhosen, live pop/German music on two stages, and also beer.
120+ Chicago artists are paired with live music, a beer garden, and a talent show.
This Chicago street festival celebrates design with hay rides, live music, and silent auction.
See live jazz on 14 stages across Hyde Park in a variety of settings with 18 hours of free, nonstop live performances.