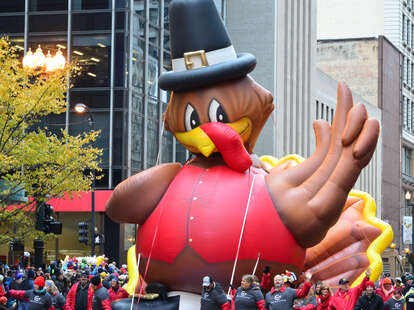 Chicago Thanksgiving Parade

| Ganeshkumar Durai/Shutterstock
Chicago Thanksgiving Parade

| Ganeshkumar Durai/Shutterstock
Fall in Chicago is here. Leaves are gently falling from trees, and streets are filled with be-flanneled Chicagoans trying to not think about the fact that we're only a few short months from the next polar vortex. There's plenty to do this fall, whether you want to check out the city's best restaurants, browse the final days of a local farmer's market, or have a romantic night out with your partner.
Chicago has something to offer everyone, from state parks to thrift shops to pop-ups. And if that's not enough for you, it's also well within driving distance of some wonderful day trip spots. Whether you want to hit the trails, relax at a spa, or test your friendship at one of our city's escape rooms, the City of Broad Shoulders has you more than covered.
Knowing all this, it should come as no surprise that there are plenty of weekend outings that are worth your time this November. Here are some of our can't-miss favorites.
Festivals in Chicago
Saturday, November 11–Sunday, November 12
Lycée Francais de Chicago, $5 suggested donation
For the 19th time, North Center's beloved French international school will transform into a full-on European market and bistro, featuring delicious and authentic French food, wines, pastries, and a variety of activities for the family. Oh, and did we mention the fact that it'll also feature the best artisans, both local and French, selling jewelry, linens, and other unique finds?
From Friday, November 17
Multiple locations, Free
If you missed the memo, Christkindlmarket, Chicago's best and largest holiday marketplace, now boasts three locations: one in Aurora, one in Wrigleyville, and its flagship location downtown. Inspired by the 16th century Christmas market in Nuremberg, Germany, all three locations will feature the traditional holiday handcrafts, sausages, pretzels, and Glühwein the market is known for, along with gnome scavenger hunts, a ballet, and live music. If you're visiting the Wrigleyville location, be sure to stop over inside Wrigley Field for Winterfest as well, featuring wintertime fun both inside and outside the ballpark.
Saturday, November 18–Sunday, November 19
1341 W Randolph Street, $12
If you're looking to do some pre-Black Friday holiday shopping, put Randolph Street Holiday Market at Plumber's Hall at the top of your list. Consistently rated the city's best flea market, you'll find antiques, curios, treasures, and even haunted artifacts while sipping cocktails and feasting on treats from local businesses—what could be better?
Thursday, November 23
State Street, Between Ida B. Wells and Randolph, Free
Macy's? Sorry, I don't know her. Start your Thanksgiving the Chicago way by hopping on the train to catch the Chicago Thanksgiving Parade, which has been operating for over 25 years. Get a glimpse of performances from acrobats, more than 100 floats, and iconic balloons like Teddy Turkey and Peppa Pig. Bask in the merriment of the country's best Thanksgiving Day parade, except for that other one that we don't talk about here.
Food and drink events in Chicago
Saturday, November 11
West Loop, $40+
At the West Loop Spirits & Wine Fest, the city's best distillers, mixologists, and sommeliers will descend upon Restaurant Row for a Saturday tailor-made for your friend who can't shut up about the fact that they infuse their own liquors. Tickets include tastings, samples of artisanal foods and chocolates, demonstrations, and more. Plus, for your buddy who doesn't partake, discounted designated driver tickets are available.
Saturday, November 18
Andersonville, $35
Put on your finest horned helmet and descend upon Andersonville's best bars in a berserker's rage at the Andersonville Pub Crawl. Tickets include a commemorative glass, as well as your first clue in a Viking rune scavenger hunt, plus portions of hearty stew to brace you for the coming trials. Skol!
Arts and entertainment events in Chicago
Every weekend in November
Loyola University Museum of Art, $23
Perhaps the most recognizable photographer of the generation, Steve McCurry has brought his critically acclaimed ICONS exhibition to Chicago, featuring more than 100 of his most incredible large-format photographs. And yes, that includes his stunning photograph of Sharbat Gula, the "Afghan Girl" featured on the cover of National Geographic magazine. The award-winning photographer's work focuses on the effect war has on communities, and he has covered multiple crucial historical events like the Lebanon Civil War and the Gulf War. Tickets for the exhibition are on sale now.
From Friday, November 10
Chicago Botanic Garden, $34
It's cuffing season, so let us make one gentle suggestion: take someone special to the Chicago Botanic Garden for the holiday Lightscape. Walk the path hand in hand through the gardens and take in the vibrant art installations, including the fire garden and the classic Winter Cathedral. There are few better ways to spend a chilly November evening. Make sure to reserve your spot ASAP—tickets sell out, and they sell out fast.
Through November 12
Multiple Locations, Ticket prices vary
Destinos, the Chicago International Latino Theater Festival, descends on Chicago for its sixth year this fall, featuring can't-miss plays and productions at some of the city's most beloved theatrical spaces. From a lucha libre-inspired production that promises to turn Theatre Goodman into a fully-fledged wrestling arena to a black comedy steeped in magical realism and the traditions of the Yucatán Peninsula, this is one of the most unique and cultural events of the fall in Chicago.
From Friday, November 17
Maggie Daley Park, $16 (with skate rental)
Time to lace 'em up. Tickets for Chicago's most festive winter tradition go on sale early in November, and they do sell out. Lined with a bounty of Douglas fir, the Ice Skating Ribbon at Maggie Daley Park offers beautiful views of the city, and is a fall/winter/early spring must-do. Tickets are released on a rolling basis, and the first batch, covering visits from November 17 to December 3, goes on sale on November 6.
Saturday, November 25
Allstate Arena, $195+
The WWE's November pay-per-view event, Survivor Series, is being held in Chicago this year, and it's the perfect holiday splurge. The event will likely center around Roman Reigns and The Bloodline, but will also feature professional wrestlers like Bianca Belair, Cody Rhodes, and Chicago's own Seth Rollins. The card hasn't been finalized yet, so keep an eye on the official website for updates.
Sunday, November 26
The Chicago Theatre, $50+
If you're looking to get into the holiday spirit directly after Thanksgiving, the Chicago Theatre has you covered. Catch a screening of the holiday classic Christmas Vacation, with a Q&A session with Chevy Chase himself after the movie, where he promises to share juicy behind-the-scenes stories from filming.
Sam Greszes is a Thrillist contributor.