Where to Watch Fireworks in Chicago This 4th of July
There are few things more exhilarating (and injury-inducing) than a DIY fireworks show put on by you and your sparkler-wielding pals. But between strict fire safety laws, minimal open space, and potential trips to overcrowded ERs, pulling off said show in the concrete jungle ain't so easy. This year, ditch the lighter, pack your favorite picnic blanket, and head to one of these six great spots for viewing fireworks around the Chicago area.
Where: 600 E Grand Ave, Chicago
When: 6-10:30pm
Because it's the most popular, and by extension the most crowded, place to view the city's fireworks show, your best bet is to arrive well before (we're talking hours) the show begins at 9:30pm. Escape the chaos for a seven-minute ride on the giant Ferris wheel, and if you time it right, you'll find yourself eye-level with glittering M80s.
The Chicago River
Where: In a kayak
When: 7:15pm
For seriously epic views of the city's show, adventure seekers can take a unique nighttime paddle tour. It launches onto the North Branch, and winds its way along the back channel of Goose Island and back into downtown past Lake Shore Dr. Click here to book your tour.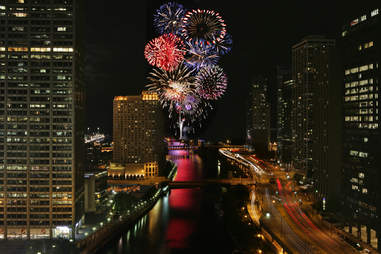 Courtesy of William Huber
Where: 401 N Wabash Ave, Chicago
When: 8:30-10:30pm
This al fresco bar with sweeping views of the Chicago River and Lake Michigan is prime for witnessing the explosive display from a bird's-eye vantage point. Sip on cocktails with flavor-infused ice while fireworks light up the sky.
The Lakefront
Where: Evanston
When: 7:30-10pm
The Palatine Concert Band will perform patriotic tunes live at the corner of Sheridan and Church from 7-9pm, and be followed by a spectacular firework display launched from Clark St Beach in neighboring Evanston. For optimal viewing, leave the the concert a little early and head to Centennial or Dawes Park to secure a space for your picnic blanket.
Where: 2200 W Euclid Ave, Arlington Heights
When: 3pm
Follow an afternoon of live music, a bevy of eats and drinks, and pony betting at Chicagoland's preeminent racetrack with one of the most impressive fireworks shows you'll find in any of the Northwest suburbs -- it's only a short Metra ride beyond Chicago's city limits.
Naval Station Great Lakes
Where: 530 Farragut Ave, Great Lakes
When: 3-10pm
What could possibly be more patriotic than celebrating the Fourth of July at a naval station?! Nothing, literally nothing. The all-day festival includes food and drinks (including all-American, Chicago-style hot dogs), carnival rides, live music, and of course, the main event.
Sign up here for our daily Chicago email and be the first to get all the food/drink/fun in town.
Kailley Lindman is a contributing writer for Thrillist Chicago, as well as a food blogger and photographer, Swedish pancake aficionado, and recovering vegetarian who's currently averaging one burger a week to make up for lost time. Follow her @KailleysKitchen on Twitter and Instagram.