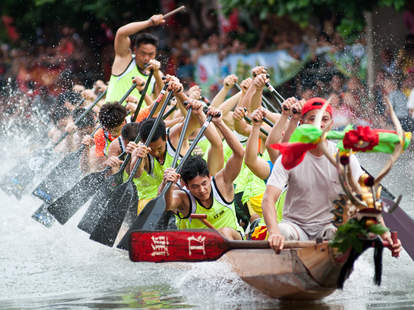 What You Should Do in Cleveland Literally Every Day This Fall
Fall, arguably the best, most beautiful, and overall most tolerable of our four seasons, is finally hitting Cleveland. It's time to dig up your Dawg Pound mask, pick which Cavs champion (it's "Weeping JR Smith") you'll be for Halloween this year, and take in the changing color of autumn leaves (NEO really does get the most stunning fall trees!) with all the pumpkin beer and hayrides you can handle. On the days you're unsure how to best enjoy our brief yet perfect weather, we've made a list of something to do very literally every day this fall:
Gwar performs in Ohio

| 3 song photography/Shutterstock
Keep Talking is a storytelling show where contestants tell humorous real-life stories about the trials and tribulations of being alive. This month's theme is "Change of Plans" and will be hosted by comedian Adam Richard.
Join Jason Davis, museum astronomer, for a detailed discussion about the science behind Star Trek II: The Wrath of Khan after a screening of the film during this month's Reel Science event.
Project Runway contestant Valerie Mayen organizes an annual fashion show as an alternative to subpar Cleveland Fashion Week offerings. Here, she'll offer a sneak peek of her Heritage Collection accompanied by free appetizers, drinks, and bowling as well as a chance to pre-order a seat for the actual show.
Chef Joe Horvath of Toast teams up with Goldhorn Brewery's brewmaster, Joel Warger, to create a four-course menu made from ingredients sourced from the largest community garden in Ohio.
This monthly event invites socialites to enjoy special exhibitions and a themed party in the galleries after-hours. Mughal, India is the setting for this month, with Indian-inspired food, dancing, and music.
Case Western Reserve University's WRUW-FM hosts the 35th Annual Studio-A-Rama concert, an all-day concert featuring 11 bands, including national acts Eternal Summers and New Salem Witch Hunters, along with local groups soft copy, The Commonwealth, Wesley Who, and many more.
NEOCycle Festival returns for its third year, inviting cycling enthusiasts and music lovers to hang out by the beach and enjoy free performances and events in addition to bike races.
Break out your cowboy boots and come dance to folk, bluegrass, and new-grass music for free in the heart of Hingetown.
Over a hundred handpicked retail and food vendors congregate at this outdoor marketplace once a month. Get your holiday shopping started real early, or hunt down a covetable vintage find.
Sia, Leslie Jones, Natalie Lafourcade, and Jessica Williams all come to Cleveland for a free concert in order to bring awareness to abortion rights access.
Skunk lovers unite to celebrate this stinky mammal with contests to crown the best-dressed skunk, king and queen skunks, as well as speakers hosting discussions on skunk-related topics. It's sure to be a black-and-white affair.
Get ready for day drinking at the Lakewood Wine and Craft Beer Festival, where nearly 100 different breweries and wineries will strut their stuff and serve up the finest libations in town.
Gather in Glenville for their last event of the season, where a seated community brunch will kick off free entertainment and kids' activities during an action-packed afternoon.
The 6th Annual Oyster Festival is on in Detroit Shoreway! See how many oysters you can shuck, shoot, and most importantly, enjoy.
Every Monday night, Happy Dog hosts some of the most difficult trivia around, winding through six rounds of grab-bag questions with artist and album rounds. The highest scores win tchotchkes. Bring your smart friends; you'll need them!
Tonight, sing karaoke to your favorite Disney songs, and if the moment's right, come dressed like a prince or princess. If you have a flying carpet, feel free to bring that too (we hear it's easier than requesting an Uber).
As part of The Rock and Roll Hall of Fame's Sonic Sessions concert series where the best up-and-coming rock bands put on a show for only $5, attendees can enjoy the scenic views of Lake Erie for free.
GWAR is an American heavy metal band known for over-the-top antics and gruesome costuming. Styled as barbaric interplanetary warriors, the band members spray fake blood, semen, and urine out from the stage to the crowd's disgust and delight.
Pay respects to what was once the tallest and fastest coaster in the park. Guests will ride one last time before reading the Mean Streak's last rites and marching in a procession to the Dead Rides Cemetery.
Go on a two-hour late-night cruise aboard the GOODTIME III, where you'll party on the open seas. This ship leaves on time, every time.
Dragon boat racing is one of the fastest growing water sports in the world. A dragon boat is 40ft long and can fit a whopping 22 people inside. The race also promotes awareness of Asian culture and communities in Greater Cleveland.
The Tremont Arts & Cultural Festival is a culmination of the arts programming in the neighborhood for the summer. The weekend breaks down into four themed categories: educational, community, cultural, and visual/performing arts events.
Whether you have a motorcycle, moped, or just a bicycle, hang out with Ohio City Moto today as they drink to the end of the summer and party into the evening with live DJs, bands, and vendors aplenty.
See what the second Firefish Festival has in store as it spurs civic engagement, enterprise, and economic stimulus in the immediate community. Extended hours and brand-new programming have been added for this year.
For WCSB's 40th anniversary, it's cleaning out its closet and hooking us up with the best vinyl and vintage clothing that Cleveland has to offer.
Wake up at the crack of dawn and set up your Browns shrine in the back of your pickup truck. It's the first home game of the 2016 season with the Baltimore Ravens visiting the Dawg Pound, so grab a seat at the stadium or pop a squat at your favorite sports bar.
Best known for her smash hit "
Doo-Wop (That Thing)
," Hill stepped out of the public eye, but now she's back.
The Cleveland Museum of Art has hosted a live art festival on the sidewalk surrounding its lagoon each year since 1990. Buy a square and professional-quality chalks either as an individual or with a group.
This meal includes a dozen clams, a half-chicken, candied potatoes, redskin potatoes, corn on the cob, coleslaw, a roll with butter, and New England clam chowder.
Mondays are ripe with bargains at the movies, with $6 admission to new Hollywood hits and indie box office favorites.
Tuesday nights are bring-your-own-vinyl or borrow-the-bar's, but either way you get to pick the song to boogie down to, just like in The Get Down.
Proprietors of Wok n Roll Food Truck take a busload of food tourists to AsiaTown eateries like Li Wah, Korea House, and Siam Café to sample traditional dishes at each.
Salsa, mambo, kizomba, and other forms of Latin dance are taught to couples before an open dance night with a DJ at this sizzling studio near Downtown.
This event features art installations, vendors, and technology and art demonstrations, as well as a stacked lineup of local and national bands that are being announced daily until the 12th Ingenuity Fest.
Today only, Heinen's will provide shoppers with two things they love the most artfully paired together.
Dress up your four-legged friend and take commemorative photos, drink punch, and dance with your bestie. Who cares that your high school crush wouldn't take you to prom? You have your dog now.
Neighborhood food vendors from The West Side Market will be onsite at the Ohio City Street Festival with the Ohio City Farms stand selling produce and giving tours nearby while live music serenades W 25th. The afterparty will take place at Market Garden Brewery.
Over 60 bands will participate in this two-day free event inside 27 venues lining the streets of Cedar Fairmount and Cedar Lee neighborhoods.
Celebrate Art House Theater Day by watching New Faces of French Animation, Laughter in Hell, or Law and Order & Afraid to Talk.
The Murch Canopy Walk is 500ft of elevated walkways built above the forest floor, culminating in a 120ft tower where you can see straight across the city to Lake Erie.
Learn about our ecosystem by interacting with animals you hopefully won't find in your backyard, like bobcats, foxes, and bald eagles.
WWE SmackDown LIVE is in town with champion wrestlers Dean Ambrose, John Cena, Randy Orton, AJ Styles, and more in a six-man tag-team match.
Adam Levine has rightfully been referred to as one of the sexiest men on the planet (by us), so why wouldn't you take this opportunity to look lovingly into his eyes via jumbo screen for an intimate evening alongside an arena of shrieking fans?
The Botanical Gardens host an evening of fraternizing in the garden while guests learn about kombucha and other locally sourced brews, this month featuring Wild Ohio Brewing and Dayton Beer Co.
Lit Cleveland plays host to writers of nonfiction, poetry, and various other styles at its bi-annual mixer with live readings and information about upcoming workshops.
Great Lakes Brewing Company is ending its neighborhood appreciation week with a bang, or more specifically with indie rock band Saintseneca performing for free with openers and food trucks.
Sample more than 18 varieties of the season's pumpkin beer selections on draft, from stouts to IPAs; there is something at this reputable wine and spirit shop for everyone.
The final Night Market Cleveland event of the year will host a rock band from Japan, Dhamakapella, an Asian fusion dance group, and many more entertainers, along with all of the foods you've come to know and love from AsiaTown vendors.
SCENE Magazine hosts Maize: Autumn at the Flats festival, taking place all weekend with a hay bale maze, train rides through the flats, and fall foods like kettle corn, cornbread, chili, mulled cider, and pumpkin spice lattes.
Indoor Go Kart Racing

| Fedor Selivanov/Shutterstock
Bob's Burgers costumes are highly encouraged to participate in a photo scavenger hunt up and down Madison Ave with the winners announced at midnight.
Take in the sights, smells, and tastes of the Cuyahoga Valley at autumn just like the settlers did in the 1800s during Harvest Festival. The history nerd in your life will love this.
You can rent a ukulele or bring your own and Sheila Das of creative concepts in music will lead uk-enthusiasts in simple melodies at the bar.
This haunted house is staffed by volunteers from the Cleveland Lions Club and scares are provided by The Legion of Terror, comprised of area thespians and horror enthusiasts. Each week the theme there changes and all proceeds are donated to charity and upkeep of the grounds.
For six weeks, feel just like a NASCAR bad boy as you whip around the asphalt track over and over and over.
Part of the family outdoor fun area, choose activities that fit for both you and the kids. Open during the week from 2-6pm.
When Drew Carey is in town, Clevelanders get the bat signal to flock to wherever the native happens to be, and today he'll be taping a brand new episode of the Price Is Right in Akron.
OK, so it's hardly a road trip, but fresh floral designs will be in bloom on the grounds of the historical estate, along with artisans from every creed and fresh-baked gingerbread.
Four scary movies will be shown on each screen. The adults-only lineup includes Killer Klowns From Outerspace, Halloween, Friday the 13th, and Candyman.
It's the 50th anniversary of Peanuts, so come check out the biggest pumpkins on the block.
Uptown Saturday Nights are a new collaboration between UCI, The Cleveland Foundation, Roots of American Music, and businesses lining Euclid Ave to invite live music into new spaces each Saturday.
Help raise money for Voices in the Dark Animal Rescue by helping judge the best mac & cheese at this huge tailgate. If you make the best mac, you could win $200.
"Wine Made Fun 101" is a special class that goes over the basics of the practices used to grow grapes to make wine, and their influence on the aroma, color, and taste.
Wine and painting parties are all the rage, but this one is the most legitimate of them all, hosted at a real art museum and using international artist Klimt as inspiration.
See Black Rebel Motorcycle Club and Death From Above 1979 in one evening at this Live Nation event.
Tig Notaro, stand-up comedian, storyteller, and writer is a Comedy Central favorite, seen and heard on Conan and This American Life regularly, but tonight she's in Ohio.
Case Western Reserve University's Blue Block event takes place tonight with live entertainment, DJs, and demonstrations from university departments.
Dan Savage curates this annual festival of the best in independent, amateur, and outright outrageous porn. Don't invite your mom to this one.
Local favorites Signals Midwest are celebrating their most recent release At This Age in their hometown with friends The Gunshy and Two Hand Fools opening.
Americana, folk, and roots 'n' blues categorize the musical genres represented at this new festival happening on Toby's Plaza and surrounding institutions.
This Oktoberfest is ethnically authentic, hosted by the German-American Cultural Center and serving up German food and beer with live music and contests in a quiet suburban setting.
Many famous people are buried at Lakeview Cemetery, but some of the most notorious are members of Cleveland's old mob families and hometown heroes. Get the details on the stories that transpired between them today.
The Cleveland Print Room will host a fundraiser with brunch catered by Hollyhock Hill and French toast from Breadsmith in Lakewood. David Wittkowsky and James Anderson are this year's honorary chairpersons.
Part of the annual Music Masters series, the Rock Hall hosts this weeklong convention for fans and scholars honoring the late Johnny Cash. A tribute concert rounds things off on the 21st at the State Theatre.
Ernie Krivda, one of Cleveland's legendary jazz performers, will mark the two-year anniversary of The Bop Stop with a performance by his group, The Fat Tuesday Big Band.
If you're looking for a network event as swanky as the company you hope to work for, this one will take place in the Metropolitan Hotel's old vault where you can hobnob with like-minded professionals from all industries.
Barnum & Bailey are back in town, so no matter what your stance is on caged elephants or clowns, at least there's the cotton candy.
Burning River Roller Girls are having a fundraiser for their upcoming season and all you have to do is order a grilled cheese sandwich from Melt Bar & Grilled and bring in their flyer for the event to donate 20% of your tab.
Cedar Point boasts "fun by day and fright by night," but let's be honest, the people at Cedar Point are pretty scary all the time. With admission to the park, you'll also be able to travel through its many haunted houses.
Led by members of the North Ohio Paranormal Scientific Society, the tour will take you to historically haunted destinations and you'll hear stories that will send chills up your spine.
Laura Wimbels has spent the past year tracking down some of the most recognizable faces in the 216. Buy her book at the release party tonight.
Hosted by The Black Market, horror VHS and DVDs, action figures, toys, and other Halloween-themed novelties, makeup, jewelry, taxidermy, and art will be on sale. All donations for admission go to the Cleveland APL.
Have you ever wanted to improve your mind, body, and health without pharmaceutical intervention? This holistic health fair will provide you with plenty of ideas for alternatives.
Danse Macabre is a celebration of many cultures interpretation of the afterlife, and in Ohio City, that includes live entertainment from Monster Dolls and Flannel Response.
An interesting combination of trail running, conservation, film, community, and the outdoors: what do they all have in common? Find out while watching The Mohican 100.
This 7.5-acre corn maze will keep you and your family busy for hours, and may even induce slight panic.
Part of the Life, Universe & Hotdogs series, this month's talk will feature Bryan Stubbs of the Cleveland Water Alliance. He'll be discussing the ecology about the nearest body of fresh water in Cleveland.
See a screening of National Theatre Live's version of Frankenstein. Benedict Cumberbatch plays Dr. Frankenstein this evening with Jonny Lee Miller playing the creature.
Unlike other farms where you have to purchase pre-bagged Macintoshes and Granny Smiths, at Quarry Hill Orchards you can feel like Johnny Appleseed and do it yourself.
This haunted attraction takes you on a half-mile haunted hayride and then drops you off on a trail full of mazes, haunted houses, and other attractions.
Cover shows are one of the best parts of Halloween and this punk rock showcase will let you hear live performances of Weezer, Fall Out Boy, and The Aquabats all in one place.
Presented by Cumulus Entertainment (known for its over the top EDM and jam band shows) and Beachland Ballroom, over 13 bands and DJs will perform at this costume party.
Mystikal, Juvenile, Project Pat, Trick Daddy, and many more perform together on one stage for the sexiest Southern party of the year.
Designed for kids, come dressed up as your favorite animal to trick or treat, watch special animal exhibitions, and enjoy a magic show.
If you didn't get enough of the USA gymnastic team at this year's Olympics, you're in luck because they're currently on a US tour. The event features Simone Biles, Gabrielle Douglas, and Aly Raisman, among others.
16-Bit encourages its patrons to cosplay as their favorite pop culture characters and video game heroes and heroines. It'll have a costume contest and drink specials.
Not exactly the original, but this live reading of works by Edgar Allan Poe presented by Wordstage will get you in touch with your sensitive brooding side, just in time for Halloween.
Introverts can avoid the Halloween-hubbub by going to a book club meeting where this month they'll be discussing Ray Bradbury's Something Wicked This Way Comes.
Supermassive Black Hole

| Yury Dmitrienko/Shutterstock
The discussion for this week's lecture is on what happens when black holes collide presented by Leslie Ward of Kenyon College.
Sign up here for our daily Cleveland email and be the first to get all the food/drink/fun in town.
Rachel Hunt is a writer and event organizer living in Cleveland, OH.