10 Can't-Miss Black History Month Events in Dallas-Fort Worth
Celebrate throughout the month of February and beyond.
Dallas Black Dance Theatre

| Dallas Black Dance Theatre
Dallas Black Dance Theatre

| Dallas Black Dance Theatre
February is Black History Month and all over North Texas (and the entire nation) events have been scheduled to honor and commemorate the lives of Black people, from adversity to triumphant successes. It's a month rich in culture, explored through spoken word, music, art, and movement across DFW. Start with a self-guided Civil Rights Tour curated by Visit Dallas. Then work your way through our list of 10 can't-miss events that celebrate the Black experience in Dallas and beyond, from a Black History bike tour and a soul food cookoff to art exhibits and a pop-up shop of Black-owned businesses.
February 1 - April 15
Fair Park
The complex history of Black cowboys and their role in shaping both Texas and American history comes into sharp focus at this new African American Museum exhibit at Fair Park. More than 50 artifacts, photos, films, and historical documents make up the exhibit, accompanying the venue's permanent collections.
Cost: Admission to this exhibit is free.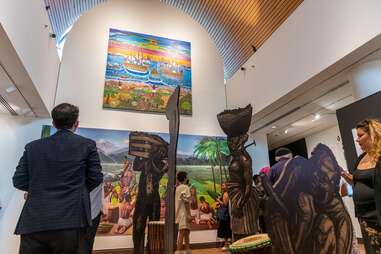 February 1 - March 31
SMU
The Latino Arts Project brings an interactive exhibit to Owen Arts Center at SMU with animated videos, sculptures, stained glass, folk art pieces, murals, and historical documents that detail Yanga's story, the African slave trade, and the AfroMexican experience. The opening reception takes place on Thursday, February 2.
Cost: Both the opening reception and the exhibit are free to attend.
February 1 - 28
South Dallas
Students in grades six to 12 submitted works to be displayed at the Martin Luther King, Jr. Community Center in celebration of Black History Month exploring the theme, "It Starts with Me" and the diversity of Black culture and heritage. Paintings, poetry, photography, collage, and sculpture will be among the media used.
Cost: Admission to the exhibit is free.
February 3 - 28
McKinney
A month-long exhibit kicks off with an art show on February 3, celebrating the work of emerging and established BIPOC artists with a focus on contributors from McKinney and Collin County.
Cost: The event is free to attend.
February 11
South Dallas
Grab your bike and join a group of people for a tour of key sites across Dallas that have a place in the city's rich Black history.
Cost: Participation in this event is donation-based, so attendees can contribute what they can.
February 17
McKinney
Dress in your grooviest '70s attire and strut on the red carpet before entering this Soul Train-themed party. Featuring live music by Soulful Soundz, dancers, casino games, a 360-degree photo booth, a cash bar, and passed hors d'oeuvres, it promises to be one of the most festive events of the month—and probably year.
Cost: Tickets are $50.
February 17 & 18
Dallas Arts District; Virtual
Multiple game-themed choreographed interpretations unfold onstage in a single evening in Cultural Awareness, a collection of beautiful works of artistic movement. Each evening's performances include Donald McKayle's modern dance staple Games, Matthew Rushing's Tribute, and Sean J. Smith's Swipe Left.
Cost: In-person tickets are $35 - $65. Virtual tickets are $25 per household.
February 20 & 25
Design District
Brittani (Brit) Rettig Wold founded GRIT Fitness seven years ago as a place of empowerment and during Black History Month, she has two special programs planned. On February 20, choose from two different Black Girl Magic Ride spin classes that celebrate Black singers and bands. Then on February 25, her Design District studio transforms into a Black Girl Boss Pop-Up Shop showcasing Black-owned businesses selling products and services.
Cost: The special spin classes are $28 each with a drop-in pass. The pop-up shopping event is free to attend.
February 23
South Dallas
Enter to win big or simply come to taste some incredible soul food dishes, many from recipes and techniques passed down for generations. The grand prize winner will receive $750 and first place winners in Meat, Sides, Vegan/Vegetarian, and Dessert categories will each go home with $500. Raffles, prize giveaways, a photo booth, and live music will also be part of the festivities.
Cost: Register to compete for free. A $2 donation per adult is suggested to attend and sample dishes.