This Was Dallas' Most Daring Taco Event of the Year
Dallas is known for having some of the best Tex-Mex in the world, but for the Taco Takeover on Saturday, September 16th, it was all about tacos. Some of the city's best local spots gathered at The Foundry to battle it out for the "Best Taco" contest. The good news for attendees: the tacos were unlimited so you could stuff your face a la Templeton from Charlotte's Web. But it wasn't just a contest -- there were unlimited margaritas, beer, tequila samples, churros, a live Mariachi band, a nacho eating contest, and a VIP guacamole bar. Luckily for you, we sacrificed some added waistline inches for you. Here's what was served:
Kathy Tran
Puffy Tacos
Taco Wasted
Puffy deep-fried taco shell with marinated ground beef, lettuce, cheese, tomatoes, and tomatillo sauce.
Kathy Tran
Pork Carnitas Taco
Taqueria La Ventana
Slow-roasted (and mouth-water-inducing) tasty pork carnitas on a soft corn tortilla with diced onions and cilantro drizzled with red and green tomatillo sauce.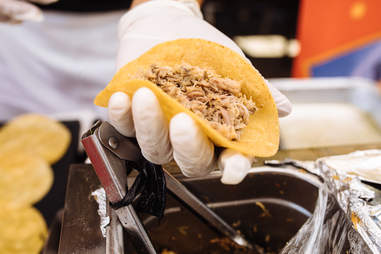 Kathy Tran
Tacos and Nachos
Fajita Pete's
Chicken and steak fajita-style tacos on a soft flour tortilla, topped with lettuce, tomato, and red & green tomatillo sauce.
Kathy Tran
Burnt Ends Taco
TorTaco
The best (read: sweetest, crustiest) part of a smoked brisket, served with sweet onions, roasted jalapeño, sweet-tangy gold sauce, fresh avocado, lettuce, and pickles.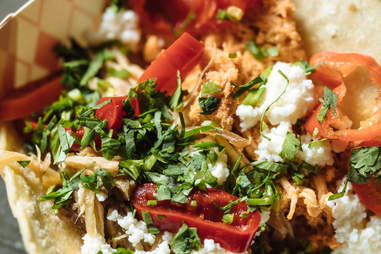 Kathy Tran
Carnitas Tacos
Texas Catering
Slow roasted (and mad juicy) pork carnitas, topped with feta cheese, cilantro, and green tomatillo sauce.
Kathy Tran
Chicken Tinga Tacos
The Blue Green Canteen
Finely shredded chicken tinga, topped with green salsa and red peppers.
Kathy Tran
Buffalo Chicken Tacos
Chicken Scratch
Bite-size fried chicken doused in buffalo sauce, covered in blue cheese crumbles, and served with diced green onions on a soft flour tortilla.
Kathy Tran
Costras
La Botana Taco Bar
Grilled cheese tortilla (yes, it's a thing) served on a flour tortilla, with onion and cilantro. Call it "meal-ception."
Kathy Tran
Sweet Things
Paleteria San Marcos provided refreshing Mexican fruit paletas to help cool off the crowd from the late summer heat (and probably also the heat on their tongues from a metric ton of hot sauce). Cinnamon and sugar churros were also there for a more extra sweet tooth satisfaction.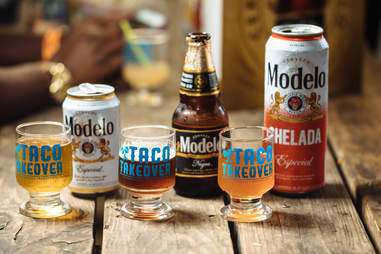 Kathy Tran
What's a good taco without the perfect drink?
As if unlimited tacos weren't enough, the Topo Chico crew was on hand to provide some Mexican mineral water to those who preferred a non-alcoholic drink. For everyone else, Modelo Especial provided Micheladas, Modelo Especial, and Negro Modelo beers for guest enjoyment in a Taco Takeover glass. In the tent, you could cool off with a Margarita or a Paloma with citrus-infused tequila. When people weren't demolishing tacos three at a time, the tent provided a nice and cool sanctuary with pinball machines and lounge couches.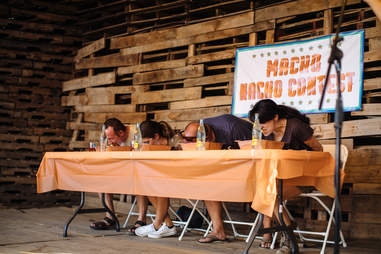 Kathy Tran
Nacho Man
Contestants gathered on the stage to compete in a nacho eating contest with their hands behind their backs. We aren't exactly sure how anyone in the contest could eat another bite after enjoying the bevy of unlimited offerings, but they did. As shreds of nachos went flying across the stage and air, only one contestant emerged victorious. No word on his condition the next morning.
Kathy Tran
Taco Takeover Success
At the end of the day, hundreds of tacos were devoured, everyone went home stuffed, and the best taco award was given to La Botana Taco Bar for their Costras taco. Their creative, grilled cheese-esque taco was a favorite among the judges (area taco experts including one of our editors) and the crowd. Despite the intensity of the summer heat, people gathered and ate unlimited tacos, noshed on popsicles, enjoyed cold beverages, and waxed poetic about the wonder of Mexican street food. Here are some of our favorite photos from the event:
Kathy Tran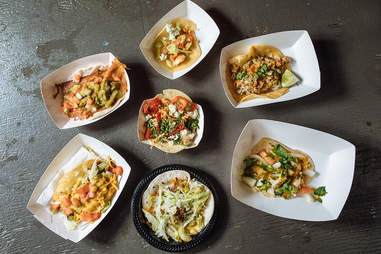 Kathy Tran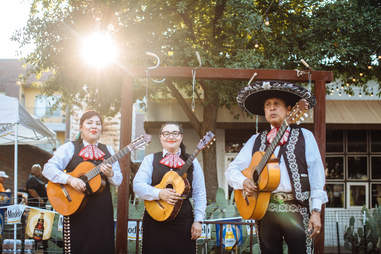 Kathy Tran
Kathy Tran
Kathy Tran