Every Summer Festival in Dallas, Now in One Calendar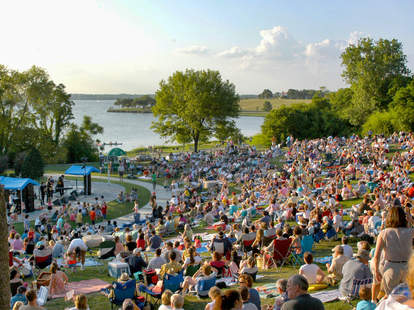 Dallas Arboretum and Botanical Garden
So your summer to-do list contains more than just "sneak into a rich guy's pool" again this year, we've taken the liberty of outlining all the big festivals in Dallas coming your way. Make way for block parties and BBQs.
Courtesy of Trinity River Vision Authority
This Dallas summertime staple kicked off with a concert by Bruce in the USA, a tribute to Bruce Springsteen and the E Street Band. The series runs every Thursday through late October (weather permitting) and bringing your own food and beverages is not only permitted, but encouraged. So get that cooler full of Spamwiches and High Life tall boys iced up and ready to go.
This rapidly growing film festival enters its fifth year at the festival's home base, the Texas Theatre in the heart of Oak Cliff. This year includes an opening night concert by The Sonics and Mind Spiders, as well as three days of screenings. Films being featured include Tangerine (showing opening night at Texas Theatre), Arrebato (screening at Wild Detectives on Friday, June 12th), and Funny Bunny (showing Sunday evening at the Bishop Arts Theatre Center).
In a town where food reigns supreme, the Taste of Dallas is the grandaddy of all the local food festivals. With over 70 restaurants featured over 277 acres, it's a glutton's paradise. This year will see the addition of a BBQ Battle Royale, the winner of which will receive a $25,000 prize and a lifetime of bragging rights. Come be part of history by stuffing your face with barbecued meats.
CBS Radio sponsors this fifth annual cover bands explosion with tribute acts to everyone from the Beatles, Guns N' Roses, and Mötley Crüe to Pat Benatar. Love the classic rock of yesteryear but hate to acknowledge the concept of aging? These acts will allow you to relive your glory days or pretend like you got to see Def Leppard back when everyone had all their original arms.
Sponsored by the City of Dallas, this annual Fair Park event features vendors, games, food, and live music. One of the most family-friendly of the summer festivals, the Juneteeth Festival entertains while also teaching youngsters about the emancipation of slaves and the struggle for equality. The festival will be headlined with a Juneteeth Jazz Jam featuring Martha Burks at the Black Academy of Arts and Letters.
This is the event of the summer for all the literature and theater nerds in the city. This year, Shakespeare in the Park Dallas will present Romeo and Juliet and The Complete Abridged Works of William Shakespeare. But fear not, non-theater nerd types. The productions are, as always, BYOB and the cost of admission is a suggested donation, so it's also the perfect date night on the cheap.
What's better than some down-home tunes and cold beers? Lazily tubing in a river while enjoying the two aforementioned things. The Panther Island Pavilion summer concert series kicks off with a grand opening night concert by Mike & the Moonpies. The concerts are free, innertube rentals are $6, and beers are $4, so you are officially out of excuses not to go.
You've heard of Nacho Libre, it's like that but with tacos and live music
Courtesy of City of Addison
Nationally known for its July 3rd fireworks extravaganza, Addison's Kaboom Town literally stops traffic. So make sure to leave extra early to get a prime roadside watching spot for these 30 minutes of colorful explosions synced up with patriotic music. It's big, it's loud, and has never been accused of being understated... just like America itself!
The last thing most people would expect from Dallas is shutting down entire blocks to celebrate the French holiday of Bastille Day, but then again, Bishop Arts District has never really been like the rest of Dallas. A Francophile's dream, this annual event includes everything from a mussel competition, wine tastings, a Vespa rally, rows of endless crepes, and French music wafting through the entire neighborhood. It's the one and only time we will say this: mimes are welcomed and even encouraged.
You can always tell when the Mary Kay Seminar is around the corner. Pink luxury vehicles of all makes and models slowly start to appear on the streets of Dallas and majestic hordes of self-employed cosmetics peddlers sweep across the plains of Downtown Dallas. The people-watching at the hotel bars surrounding the Dallas Convention Center (we're looking at you, Omni) should be impressive as these (mostly) women come to town to network and let loose. Consider yourself warned.
Each year, teams of filmmakers, writers, actors, and their friends sign up to compete in The Dallas 48 Hour Film Project. The goal is that each team is given very limited guidelines for topics and content and then must write, shoot, and edit a short film based on those guidelines to be shown to an audience a mere 48 hours later. Load up on your espresso shots and get ready to go all Tarantino on everyone, minus the weird foot stuff.
Shutterstock
Billing itself as a three-day "Celebration of Sexy," Exxxotica is just a run-of-the-mill trade show. Oh except that it's an adult industry trade show, so instead of appearances by Bob Villa, you're more likely to get Ron Jeremy. And instead of booths demonstrating products like rain gutters and home security systems, there will instead be booths demonstrating the newest in bondage technology or edible something or another.
Hopefully the convention center's cleanup crew can do a quick turnaround between Exxxotica and MegaFest. The yearly gospel super-festival, founded by Dallas' own Bishop T.D. Jakes, is a four-day-long celebration of faith and gospel music for which people travel from all over the country to attend. Chances of a spotting of Steve Harvey seem fair to good.
A traveling festival that began as an extension of Diplo's Mad Decent record label, the Block Party has outgrown the label and is now a yearly event hitting 18 US and Canadian cities each summer. Artists appearing in Dallas include Borgore, Bro Safari, and Gent & Jawns among many others. And don't forget, this is the festival that brought acts like Major Lazer and Baauer to the mainstream so don't sleep on the bands that appear earlier on the bill.
Courtesy of Tommy Moore
Celebrate Labor Day weekend with three days of the biggest names in blues, more BBQ than any human being could ever eat, and family-friendly events galore. Musical acts featured this year are the cream of the crop, starting with Tab Benoit and Delbert McClinton on Saturday night. Blues legend Buddy Guy closes out the festival on Sunday night.
Dallas veteran rock group the Toadies present their seventh annual Dia De Los Toadies music fest, this time in Ft. Worth's Panther Island Pavilion. The festival has grown by leaps and bounds each year and this year's acts include the Toadies themselves, along with Burden Brothers, Local H, Sarah Jaffe, and Holy Moly. Plus, don't forget to bring your innertube or at least some cash to rent one so you can float while you check out the bands.
The 29th annual GrapeFest will officially be able to claim the title as "Biggest Wine Festival in the Southwest" and has expanded its offerings this year. Don't worry, there's still more wine than you can (or should) drink and craft beers. But GrapeFest will also feature kid-friendly activities, four live music stages, as well as golf and tennis tournaments.
The biggest celebration of Greek culture and food in the metroplex, this festival will also celebrate the 100th anniversary of the founding of Holy Trinity Church. This festival serves to not only raise money for Holy Trinity's philanthropic efforts, but also includes cooking demonstrations, Greek traditional dancing with a live band, and an in-depth tour of the historic church and grounds. Opa!