Deep Ellum Finally Gets Its Own Juneteenth Celebration
In one of Dallas's historic neighborhoods and former freemen's towns comes its first-ever Juneteenth on Main Block Party.
Photo courtesy of Deep Ellum Foundation
Photo courtesy of Deep Ellum Foundation
Since its formation over 150 years ago, Deep Ellum has been a hub of Black business, culture, and music. While the neighborhood still stands strong, many Deep Ellum frequenters reel over the rapid gentrification taking place within the blocks, as well as the closure of iconic music venues. This upcoming Juneteenth weekend, the Deep Ellum Foundation aims to remind the city of the neighborhood's significance to the Black community. On Sunday, June 18, the neighborhood will host its first-ever Juneteenth celebration, the Juneteenth on Main Block Party.
Juneteenth, which became a federal holiday in 2021, recognizes the emancipation of enslaved peoples. The day is particularly significant in Texas, as this was the day the news reached Galveston, Texas in 1865, and Texas was the last state to become aware of emancipation. It was the first state, however, to advocate for and install Juneteenth as an official holiday in 1980 thanks in a big part to Texan Opal Lee. The tradition of jubilee lives on in Deep Ellum this month.
"In the Black community, we typically would have block parties in our neighborhoods," says Will Haggins IV, Deep Ellum Foundation's events and program manager. "So I wanted to bring that same feeling to Deep Ellum after learning about [the neighborhood's] Black history."
Haggins moved to Dallas from Michigan three years ago, and was immediately drawn to Deep Ellum. He notes that the neighborhood was settled by newly emancipated people as a freedman's town. Part of the block party will include a historical component, by way of a Black History art exhibit.
Juneteenth on Main Block Party will be hosted by Dallas media personality Lady Jade, along with Kenya Moore from Real Housewives of Atlanta. Festivities will kick off at noon and take place on Main Street between Good-Latimer and Crowdus, and will celebrate Black music and business owners based in Dallas-Fort Worth.
There will be over 25 Dallas-Fort Worth-based Black-owned vendors, including a fragrance company called The Blvck Scentrovert and a fashion retailer called Mama Africa's Apparel.
The Juneteenth on Main Block Party is free to attend, however, attendees can purchase preferred seating. This will include four drink tickets, light bites, private restrooms, a commemorative t-shirt from the inaugural festival, and access to a designated VIP area.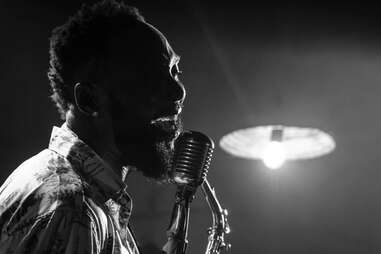 On the bill for musical performances is R&B group Dru Hill, who is currently on tour celebrating their 25th anniversary. All six of the founding members, including Sisqo, will be in attendance, singing their greatest hits. As for local talent, Tim Clifton and the Potter's House of Ft. Worth Worship, Baba Kuboye, and Jess Garland will represent North Texas. Garland has been writing, recording, and teaching music for 17 years, and has helped people find healing through the therapeutic power of music through Swan Strings, which provides free music lessons and concerts to people in Dallas. Like Haggins, Garland wants to highlight the Black history of Deep Ellum, which she feels isn't talked about enough. She also wants to bring music back to the neighborhood, particularly as small venues have continued to close down.
"This is an opportunity to highlight and focus on musicians that have been here for several years," says Garland, "and also celebrate Blackness and celebrate our culture through the music. A lot of the history and culture has been erased from schools, and it's just important to shine a light on it and focus on it."
Also performing is Dallas-based hip-hop artist Jayson Lyric, whose song "Self Love" has recently gone viral on TikTok. Local R&B singer Jada Arnell is also set to sing with The Ei8th Notes Band.
Deep Ellum mainstay Dezi 5 will perform alongside fellow neighborhood staples Cure For Paranoia.
"I started my music career here in Deep Ellum, and it's the first time that we've really done anything on this level for the culture of the Black community like so," says Dezi, "so, of course, who wouldn't want to be a part of the inaugural festival? The first of many. It's an honor to even be asked."
Dezi promises an "epic" 40-minute set. Over the course of his and Cure For Paranoia's set, they will sing some of their collaborations, their solo songs, and some covers by legendary artists. He also plans to cover "Lift Every Voice And Sing," which is often hailed as "the Black national anthem," according to Dezi.
As for the performance aesthetics, Dezi hints that he will take inspiration from his time at Florida A&M University, as well as Beyoncé's 2018 Coachella performance, to create the feel of a Historically Black College and University event.
"It's going to be a dope show that really represents the culture," says Dezi.