8 Very Dallas Things We Can't Wait to Do When Quarantine Is Over
We could all use happy hour and a Corny Dog right now.
Texas governor Greg Abbott just announced further steps to reopen Texas, with the addition of bars to the list of businesses that can welcome in-person patronage again, plus a slight increase in capacity for restaurants, but life is hardly business as usual. As we all still fantasize about things truly returning to pre-COVID-19 levels of normal, we asked a group of Dallasites what their dream "first day back" would be like when the city reopens for real. Combine them with your own post-pandemic bucket list, and you've got yourself a fun 24 hours in your future.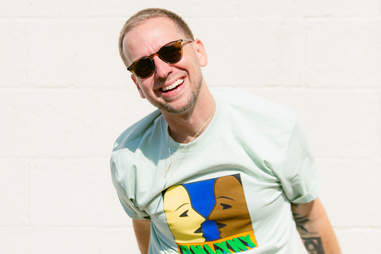 DJ Sober

| Roger Gallegos
Late breakfast, record shopping, and an intimate dance party
"When quarantine is over and it's truly safe to step back out, I can't wait to actually put an outfit together, call up a friend, and hit Tribal for a late breakfast. After that, I'd hit up my favorite record spots, Doc's & Josey, and peruse the bins or some new old tunes. My dinner choice would be La Calle Doce (Oak Cliff), and I'd love to rock an intimate party at Sol House to end the day doing what I love the most." - DJ Sober
LeeAnne Locken

| Courtesy of LeeAnne Locken
Personal pampering, giving back to the community, and a big dinner with friends
"When things get back to our old normal, my bucket list includes -- and in this order -- get rid of my grey hair at Dear Clark, then get an amazing hydro-facial at Lemmon Ave Surgery Center, and finally a Mystic Tan from Palm Beach Tan. Then once I look like my 'back to normal' self, I genuinely can't wait to resume my charity work, starting with a visit to Bryan's House to prepare for my new Ambassadorship. They are a wonderful charity that serves children with medical or developmental needs and their families by providing specialized child care, respite care, and social services. I am also dying to arrange a fabulous 'We are LGBT and FREE' Party at the Round-Up Saloon benefiting Legacy Counseling and continue to help Dallas Street Dogs Advocates in their rescue work.
"But most of all, I can't wait for human contact and conversation! There is nowhere in the world that is filled with friendlier people than Dallas, Texas. I am so looking forward to margaritas at Mi Cocina, brunch at Bistro 31, and a romantic steak and seafood dinner at Truluck's with friends. Laughter is the best medicine and I am ready to share a laugh with my city!" - LeeAnne Locken, The Real Housewives of Dallas
Kellie Rasberry

| Allen Evans
A mani-pedi, a big steakhouse salad, and a spin around the GeO-Deck
"When things get back to whatever our new normal is going to look like, I'm shaving my legs and heading straight to Polo Nails for a mani-pedi. Then I'll put on a cute outfit from my online boutique, Emma Kelly & Me, and have my husband Allen drive us to Al Biernat's for lunch, hoping they'll overlook my flip-flops as my toes will still be drying. It's been far too long since I've stuffed my face with Al's Salad. Pro tip: Ask your server to add capers.
"Afterward, it is very necessary that we drop by Studio One Ten. I've done an okay job keeping my roots in check during quarantine, but it's time for Paige to get my red right. Then I'll have Tori work her magic on my split ends and give me some extra va-va-voom with the blowout because our next stop will be a romantic trip down memory lane. I'd love to go back to GeO-Deck at Reunion Tower to watch the sunset, just like we did when my husband proposed to me there three years ago." - Kellie Rasberry Evans, The Kidd Kraddick Morning Show; A Sandwich and Some Lovin' podcast; Love Letters to Kellie...the Podcast!; Emma Kelly & Me
Amber Fletcher

| Thomas Garza
The Dallas Arboretum, a spa treatment, and a day at the State Fair of Texas
"The first thing I want to do is take my mother to the Dallas Arboretum for our annual mother/daughter trip together. Every year we look forward to their gorgeous azaleas and tulips. Then shopping around Highland Park Village and stopping in at the Bird Bakery for their California Turkey sandwich. I think I deserve several of their cookies after all this. Sutera Spa is next on my list. I hope they let me schedule a massage, pedicure, hair cut and color, and hydro facial all in one day.
"My three dogs are in just as much need of socializing as I am, so perhaps a day at the White Rock Lake Dog Park or Mutts Cantina. Attending the Dallas Summer Musicals has been a family tradition since I was a child. I can't wait for festivals and events to return. Every weekend full of eating and drinking, listening to local bands and top artists while surrounded by new friends and old. Most of all, I am looking forward to the return of the State Fair of Texas that brings together hundreds of vendors, artists, farmers, and families for 24 days of Texas-sized family fun and memories." - Amber Fletcher, Head of Marketing and Events, Fletcher's Original Corny Dogs
John Tesar

| Steven Visneau
A concert with thousands of other fans
"I am going to a Foo Fighter's concert with 85,000 people and standing in the middle of the crowd and then jumping in the ocean... possibly naked." - Chef John Tesar, Executive Chef at Tesar Restaurant Group
Dr. Nick Karr

| Courtesy of Sinai Urgent Care
A non-social-distancing interaction and throwing away the masks
"One of my favorite things about Dallas is just how friendly everyone is. It reminds me a lot of growing up in the Midwest. Through all of the disruption that the virus has brought, it's amazing how everyone has maintained that Southern hospitality. Whether it's running the Katy Trail, enjoying the Arboretum (my favorite place in Dallas for sure), or walking around Uptown, despite the challenges, people are still friendly and warm in a way that is uniquely Texan. That being said, the thing I've missed more than anything since all of this craziness with the virus started is the difficulty of fully connecting while standing six feet away with half of our faces covered.  That's why the thing I'm looking forward to most once things get back to normal is throwing away our masks, quitting with the social distancing, and really getting back to the warmth and connection that is the reason why I call Dallas home." - Dr. Nick Karr, Founder of Sinai Urgent Care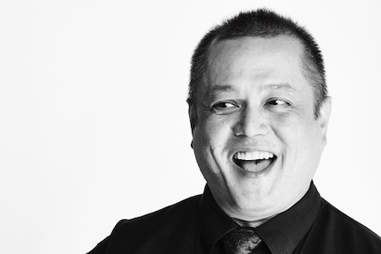 Brian Augg

| Gus Schmiege
Margaritas, Korean BBQ, and some shopping for that new quarantine body
"When things get back to normal I can't wait to get dressed up and have somewhere to actually go. I'll definitely get a group of friends together to grab margaritas at Mi Camino on Northwest Highway. It's a hidden spot with a nice patio, and the drinks are so good! We will also make a stop at Omi Korean BBQ in Carrollton, which has some of the best Korean BBQ I have ever had. It's a social place, too, where everyone sits around a huge table to eat. I'm also excited to get back to work at Al Biernat's. I will probably need to brush up on the drink menu that I created since it's been so long [laughs]. There are regulars who come into Al's that I can't wait to catch up with. Lastly, I need to head to NorthPark Center to get some new clothes since nothing is going to fit post-quarantine!" - Brian Augg, Bar Manager at Al Biernat's Oak Lawn
Jenifer Strauss

| Elizabeth Lippman
A spin class and an extended happy hour, followed by Corny Dogs
"My first dream day would start with a spin class at The Ride House for inspiration and to detox before I re-tox. Next up I would definitely need a massive re-fluff of hair & nails. Then King Hughes and I would head to Fuzzy's Taco Shop for some pre-game chips, queso & guacamole, followed by a short hop, skip, and a jump to meet my Unicorn family for a special catered treat from the Fletcher's Corny Dog truck on the patio at Maplewood, while playing Jenga and drinking countless bottles of Casamigos Blanco! And since calories and hangovers don't happen in my dream day, I'd head home and get some late night Zalat Pizza and play with my two fuzzy pups, Stella and Sophie." - Jenifer Strauss, Strauss Marketing (SMPR) Owner/Founder; Partner/Founder The Marketing Public Relations Collaborative (TMPRC)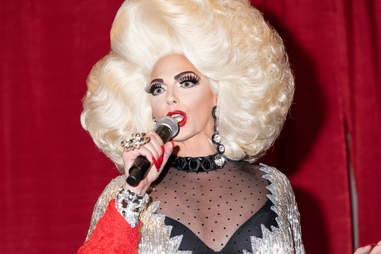 Alyssa Edwards

| Sam Aronov/Shutterstock
Sign up here for our daily Dallas email and be the first to get all the food/drink/fun DFW has to offer.