If your workplace gives you MLK Jr. Day off, you're in luck because you have a three-day weekend. This month you can go to both the Dallas Arboretum and the Dallas Zoo for reduced admission prices. But if you rather stay indoors this weekend, there's an art and chocolate show, a birthday party for Community Beer Co., a new immersive art experience and a Pokemon tournament. Also, there's two important marches this weekend: the Dallas women's march on Sunday and the MLK Day parade and march on Monday.
Recommended Video
The Definitive Eggnog Recipe You Need for the Holidays
Friday-Monday, January 18-21
Dallas Arboretum
Whether it's during the fall, the spring, or the dead of winter, the Dallas Arboretum is beautiful any time of the year. Now through February, the arboretum will have be open with admission prices lowered to just $5. Bundle up and enjoy a relaxing walk through the gardens.
Cost: Admission is $5.
Friday-Sunday, January 18-20
Hyatt Regency DFW Airport
Are you a pro at catching Pokemon? If you spend your lunch breaks searching for Pokemon, test your skills at the Pokemon Regional Championships.There will be competitions for various age groups and skill sets. Along with competitions there will also be panels and other side events.
Cost: Registration is $55.
Friday-Monday, January 18-21
Dallas Zoo
Just like the arboretum, when the temps drop during the winter, admission prices at the Dallas Zoo do, too. From now until the end of February, you can go to zoo for just $8 during Penguin Days. Bring a jacket and say hello to the animals at the zoo, and when it gets too cold outside, warm up in the indoor areas.
Cost: Admission is $8.  
Friday-Monday, January 18-21
Rainbow Vomit
Be the envy of all of your Instagram friends with all of your new selfies at Rainbow Vomit. The interactive exhibit will be full of color art, lights, and other visuals that will make for some amazing pictures. The 2,600-square foot space will have more than 20 unique photo ops, five miles of ribbon, 6,000 LED lights, 50 pounds of glitter, and at least one unicorn.
Cost: Tickets are $15.
Friday, January 18
Lofty Spaces
Get artsy and please your sweet tooth at one place on Friday. Indulge in tasty chocolates and check out some great work from Dallas artists, photographers, and creators. There will also be live body painting, vendors, live music, face-painting and chocolate.
Cost: Tickets start from $15.
Saturday, January 19
West End
If you grew up in Dallas, chances are you spent some time at the West End on the weekends. The West End used to be an awesome spot back in the day, and it has a lot of architectural history, too. Learn about it at this walking tour of the district. If you can't make this one, there's others on the first and third Saturday of each month.
Cost: Tickets start from $8.
Saturday, January 19
Hurst Conference Center
Stock up on some vinyl -- new and old -- at the DFW Record Show. Make sure to plan your day accordingly because you might get lost exploring boxes upon boxes of vinyl here. In addition to concessions, there will also be a listening area to give those tunes a listen.
Cost: Tickets are $5.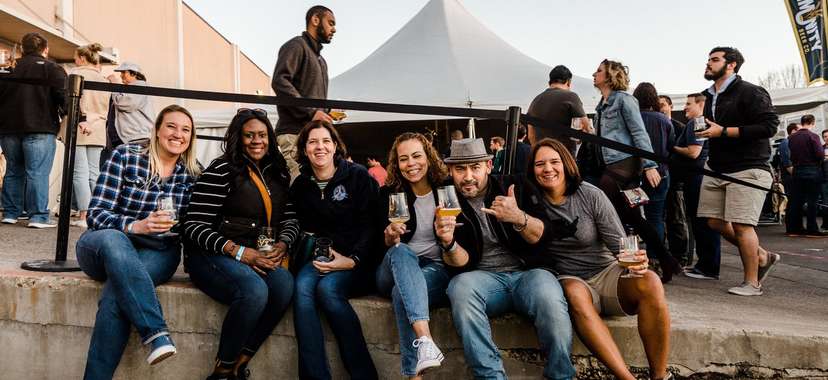 Saturday, January 19
Community Beer Co.
Local brewer Community Beer Co. turns six this year, and to celebrate it's throwing a big birthday party. The celebrations will feature more than 60 beers, multiple beer stations, live music, a photo booth, local food trucks, commemorative glassware and other swag, and local artist and craft vendors. Cheers to six years!
Cost: Tickets start from $30.
Sunday, January 20
St. Paul United Methodist Church
Last year, thousands of women took the streets across the country to stand for fairness, gender and racial equality, women's rights and inclusion for all. This year the march continues, starting at St. Paul United Methodist Church to a rally in front of Dallas City Hall. A rally will feature a DJ, speakers, and more.
Cost: Free
Monday, January 21
Fair Park
Celebrate Dr. Martin Luther King Jr. Day at Dallas' march and parade to honor him. The parade will feature floats, marching bands, dance troops, and other vehicles before thousands of spectators. The parade is just one of many events this weekend to honor Dr. King.
Cost: Free
Sign up here for our daily Dallas email and be the first to get all the food/drink/fun DFW has to offer.