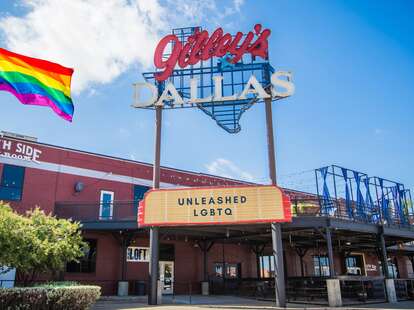 Courtesy Unleashed LBTGQ
Courtesy Unleashed LBTGQ
The first queer-centered business conference arrives in Dallas this month. As Pride season is underway—September being the city's official Pride month—Unleashed LGBTQ debuts September 22 to 24 at Gilley's. Event founder Wesley Smoot has teamed up with several notable figures in the local and national LGBTQ+ community: Bros actor Billy Eichner, Pose's Indya Moore and Dyllon Burnside, plus culinary authority and Queer Eye star Antoni Porowski.
Smoot first began planning the conference in 2019 with an official launch targeted for 2020. (We don't have to get into why that obviously didn't happen.) It was pushed to 2021 and held virtually. This year, Unleashed, which Smoot describes as the "SXSW for the LGBTQ+ community," debuts its in-person iteration. And the star-studded lineup is packed.
"We have a lot of people that we're bringing in and we're very adamant about staying in focus and aligned with our goals of creating this space with different thought leaders and industry experts and, of course, our celebrity talent," says Smoot. "It's all really coming together and I'm glad that we have had all of that extra planning. It gave us the opportunity and time to find the right people and the right location."
Though many of the actors aren't able to talk about their past projects due to the ongoing SAG-AFTRA strike, they do plan to talk about navigating the industry as queer and trans artists.
But Smoot is also planning to screen a series of independent films not owned by any of the major studios. One is The Mattachine Family, which tells the story of a gay couple whose family dynamic changes once their foster child returns to his birth mother. Non-binary actor Nico Tortorella will be in attendance at Unleashed and will do a Q&A. One of the darker films is Tina Town, a crystal meth–centered thriller which aims to address problems of addiction within the community.
"It far more impactful than just coming to plug their next movie or TV show or anything like that," says Smoot. "We really want to hear from them and how they feel about a lot of the things that are going on, and how they managed to break through in the entertainment industry which, just like any other one, is not always the kindness to LGBTQ+ people."
"As trans people, and even more so for trans people of color, we face many challenges that those who aren't trans don't."
Another keynote speaker is trans rights activist Naomi Green. Green first met Smoot at a Pride happy hour event hosted by the North Texas LGBTQ+ Chamber. When Smoot first presented the concept to Green, she was immediately intrigued by the idea, and found it "big and bold with a lot of excitement."
During her keynote, Green plans to hone in on allyship within the LGBTQ+ community as it compares to allyship from outside of the community.
"As trans people, and even more so for trans people of color, we face many challenges that those who aren't trans don't," says Green. "From being targeted by state and national leaders to cis-hetero people who don't understand why we exist, we are not a large enough group to affect the change needed for us to live our lives without hate, misinformation, attack, and fear of violence or extinction. This will explain to people how to be allies and why it's important."
Patience Murray, a gun-reform activist who survived the Pulse shooting, will speak about resilience and recovering from adversity.
"We picked a bunch of different topics and tried to find the right people," says Smoot, "who could come and share their insight—just let us know their personal story."
On the business side of things, Unleashed is bringing in LGBTQ+ representatives from companies like Adobe, and Microsoft. Ben Stokes, Kadi Findling, and Patrick Driscoll will represent Chasing Rainbows, an organization committed to investing in LGBTQ-led startups.
Representing Meta is LaMecia Butler, who, as the corporation's Program Manager for Meta Global Supplier Diversity, aims to help companies owned by marginalized people, spotlight their businesses on the platform.
And of course, no LGBTQ+ gathering would be complete without a fabulous drag show. Smoot is teasing "some surprise drag performers," who will not only put on a stellar performance, but also use their platforms to talk about anti-trans legislation and bills targeting drag performers.
"What we really want to do is have impactful conversations that resonate with people and things that are going on," says Smoot. "We also want to create an environment where we can celebrate things. I think we're often trying to defend our rights, which is necessary, but exhausting, and we want to have a safe space where we can say, Look at all these amazing things that we as a community, or this specific performer, or this thought leader, or this business founder has done. I think that's something we really need as [a] community."
Alex Gonzalez is a Dallas-based writer who covers music, pop culture, arts, LGBTQ+ stories, and more.