How to Celebrate Black History Month in Denver This Year
These are the best ways to spend February recognizing and celebrating Black history, locally and beyond.
Any time is a good time to recognize, honor, and celebrate Black history in Colorado, especially considering that so much of the state's development—and the city of Denver, specifically—is largely credited to the work and contributions of Black Americans. But entering Black History Month means there's a ton of special events and programming to check out, from live performances to art exhibits celebrating Black history and culture to a multitude of everyday restaurants and businesses you can support this month and every month. This list is only a handful of goings-on for BHM, but depending on your interests, it's a great launching point to show love and support for Denver's Black community, discover some amazing new people and places, and learn a thing or two about Black history in the Centennial State.
Check out a number of art exhibits showcasing Black artists
A number of Denver's best museums are featuring exhibits with works by Black artists and creatives this month (and luckily, exhibits like these are featured throughout the year as well). The Art Students League of Denver currently has an exhibit, The Fine Art of the Black Diaspora, by Kansas City artist Anthony High, which features High's diverse use of media, from traditional painting to a unique collagraph printmaking process.
If you prefer to set your own pace or choose your own art-viewing adventure, consider taking your own art tour with Denver Public Art's Black History Month public art tour. With lists of both artwork by Black artists as well as pieces dedicated to celebrating Black history and a map with the locations of each, it's an easy way to appreciate Black artwork across Denver.
Enjoy live music and performances by Black artists
In early March, the Cleo Parker Robinson Dance Ensemble is putting on a show called "Inspiring Movement," honoring the African Diaspora. Head to Northglenn's Parsons Theater on March 2 and 3 to "explore the human condition, champion social justice, and celebrate the complexity of life through movement."
For two showings on February 25, the Black woman-led fusion band Same Cloth will be entertaining at Dazzle, where you can conveniently get dinner and a fantastic show.
Fancy a Valentine's Day poetry slam? Join Kerrie Joy in conjunction with Slam Nuba for a night of poetry and open mic at the Denver Art Museum, and conveniently on a DAM free night, too.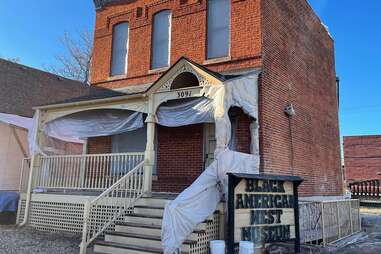 Visit museums honoring and celebrating Black history and culture
An excellent place to start is the Black American West Museum and Heritage Center, which is open to the public on Saturdays and requires a visit reservation. The museum celebrates African Americans who helped settle and develop the Western United States, beginning with a focus on Paul Stewart. The museum is also hosting a movie series for Black History Month, showing Davon Johnson's film documentaries on Saturday afternoons.
Another stop to add to your list is the Stiles African American Heritage Center in Five Points. A visit here means viewing pictures, artifacts, cultural exhibits, replicas, and memorabilia of prominent African American historical figures in Denver. You can schedule guided tours and attend special live performances and workshops.
Show your support for Black-owned restaurants and businesses
There are a ton—and we mean a ton—of incredible, Black-owned businesses across Denver. So much so that round-ups never fully capture everyone. Starting with this list of Black-owned restaurants is a great start; whether you're craving barbecue or Ethiopian food or ice cream or coffee, there's a Black-owned spot to support any time of day, month, or year. In the historically African American neighborhood of Five Points, you'll find the new and soon-to-open location of the beloved Welton Street Cafe as well as invaluable resources like that of Brother Jeff's Cultural Center. For even more options, check out this extensive list that 303 Magazine put together of Black-owned businesses in Denver.
Do what you love while also celebrating Black history, Black innovators, and Black businesses
Harkins Theater in Central Park is celebrating Black filmmakers and historic moments in Black history with special movie viewings through February 15, and proceeds benefit the Equal Justice Initiative. On February 11 and 15, Harkins is showing Get Out and Malcolm X.
Black-owned bookshop and design store, Shop at MATTER, hosts not one but two types of book clubs this month (and beyond). The Well-Read Black Girl Book Club is the last Tuesday of each month and is dedicated to Black women writers and readers aiming to "introduce a cohort of diverse writers to future generations." The Noname Book Club (happening this month on February 22) highlights one to two books each month written by authors of color with the added goals of building community across the country by sending book picks to incarcerated people through its Prison Program. For additional information or an invitation to the club, contact maria@shopatmatter.com.
If you're a regular yogi, consider taking your classes at Black-owned Urban Sanctuary. Sign up for regular sessions (the studio is currently offering a deal of three classes for $23) or attend its In Living Color urban market on February 11, featuring a ton of BIPOC artists, makers, and wellness gurus.
East Colfax's Lawrence & Larimer is hosting a Black History Month Celebration by way of cocktails, music, community, and a discussion on Black mental health. The discussion panel includes Lesley Pace, Jalisa Williams, Chaz Mykl, Jevon Taylor, and Carolyn Taylor-Harris.
The Ford-Warren Library Branch in Denver's Whittier neighborhood is hosting a special community engagement on February 18 together with History Colorado. Hosted by Terri Gentry, third-generation Denverite and History Colorado's Engagement Manager for Black Communities, this event is a chance for community members to guide History Colorado as it expands its collections and programs to better represent the diversity of Colorado.
Erica Buehler is a Denver-based freelance writer who likes sledding as much as hot chocolate by the fire. Follow her @e_buehler on Instagram and @e_buehler_ on Twitter for more updates on Denver food and other Mile High shenanigans.