AC Hotel by Marriott Denver Downtown
Every year, we at Thrillist like to take over a major hotel in a major city and have the most fun weekend imaginable, complete with local activities to experience the town, tons of great things to eat and drink, and plenty of surprises that make this the ultimate 48-hour party. This year, we're taking Hotel Thrillist to Denver -- and it'll be our biggest and best event yet. That's thanks in part to Chase Sapphire, our presenting sponsor, who will help us give the Mile High City a celebration they won't soon forget. Well, that and the fact that Don Julio and Bulleit will be mixing up cocktails all weekend long.
The festivities will begin September 6 at the AC Hotel by Marriott Denver Downtown, where guests will be greeted with delicious cocktails and great music. That'll serve as home base. From there, the party's only gonna get better. Whether you're a Denver local or coming in from out of town, you can buy tickets right here to secure your spot and party with Thrillist and some special guests for the whole weekend.
If you're bursting with anticipation and just can't wait until September 6, don't worry. We're giving you a sneak-peak of all the amazing things that are in store for this year's Hotel Thrillist. And definitely don't forget to check out our comprehensive travel guide to Denver, packed with tips from locals on how to get around, the best restaurants and bars, and other cool can't-miss things to do in the Mile High.
Here's a taste of what to expect for the weekend. See you there...
Sample Denver's best bites at the ultimate 17-course feast
Hotel Thrillist will have no shortage of delicious food all weekend long -- that's just facts. Friday evening, though, is when we're taking it up a notch. After some imbibing at 54Thirty Rooftop, Mile High's highest and most Instagram-worthy rooftop lounge, we'll head down to the ballroom for Hotel Thrillist: A Denver Feast. This massive smorgasbord will feature 17 different dishes from local restaurants that showcase why Denver is one of the best food destinations west of the Mississippi. Plus, if you're a Chase Sapphire cardmember, you'll have access to the Chase Sapphire Lounge, with even more food and drinks at your disposal. From Roaming Buffalo BBQ's pork sandwiches to sweet sundaes from Little Man Ice Cream, the dishes will be top-notch and mouthwatering. So, you know, be sure to come hungry.
Dance like you don't care who's watching in Denver's Capitol Hill neighborhood
Did you really think the party was stopping after dinner? Of course not. After Feast, we'll head over to Temple Nightclub -- smack dab in the city's Capitol Hill neighborhood -- to show off that dance routine you've been working on since The Sprinkler went out of style. Here, DJ duo Tritonal (Chad Cisneros and David Reed) will be spinning bangers to keep you flossing on the dance floor all night long -- in between drinks, of course. And speaking of drinks, you'll definitely want to check out our cocktail lounge throughout the night. It's one of a kind and you won't wanna miss it.
Get a rush in Denver's great outdoors
We've told you Hotel Thrillist is the place to experience unparalleled fun in cities around the country, and there's no better way to do that in Denver than by going up in the air. On Saturday, CLIF is sponsoring a day-long adventure at Castle Rock Adventure Park to give every guest a chance to bring out their inner thrill-seeker. From 1.5 miles of zip line tours to bungee jumping off of 70-foot platforms, guests will experience a heart-pounding adrenaline rush that'll get them pumped for Saturday night's concert (more on that in a little!).
Check out some local street art
The RiNO Art District is a blend of industrial and urban architecture, making it the hub for Denver's bustling art scene. Here, Hotels.com will be sponsoring a tour of the entire district, where you'll get the chance to see amazing works by Denver's most prominent street artists, all in one afternoon. And because walking around looking at art can work up an appetite, you'll want to pop into Improper City, a spacious patio that plays home to a coffee shop and bar -- a.k.a. the perfect spot for Hotel Thrillist guests to stop and hangout for a minute (and snap some stories for the 'gram, naturally). Of course, there will be plenty of food and libations along the way. We wouldn't leave you hanging like that.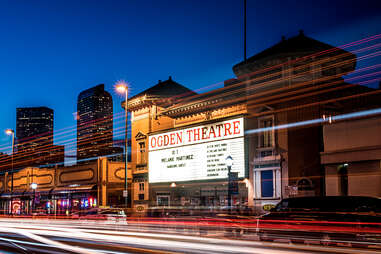 Close out the weekend on a Mile High note
No great party is complete without an unforgettable farewell, and we're capping off the weekend with live music from De La Soul at the Ogden Theatre. With a capacity of 1,600, this former movie theater-turned concert hall is Denver's oldest and most acclaimed dance hall -- meaning you'll absolutely want to experience it in all its grandeur. Grab your tickets for Saturday right here as it's bound to sell out.
Hopefully you're as excited for Hotel Thrillist as we are. It'll surely be one for the books.