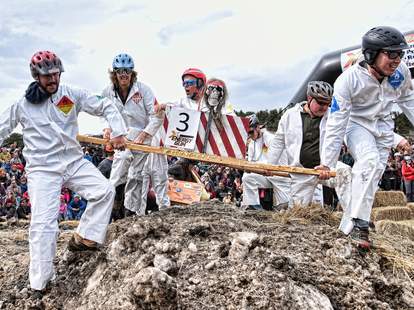 Everything You Absolutely Must Do in Denver This Spring
All right, guys, this is not a drill. Spring is almost officially here, which means it's time to brush the weird food stains off that sweater you've worn the past three months and get your last runs in on the slopes. Event season is upon us. From here on out, it's non-stop festivals, concerts, sporting events, and even a chance to redo your high school prom experience. Now is not the time to slack, so start planning for a jam-packed few months in the Mile High.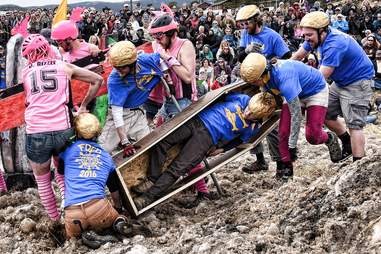 Frozen Dead Guy Days

| Andrew Wyatt
These monthly shows feature emerging musicians selected by local tastemakers. On the bill for March is Flaural, Oyster Kids, and headliner Dan Deacon. Entry is only $5 if you RSVP ahead of time.
Yes, there really is a frozen dead guy (Bredo Morstøl) housed in a Tuff Shed on dry ice high above Nederland. So of course, the town has embraced this quirky fact and based an annual celebration around it complete with polar plunge, coffin races, a salmon toss, and more.
This event from the Left Hand Brewing Foundation returns for its fifth year and features over 60 breweries along with a ski and snowboard competition and live music. The Chris Robinson Brotherhood is this year's headliner.
We mean that literally. Save the other kind of green for your parade after-party. This Denver tradition floods Downtown with the Irish spirit, plus plenty of bars along the route will be serving up green beer during the event.
The annual Great Chefs of the West is a fundraiser for the National Kidney Foundation and features over 20 chefs competing to create the best dish of the night. All you have to do is come ready to eat.
Sample beers from around 20 up-and-coming Colorado breweries while dancing the night away in neon at the 5th Annual New Kids on the Block Beer Festival.
Travelers of the Lost Dimension is a unique interactive experience in which you not only watch, but participate in a performance that's part comedy, part adventure, and totally one-of-a-kind.
Collaboration Fest returns for its fourth year and promises to be bigger and better than ever with more space and 100+ beers from over 150 breweries for you to sample.
It's Rockies opening day so score tickets to the game against the Dodgers, or head to any bar in the Ballpark neighborhood to celebrate the return of baseball season in the Mile High.
Embrace your inner geek and get a redo on prom night at Nerd Prom. Hosted by Rick & Alf from 93.3 and featuring music from Andy Rok & The Real Deal, MC Lars, Mega Ran, Rocket Surgeons, and DJ boyhollow, the event only asks one thing: Come ready to dance.
That's right. This underground art show not only features over 80 emerging artists, but a free pancake bar, plenty of drinks, and live art (including body painting).
During the annual Doors Open Denver event, you can take a look inside dozens of buildings -- many of which are not usually open to visitors poking around. Plus this year, look for new arts and culture activities at many of the sites.
During the Star Wars at the Hangar event, you'll get to participate in Star Wars-specific games like Blast-A-Trooper and Green Screen Adventures, meet movie favorites including BB-8 and R2D2, and get the chance to win a seat in the legendary X-Wing Starfighter!
Whiskey Throwdown & Doughnut Throwdown
This marks the first day of Civic Center Eats, an event that brings droves of food trucks to one spot in Downtown Denver most Tuesdays, Wednesdays, and Thursdays from 11am-2pm through October 5.
Wear your Star Wars-themed best and head to ARTWAR. Check out work by local artists while enjoying galactic cocktails, dancing, and more. Costumes and theme-worthy attire are encouraged so break out that Chewbacca costume and party AARRRGGGGGHH.
Shop from local vendors, enjoy food and drink, and jam out to some bluegrass at The Big Wonderful -- part outdoor marketplace, part party. It's a partymarket!
This annual event supports the Dumb Friends League. It's a 2 mile walk around Wash Park along with contests, demonstrations, and pet-related vendors. And yes, your furry friends are welcome.
The annual Great Chefs of the West is a fundraiser for the National Kidney Foundation and features over 20 chefs competing to create the best dish of the night. All you have to do is come ready to eat.
It's National Whiskey Day so make sure you celebrate properly at the fifth annual Whiskey Throwdown & Doughnut Showdown, an event that pairs two of mankind's best creations.
Head to the 'hood that was once known as the Harlem of the West for this free annual event where it's all about jazz, with performances in a variety of venues throughout the area.
That's what Playboy once called this famous stretch of road in Denver, and you can get up close and personal with it during the Colfax Marathon. The race course takes you through Downtown Denver, including a trip through a fire station and a loop around the field at Mile High Stadium.
Denver's newest food festival is all about chicken and craft cocktails. Restaurants will serving up their best birds as they compete for your vote in categories like Best Fried, Best BBQ, Best Wings, Best Overall Chicken Dish, and Best Cocktail.
It's opening day for this Denver summertime favorite, so kick off the season right and cool down in over 50 attractions including the lazy river, wave pool, and plenty of water slides.
When one of the best bands plays at one of the best concert venues, you find a way to go. Tom Petty & the Heartbreakers takes over the Red Rocks this Memorial Day weekend. Tickets start at $49.50.
Sign up here for our daily Denver email and be the first to get all the food/drink/fun in town.
Molly Martin is a freelance writer in Denver, Colorado who will attend any event that promises free pancakes. Follow her Mile High adventures on Twitter and Instagram.