Whether or not you "claimed" 2022 as your year, it's come and gone in a blink. We saw the return of many beloved activities, business reopenings, festivals, and so much more that had shut down in the dark ages of the pandemic. Now, with 2023 right around the corner, we're looking ahead to all the bright things in store. Kicking off the new year right all starts with an epic NYE celebration—whatever that means for you: a grand gala, Champagne flutes, and kissing at midnight, or simply having a meal to set the bar for the 365 days ahead. However you're looking to celebrate New Year's this year, this list of all the best happenings in Denver is a great way to get you started. (Don't forget to make reservations and buy tickets ASAP.)
Get your party on
If you're looking to celebrate NYE in a big way, let's just say you have options. Mile High Spirits is hosting a lavish 2023 NYE party to remember viaa two-part event in its tasting room from 8 - 10 pm. Expect fancy cocktails, a formal dinner, and a blowout party to end 2022 on a high note and start off 2023 just right (and if you're ordering takeout for the pregame and are just looking to dance, you can join just for the after-dinner party from 10:30 pm - 2:30 am).
The Denver New Year's Eve Black Tie Party is back once again this year at none other than Mile High Station, with its five-and-a-half-hour open bar, live music from local bands and DJs, casino games and prizes, a photo booth, midnight balloon drop, and unmatched atmosphere thanks to professionally done sound, lights, and decor.
RiNo's The Woods is having a New Year's Eve Rooftop Celebration on the 31st, complete with a DJ and live music, dancing, a photo booth, and unparalleled views for watching two Denver fireworks displays. Tickets include one drink, access to appetizers and food stations, and a midnight Champagne toast.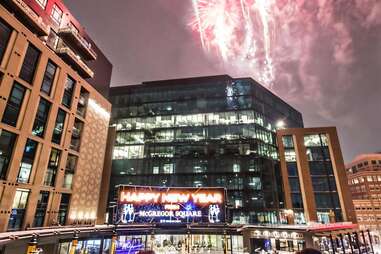 Get your food and fun fix at The Original and The Rally Hotel this New Year's Eve, with a special "Midnight Fever" party showcasing roaming entertainment throughout the hotel, live music, the signature McGregor Square Firework Show, an open bar, the big midnight(ish) drop, and so much more.
Lastly, the White Rose Gala is also returning with its Great Gatsby-themed New Year's Eve celebration, featuring a truly impressive display of live performers, from live bands and musicians to flapper girls and professional dancers. Get tickets and get excited for a midnight confetti blast, party favors, a speakeasy area, and multiple levels of full-floor immersion.
Have yourself a memorable meal
Plenty of restaurants are offering New Year's Eve dinner specials this year, so you can ring in 2023 with a full stomach and happy taste buds. LoHi's semi-recent addition, Noisette, is having a special five-course tasting menu featuring oyster mariniere, duck and foie tourte, butter poached lobster, and silky smooth chocolate mousse for dessert (plus a whole lot more). Wine pairings and festive add-ons will also be available.
The team at La Diabla Pozole y Mezcal will be roasting a full pig and four cow heads for its New Year's Eve Cookout, where the $95 meal for two includes the meat, savory veggies and sides, and dessert, plus two beers, a flask of mezcal, and a bottle of prosecco.
Three Saints Revival is offering a special NYE menu this year, with a combination of light tapas and refreshing cocktails to pair with, like Steelhead crudo and the 23 Spritz with strawberry lemongrass vodka. Dessert is also on the menu by way of chocolate hazelnut tart rum with gelato and a lemon cheesecake with fresh berry salad. And of course, Champagne by the glass will be available, especially at the close of the evening as guests ring in the new year.
Sullivan Scrap Kitchen is hosting a NYE dinner dedicated to reducing food waste, featuring smoked oysters, scallops, truffle ravioli, and dry-aged strip steak, among other tasty offerings. End the meal with a perfectly sweet maple vanilla crème brûlée. (Reservations recommended.)
Imbibe (responsibly)
Dairy Block's Seven Grand is keeping it classy this year with a NYE Macallan Whiskey tasting. Guests will taste four Macallan whiskeys paired with snacks, and have the option of two tasting times. Advanced ticket purchase is required.
Didn't order your tux or dress in time? Not to worry: Come as you are to Federales and spend all of New Year's Eve day partying right through 2023. Dance to DJs and kick off the new year with a midnight Champagne toast.
The Red Barber (RiNo's other favorite rooftop retreat) invites you to its no-fuss winter wonderland this NYE for astonishing city (and firework!) views, a heated tent, indoor and outdoor games, and a complimentary Champagne toast.
Learn a thing or two and enjoy doing so at Noble Riot this New Year's Eve with a 5 or 7 pm wine class that'll teach you how to saber a bottle of bubbles with machetes and axes, or opt for the double bucket dinner reservation that perfectly pairs a bottle of bubbly with a bottle of fried chicken. Midnight Champagne toast extended for those with reservations after 9:30 pm. And, Noble Riot sommeliers will pop bottles every hour on the hour to share with all guests. Reservations encouraged.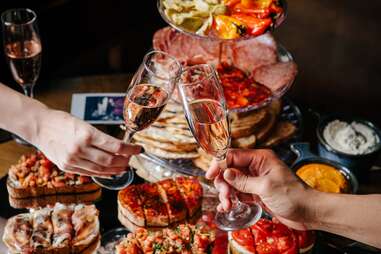 If you love Postino's Board & Bottle deal, you'll love its New Year's Eve special. The deal includes a mix-and-match bruschetta board plus a bottle of premium bubbles from 5 pm - midnight. Guests are encouraged to dress to impress.
Perdida's New Year's Eve party will delight guests with its tasty coastal cuisine via a four-course menu, but those feeling extra festive can enjoy a complimentary ice luge, specialty Champagne menu, and naturally, the iconic Perdida "shot-o-pus." (Reservations encouraged.)
Do something unique
Take a journey on the Union Station Orient Express to 2023 with the evening being only as adventurous as you want it to be. Looking for bubbles, live music, and other libations? The Main Cabin is for you! Fancy a formal dinner in addition? Check out the Dining Car at the Cooper Lounge. But for the most unforgettable New Year's Eve, opt for the grand suite experience, which gets you a premium room at the Crawford Hotel, two complimentary Dining Car tickets, valet parking, and a $50 Snooze breakfast credit (with guaranteed late checkout, because New Year's).
The chic Thompson Denver and son amour Chez Maggy are offering a very special NYE experience this year and for the first time since their launch. Spend Midnight in Paris this December 31st with a celebration like no other: the Thompson lobby and public spaces will be decorated to bring the streets of Paris to Denver, accompanied by live music, over 20 performers, lighter fare, and Champagne. Chez Maggy will be offering a five-course tasting menu, and Reynard Social will transform into a Parisian Garden for midnight toasts to ring in the New Year.
Erica Buehler is a Denver-based freelance writer. Follow her @e_buehler on Instagram and @e_buehler_ on Twitter for more updates on Denver food and other Mile High shenanigans.