Offering up three levels of entertainment, Press Play will be an immersive and interactive art and drinking experience unlike anything you've been to before. Once you grab a libation from the first floor, head to the second where there'll be live '60s-era rock 'n' roll, and then, after a boogy-woogy (that's how they talked in the '60s), the third floor lets you get your gamer on with Play, an interactive video game experience.
Spend Father's Day at Punch Bowl Social where pop can bowl for a chance to win a free breakfast that could include mouthwatering, totally-not-high-in-calorie monkey bread. After that, indulge in its ridiculous Bloody Mary bar that not only gives you the option of five different mixes, but also includes a Tender Belly charcuterie platter that probably requires a couple of return trips.
The cigars (Cubans!) are the stars of the night while the bourbon, which will be exclusively Woodford Reserve, is a welcomed bonus along with food prepared by Executive Chef Justin Adrian. Chambers Wine and Liquor of Aurora will be providing the tobacco that's specially curated to complement and enhance all the other flavors you'll be tasting.
While this party is super casual, there's one thing they're very serious about: if you're not wearing flip flops you can't enjoy the beer from Tommyknocker and cocktails heavy on Tito's vodka. Doors open at 8pm.
The folks behind the crazy good time of the Denver Flea are taking over an entire parking garage for the summer version of the wildly successful market. The parking ramp at 27th and Blake will host 200+ Colorado-focused vendors, plus there will be live music playing on the top level, and a Flea beer colab from New Belgium.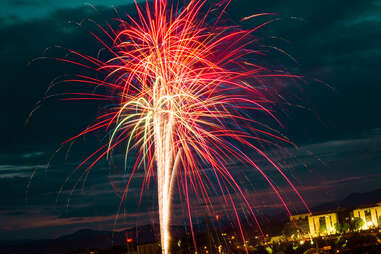 It's about time for Americans across the country to celebrate their patriotism by blowing stuff up. The aerial spectacle that is Elitch Garden's Fourth of July party returns to light up the Denver skyline this year, and the first fuse is lit at 10pm.
The family farm located just outside Boulder will be taking over The Source this Saturday, and every Saturday all summer long, and slinging over 100 varieties of vegetables, herbs, and flowers, while providing insight into sustainable growing and small farm ecosystems. Doors open at 11am.
If you thought the only time to celebrate Irish culture was in March, then you obviously haven't heard of this massive Emerald Isle-inspired event that features Gaelic food and drink, traditional dress, dancing, folklore, and art, plus live tunes provided by The Elders, Screaming Orphans, and Gaelic Storm.
If you only go out to eat once this summer (you should really make an effort to do it more), make it to Dining Al Fresco on Larimer Square: all the nearby restaurants will extend their dining rooms onto the street for a meal under the stars. Happy hour libations begin at 5pm.
It's quite literally a showcase: STRFKR, Brick + Mortar, and Tennis headline, but there are more than 400 bands performing over four days and at 20 different venues.
Apart from celebrating the culture and history of Denver, the fair will also host a bevy of competitions from typical county fair challenges like hot dog eating contest, animal impressions, and a speed joint rolling contest (typical for Denver at least), to downright odd competitions like the Doritos eating contest, speed texting, and a Diaper Derby. Yay?
This seriously competitive food competition features burgers from 13 of Denver's already-killer burger joints like The Squeaky Bean, Park Burger, and Crave, and it'll be judged by local chefs and, best of all, Battle attendees. Gates open at 6:30pm.
Probably the most fun you'll have at a 50th birthday party. Once again they're closing Larimer, but this time it's for games like giant Jenga, beer pong, putt-putt golf, plus live music from The Whitfields and In Tandem. The party starts at 8pm and ends with a commemorative 50th anniversary beer just short of midnight.
This super-popular music festival will feature Modest Mouse, Pixies, Snoop Dogg, and Iggy Pop with a second round of headliners being released soon. There is even non-music entertainment provided by Rock-afire Explosion and Hellzapoppin Circus Sideshow Revue. Judging by those names, you're going to have a... sorry'boutthis!... riot.