10 Very Denver Things We Can't Wait to Do When Quarantine Is Over
Remember way back when (er, um, like 2 months ago), when we could meet up with friends for drinks in RiNo or find a late night concert on South Broadway or… really do whatever we wanted at any given time without a second thought? If you've been daydreaming about your favorite activities in between Zoom meetings and baking sourdough bread, you're not alone. So what's the first thing you want to do when we eventually get back to a pre-COVID type of normalcy? We reached out to some notable Denverites to find out exactly that. Their answers highlight some of the best parts of Denver-living, from Red Rocks shows to Rockies games, and when we get that first day back, you should pack in as many of these Mile High musts as you can.
"Of course, any concert venue is missed right now. But here, at the beginning of summer concert season… oof. I miss every part of it now. Pregaming in the lot, the climb in up the ramp or the stairs, finding that perfect spot (row 35 seat 90), the set break trip to the top of the park to check out the views of the city, wandering through the visitor center, the post concert conversations on the way back to the parking lot. Truly so many good memories have been created, and personal life altering decisions made during my times there. I can't wait to go back.  At this moment, I can't even go in to walk around during the day, as that's also closed for the first time that I can remember. I'll never miss another weekday show just because I might be tired the next day!" - Steve Burrell, Music Director & Morning Host at Channel 93.3 (KTCL)
Going to dinner for date night
"Nelson [Glover's husband] and I were just talking about our last meal out before Covid hit. It was at Sunday Vinyl and we shared the most beautiful bottle of Hiyu wine and ate French fries and let ourselves get lost in the music and conversation. I can't wait to have a restaurant experience again. I crave it. I crave good food and good music in an inviting atmosphere. You just can't beat a good night out in a special place." - Caroline Glover, chef & owner of Annette, 2020 James Beard nominee for Best Chef, Mountain region, Food & Wine Best New Chef 2019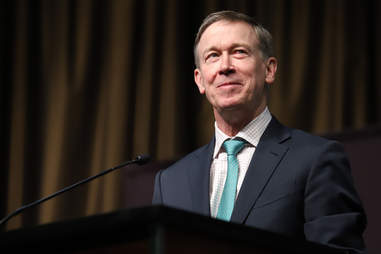 John Hickenlooper

| JStone/Shutterstock
Hit up all the Colfax classics
"One of our favorite things is just to go down East Colfax. Obviously the Bluebird Theatre, the Tattered Cover, Denver Film's Sie FilmCenter, The Odgen, Voodoo Donuts… it's just great to go from Colorado Boulevard down to the capitol. I was in the Bluebird the first time Nathaniel Rateliff performed with The Night Sweats, and everybody was just stunned. I can't tell you how many times my son Teddy -- who graduated from East High School right across the street -- and I spent weekends and after-school at the Tattered Cover, talking about books and writers and things like that. East Colfax is all about small businesses. Local treasures. And hopefully when things open back up, I hope people flock back to those local treasures." - John Hickenlooper, former Mayor of Denver and Governor of Colorado, and current candidate for Colorado senator
Ben Higgins
Play pickup golf
"One of my favorite activities is playing golf! Due to the shutdown, many of the places that I am used to playing have been closed. Once everything opens back up, I am excited about getting in a few rounds with buddies and catching up on life! Colorado has so many beautiful places to play, and as a result I cannot wait to get back out and play them!" - Ben Higgins, star of season 20 of ABC's The Bachelor and co-owner of Ash'kara
Wesley Schultz

| Sterling Munksgard/Shutterstock
Go restaurant hopping with friends
"I have been daydreaming of grabbing dinner with friends at one of our favorite restaurants like Satchels on 6th, Safta, or White Pie, and stopping off at Potager for a glass of wine on the way there. Plus taking my son to a playground again. A morning stroll in Cheesman park. Going to a show at the beautiful Bluebird Theatre. Seeing a movie at The Esquire." - Wesley Schultz, guitarist and lead vocalist for The Lumineers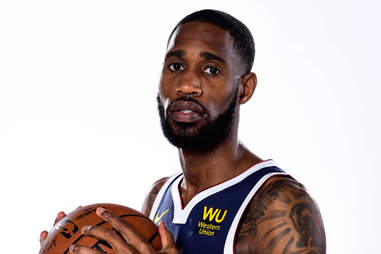 Will Barton
Play any team sport
"The thing I'm most looking forward to is getting back on the court and dunking on someone! And just being back in the locker room with my teammates and competing at the highest level again, I can't wait." - Will Barton, Denver Nuggets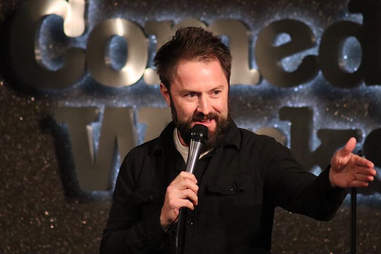 Adam Cayton-Holland

| Nick Holmby
"Hall of Famer Rogers Hornsby once famously said, 'People ask me what I do in winter when there's no baseball. I'll tell you what I do. I stare out the window and wait for spring.' To be fair, I stare out the window quite a bit unrelated to baseball as I'm very stupid, but still, the thing I look forward to most each spring is baseball. And we don't have that this year. And it's messing with me. A lot. Baseball is part of my seasonal circadian rhythm. We should be 30-some games into the season by now and it just feels wrong not to be.
"That's why if this damn virus ended tomorrow, and it was safe to be out and doing all the things we enjoy in this great city, I'd be at Coors Field watching a Rockies game. I'd buy a bag of peanuts from a vendor on the way in, a footlong Rockies dog with ketchup, mustard and onions, and a large lemonade. I'd sit with my dad on the third base side, and we'd watch the greatest Rockies player of all-time, Nolan Arenado, as the sun set over the Rocky Mountains to the west. We'd point out Dealin' Doug to one another as we always do, down in his great seats and say. 'Goddamn. That guy's really got a great head of hair.' Summer just doesn't feel like summer without baseball and Coors Field. May it return soon. May the ghost of Rogers Hornsby finally stop staring out the window." - Adam Cayton-Holland, comedian (check his new podcast with his comedy group The Grawlix, "The Grawlix Saves the World"), author of Tragedy Plus Time, and actor, writer, and co-creator of TruTV's "Those Who Can't"
Nora Burnett Abrams

| From the Hip Photo
Sip a cocktail on the rooftop of the MCA Denver
"I cannot wait for the first Friday evening that the MCA Denver rooftop cafe is open. My favorite summer pastime is enjoying a delicious cocktail while taking in the view of the city beneath the big Colorado sky. It's a little bit of magic in the heart of the city." - Nora Burnett Abrams, Mark G. Falcone Director of the Museum of Contemporary Art Denver
A beer and a shot at your neighborhood bar
"I miss the days of getting done with a shift -- a busy weekend night -- it's probably around midnight. Sitting down at my neighborhood bar (one favorite is the Rocky Top Tavern in North Denver) and ordering a delicious IPA and a shot of rye whisky. Just sitting there, no one asking me any questions or needing anything from me. Just sitting and enjoying a much deserved drink. The person next to me, close enough to touch elbows, asks me how I'm doing, and I honestly say, 'Really good thanks. You?' Ugh, normal life is so simple and wonderful!" - Carrie Baird, Top Chef alumni, 2020 James Beard nominee for Best Chef, Mountain region (for her work as chef at Bar Dough), and chef and owner of Rose's at Rosetta Hall in Boulder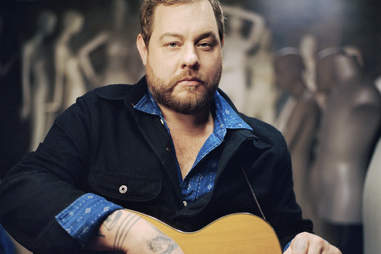 Nathaniel Ratliff

| Danny Clinch
Hug your friends
"More than anything I've just been wanting to make music with my band and be able to hug them." - Nathaniel Rateliff, musician
Sign up here for our daily Denver email and be the first to get all the food/drink/fun in town.
Molly Martin is a Denver-based freelance writer who can't wait to meet her friends at a bar for happy hour. Follow her @mollydbu on Instagram and Twitter for more updates on how the Denver community is responding to COVID-19.