9 Things You Must Do in Denver This April
So, the whole 300 days of sunshine thing may be a lie, but Denver still has quite a bit of it, and April seems to be the month when it really returns in full force. Take advantage with these nine must-hit events hitting Denver this month: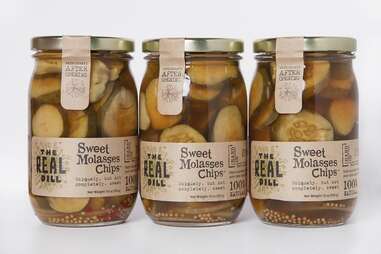 It's time to take your pickle-game to the next level at this year's Pickle Jam hosted by the Real Dill and RedCamper. The pickle-focused event will have samples of small-batch pickles, jams, tours, pours, samples by Elevation Organic Ketchup and Backyard Soda Company, and live music.
If you think that ski season ends this month, you're doing it wrong! Icelantic Ski's Melt the Ice Sample Sale is your best chance to take advantage of some serious discounts on high-quality equipment provided by Icelantic, Fly Low Gear, and NeverSummer Industries -- plus, high-quality beer by Oskar Blues. The three-day event kicks off at 9am Friday.
The 15th Annual Denver Art Museum's Uncorked Wine Tasting will have more than 300 wines on hand, along with eats from Taylor Catering, because that's a LOT of wine. The first bottle starts pouring at 5pm.
Baseball season's starting today, and nothing says America's pastime like some boiled shellfish (just go with it). The folks behind Rolling Smoke BBQ are hosting the shindig at Mile High Spirits with fresh cocktails on hand and Mestizo's Food Truck dishing out Mexican fare. The first crawdad drops in the pot at 1pm and the whole party is open to the public.
If you blink, you might miss the magic. The 4th installment of Denver's Speed Rack competition hits up the EXDO Event Center this Monday night. Female bartenders will craft drinks at dizzying speeds to see who will be crowned Miss Speed Rack Denver. All proceeds go to breast cancer research, education, and prevention. Do it for the racks!
Espolòn Cocktail Fight
It's going to get dirty, its going to get intense, and its going to avoid actual roosters. It's the Espolòn tequila second annual Cocktail Fight. Denver bartenders will assume alter egos/fighting personas to see who slings out the most creative and best-tasting drink with Espolòn tequila. Their pride and your sobriety are on the line!
This is your last chance to check out this very musical... musical. Surrounding the history and people who influenced this super-popular style of pop music in the '60s, Motown: The Musical will inject some soul into all the parts of you where you need it most. Doors open at 7:30pm.
This is a real art show with over 75 emerging local artists, body painting (because why not?), booze, DJs, and of course, all-you-can-eat pancakes. The batter first sizzles at 8pm.
This ticket-only event will showcase over 50 food & beer pairings from the minds of 80 brewers and chefs from Colorado. Some of the featured breweries are Coda, Trinity, and heavy-hitters Avery and Odell. They will be hitching up with local eateries like Harman's Eat Drink, Kitchen Next Door Union Station, Jax, and TAG. Get your tickets quick.