8 Actually Fun Things to Do in Denver This Weekend
Tequila tastings, flea markets, and more.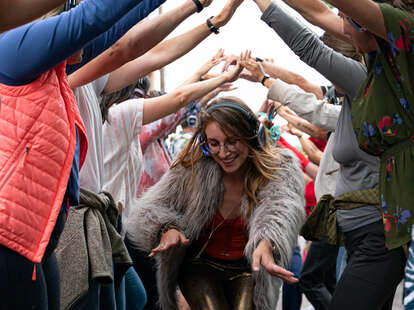 Courtesy of Secret Dance Addiction and Awake
This is the weekend you finally check "attend schnitzel pop-up" off your life list. It's also the weekend you celebrate your love of all things rosé and tequila—just maybe not before hitting the sober dance party. Or get out of town and join the cowboys at Cheyenne Frontier Days; it's only an hour and a half north and we hear the fruity pebble shrimp po-boy is a sandwich for the ages.
Friday, 4 pm
Sunnyside
No, really. It's a schnitzel pop-up. In honor of Swiss National Day and an early Colorado Day (August 1) celebration, Swiss-inspired cidery Waldschänke Ciders + Coffee will be celebrating the only way they know how—with Jaegerschnitzel! Come on; we know you've been waiting all summer for this.
Cost: $20
Friday - Sunday
Cheyenne
OK, so this one isn't even in Colorado, but you're only a 1.5 hour drive away from the world's largest western festival, and you are not going to want to miss the rodeos, carnival, and fruity pebble shrimp po'boys. Act out all your cowboy fantasies—we'll leave that up to your interpretation—at this grandaddy of western celebrations.
Cost: From $5
Saturday, 6 - 8 pm
Jefferson Park
Proving that alcohol and dancing do not (and maybe should not) necessarily go hand in hand, Secret Dance Addiction and Awake sober bar are teaming up to host epic dance parties this summer. Saturday's theme is Bubbles + Bathrobes, and while we're not 100% sure what all will go down, we recommend wearing something under that robe.
Cost: Free entry
Saturday, 2:30 - 6 pm
Ballpark
Tequila lovers will want to get their agave-loving behinds to the Blake Street Tavern Saturday afternoon for the Summer Tequila Tasting Festival. Sip a variety of different styles and brands, and maybe create your own little tequila Olympics where you award imaginary medals. Who will win your fictitious gold?? We're on the edge of our seats.
Cost: From $45
Friday, 7 am - 5 pm
Henderson
It's like the biggest garage sale, but with a farmers' market and Ferris wheel. The Mile High Flea Market is an 80-acre shopping wonderland, where you can score everything from miniature bonsai trees to vintage typewriters to camo pants. Considering admission is normally only $2 - $3, it's not the end of the world if you miss Friday's free day and hit the flea over the weekend.
Cost: Free entry
Saturday, 12 - 3 pm
Downtown
Slay (in your best pinks and whites) then rosé at Guard and Grace's 7th annual Rosé Patio Party. Sip 40 - 60 pinks, whites, and bubbles, while discussing how your evening plans will inevitably pale in comparison to your afternoon's trendiness and classiness.
Cost: $78
Friday, 5 - 8 pm
Virtual
Each quarter, the Denver Art Museum collaborates with local artists for Untitled: Creative Fusions, a night of performances, art, and all-around unique experiences. This time the theme is In Stitches, and the night features graphic novelist R. Alan Brooks and collage artists We Were Wild.
Cost: From $8
Saturday
Berkeley
Like beer? Like pizza? Congratulations! You're a totally normal human being, and as a totally normal human being you will love Hops & Pie's Weldwerks and Outer Range tap takeover on Saturday. Wash down your hopped-up pizza with Weldwerks' Advanced Fluid Dynamics and Triple Berry Cheesecake Berliner, or maybe Outer Range's Kettle Sour, normally only available in their taproom.
Cost: Free entry
Allyson Reedy is a Thrillist contributor.