Writing a Thrillist weekend guide for Denver is usually all about getting you guys out of your houses. From beer fest to concerts to maker's markets to high country escapes, this list is usually loaded with the kind of activities Denverites love. But with an official "stay at home" order now in place, that's the only thing you should be doing. So how do you get a taste of Mile High fun from within the walls of your abode? We've got some ideas:
If you would have gone to a movie…
Stream: The documentary JonBenet's Tricycle
Anytime
Cost: Pay what you can $5+
Eat: Ramen (from your favorite spot, or any of these suggestions)
Andrew Novick is a lot of things. A collector. An artist. A lover of Casa Bonita. A promoter of Japanese culture. You've probably been to or seen or heard about some event or pop-up that he's been a part of, whether you recognize his name or not. JonBenet's Tricycle is an autobiographical documentary from Novick that digs into our collective cultural obsession with unsolved crimes via the actual tricycle that belonged to JonBenet Ramsay, which happened to come into Novick's possession (he's a collector, remember?) over two decades ago. 
He's made the film available to stream, and is donating 20% of each streaming purchase to the COVID-19 Artist Relief Fund. Novick's also been known to put on a ramen pop-up or two (or dozens…), so ramen seems like an appropriate pairing with this film. And with so much ramen to be slurped in the Mile High, supporting your go-to favorite right now is important. But if you need help with where to start, we've got a list for that...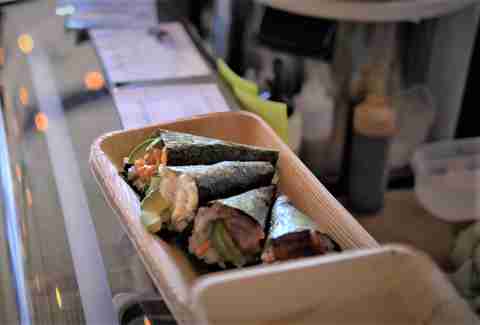 If you would have taken a date to sushi…
Stream: A sushi rolling master class from Colorado Sake Co. and Denver Sushi House
Daily at 6:30pm with 7:30pm classes available some days
Cost: $80
Eat: Sushi, duh
It's dinner, a date, and a chance to learn a new skill, all in one. Sure, your date options are limited to the people you live with, but hopefully you like at least one of them -- and if you live alone, you'll have more sushi just for you. Your ticket price includes a delivery of everything you need for sushi at home, including the ingredients for three different styles of Sushi rolls, two of each style (six rolls total) along with two bottles of Colorado Sake Co.'s namesake booze. With provisions in hand, tune in for a sushi rolling master class via Zoom and you'll soon be downing your very own handmade rolls.
If you would have met friends for a night of dancing…
Stream: Breckenridge Brewery's DoYourPartCO Dance Party
Friday, April 3 at 8pm
Cost: Free
Eat: A barbeque platter for four from Breckenridge Brewery's Farmhouse Restaurant
After a successful first virtual dance party last week, Breckenridge Brewery is bringing you round two: DJ Andy Lubner will provide the tunes, and all you have to do is join via Zoom. Not only is Breckenridge stepping up to bring you some fun right now, they've also stepped up their delivery game in a big way with a huge free delivery area. That means you can get brews; Farmhouse eats including family-style meals like a BBQ platter with ribs, pulled pork, slaw, beans, and cornbread; and grocery items like eggs and ground beef delivered right to your door for a pre-dance-party feast. And as if this could get any better, they're kicking $1 from every order to Food Bank of the Rockies. 
If you would have been drinking at your favorite brewery…
Stream: Denver Beer Co.'s virtual happy hour & tasting
Friday, April 3 at 4pm
Cost: Free (plus the price of whatever beer you get)
Eat: A rotisserie chicken and a kale salad from Brider
You can't drink at your favorite brewery, but you can drink with one: Denver Beer Co. has gone virtual. Tune in to sip and talk beer with head brewer Jason Buehler and co-owners Charlie Berger and Patrick Crawford. To get the full experience, order some of the feature beers like Pretzel Assassin Amber Lager, Incredible Pedal IPA, Imperial Peanut Butter Graham Cracker Porter, and Cervecería Colorado's Señor Piña Pineapple Blonde, directly from DBC via pickup or delivery. And while you're picking up brews, you should also grab some food to go from Denver Beer Co.'s Platte Street neighbor, Brider; their rotisserie chickens are tender, juicy, and ideal for leftovers. Pair one with their kale salad: specifically The Kale Salad, the same one that's been a beloved staple at their sister restaurants Acorn and Boulder's Oak at Fourteenth for years.
If you would have gone to a concert…
Stream: Distillery 291's Virtually Live in the Lounge series with Snake & The Rabbit
Saturday, April 4 at 7pm
Cost: Free, but you're encouraged to support the tasting room servers and artists via Venmo
Eat: Biscuit sandwiches from Denver Biscuit Company
The Colorado music scene is typically bustling, but with no venues to play and no crowds to perform for, independent artists are hurting. Enter Colorado Springs' Distillery 291: their Live in the Lounge series gives these artists a platform for performing, which means you get crowd-free access to some great live music. Show your support by tuning in, and maybe order some bottles of Distillery 291's whiskey too.
While you might not be able to support any Colorado Springs restaurants from your home in the Mile High, Denver Biscuit Company is doing pickup and delivery from all their locations, including Colorado Springs. In this world where no one's really sure what day it is, why not eat breakfast for dinner? It'll take a bit of planning ahead -- DBC's locations are only open till 3pm (except at The Stanley Marketplace, where they're open till 7pm), but if you know the joys of digging in a Franklin loaded with fried chicken, bacon, cheddar, and gravy, you know it's well worth any effort.
Sign up here for our daily Denver email and be the first to get all the food/drink/fun in town.