How to Celebrate St. Patrick's Day in Denver This Year
For a successful St. Patrick's Day, hit these parades, barcrawls, parties, and festivals.
Grab your green and your Guinness—St. Patrick's Day is around the corner, and there's fun to be had. In addition to being the first big celebratory holiday after New Year's, St. Paddy's is also a signal of spring; more hours of sunshine, T-shirt temps, and filling Blake, Market, and Larimer with drunken revelry make up a particularly Denver type of equinox. However you plan to celebrate—with family friendly activities or for those over the legal drinking age only—there are parades to be watched, playful drinks to be sipped, and a whole lot of shamrock-ing to do.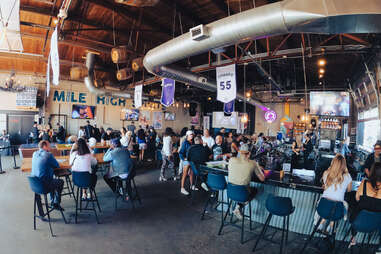 March 17
If you're ready to put your dancing shoes to good use, wiggle your way on over to Mile High Spirits—doors are opening at 12 pm and there's no cover 'til 10. Enjoy MHS' drinks, big dance floor, and even bigger outdoor patio for all the Irish pride and shenanigans you can handle.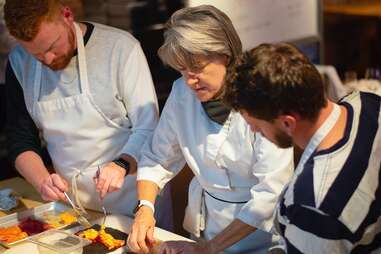 March 17
Cook Street's special St. Paddy's Day class involves making the perfect steak while sipping on Irish whiskey. On Friday only, learn about proteins, cooking methods, and choosing side dishes carefully while cooking up traditional Irish cuisine.
Crawl around town. You know, figuratively…
March 17 - 18
Is it a drinking holiday in Denver if there aren't a handful of bar crawls happening? Probably not. St. Paddy's Day is no different; you can start crawling from a number of bars, but a few in particular have everything plotted out for you (for a small fee). Start at the Ginn Mill and receive a map of over 10 pub locations you'll be crawling to either Friday or Saturday, plus drink special vouchers. There's also a crawl departing from Nola Jane (Friday only) with its own food and drink specials, plus a scavenger hunt and some St. Paddy's merch, too.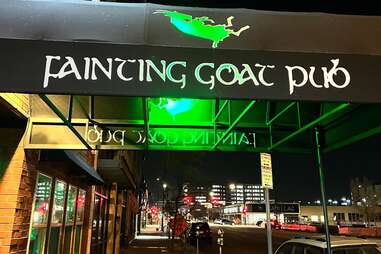 Visit one of Denver's Irish Pubs
March 17 - 18
If you can't think of a better place to spend St. Paddy's Day then at a local Irish pub, we salute you—just be prepared to throw a few elbows making your way to the bar. Denver's got several good ol' pubs from Broadway to Larimer Square that'll be in full swing this weekend, pouring fresh pints as far as the eye can see. Check out Scruffy Murphy's, Nallen's, The Irish Rover, Finley's, The Celtic on Market, or the Fainting Goat for that SPD revelry you know, love, and trekked out for.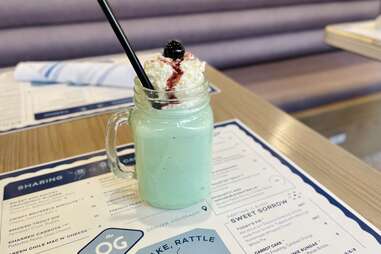 Sip and savor St. Paddy's themed bevvies
Through March 17
Everyone pulls out the green food dye and mint flavoring for St. Paddy's, but there are some other creative drink specials to sample, too. The OG's got a boozy milkshake for the occasion, aptly named "Who's Your Paddy," a mix of vanilla ice cream, Crème de Menthe, Tullamore Dew, Bailey's, and whipped cream. BEZEL's Irish Matcha Man is pretty unique, with Teeling Small Batch whiskey, lime, thyme-infused honey, and matcha powder. And then Slater's 50/50 takes it to another level (unsurprisingly) with its Lucky Mint Green Shake: mint flavored ice cream in a frosting-rimmed glass with Lucky Charm marshmallows, rainbow stripe sour strips, whipped cream and green sprinkles. Other notable specials can be found at Poka Lola Social Club, Dairy Block's Moo Bar, and Seven Grand.
Sing along and cheers to live music
March 17
Denver's The Monkey Barrel is known for its regular live performances, and this St. Patrick's Day you can tune in to Elijah Petty & The Part-Times and other musical guests if you're in search of a chiller spot to sip your Guinness. Or, have one of the best burgers in town while relishing the shenanigans and live music of Cherry Cricket Cherry Creek this St. Paddy's Day. Food and drink specials will also be available through the holiday weekend, so leave extra room or wear your stretchy (green) pants.
March 18
Feeling restless? Or maybe you're itching to get a few laps in before hammering down several pints this Saturday? Either way, Highlands Ranch is hosting its St. Patrick's Day 5K where finishing the race gets you St. Patrick's Day merch, an all-you-can-eat pancake breakfast, and of course, a complimentary pint courtesy of Living the Dream Brewing.
Drink and do good at Holidaily Brewing Co.
March 17
This St. Paddy's Day, Holidaily and the Gluten Intolerance Group are putting on their Raise a Pint, Lend a Hand fundraiser. A special glitter and green Firkin tapping is happening at 4 pm at both taprooms, with special (and gluten-free) treats available at the Golden location, thanks to Farmhouse 5280 and Waive the Grain bakery. 10% of all St. Patrick's Day sales will be donated to the Gluten Intolerance Group.
March 17 - 18
Talnua Distillery is hosting a St. Patrick's Day bash to remember this year, featuring food trucks, live music, special themed cocktails, and more. Limited bottles of Talnua's exclusive Olde Saint's Keep whiskey will be available for purchase, which you can hang onto while you dance along to pipe bands or eat a brat or two from El Jefe's.
Watch some Irish step dancing
March 17
Head on over to Stanley Marketplace to witness the talent and skill of the students at the Wick School of Irish Dance at 12 pm, and follow it up with a green cerveza at Cheluna Brewing Co. Of course, plenty of tasty lunch and dinner options are available around the marketplace so you can soak up a bit of that beer.
Erica Buehler
is a Denver-based freelance writer and editor. Follow her @e_buehler on Instagram and @e_buehler_ on Twitter for more updates on Denver food and other Mile High shenanigans.