Earth, Wind & Fire once famously asked if "you remember the 21st night of September?" and while that's kind of a silly question, we've got a pretty easy way you can make thewhole month memorable: do everything on our list of the 11 best things to do in Detroit...
We at Thrillist love outdoor movies, so Belle Isle's/The Detroit Film Theatre's screening of 2008 documentary Soul Power is a welcome addition. Food trucks will be on hand for concessions.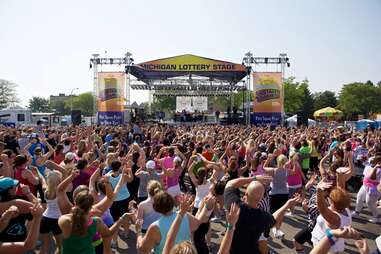 For the arts: a slew of painters, sculptors, and jewelry makers. For the beats: Beatlemania Live, Cheap Trick, and a ton of local groups like Citizen Zero and The Twistin' Tarantulas. And for the eats: Lockhart's BBQ, Treat Dreams, and KouZina (Greek street food) just to name a few.
As per usual, local jazz artists, student groups, and genre legends will be on hand to soothe the city with their ultra-smooth guitar, sax, keys, and all the other instruments that you wish you could play.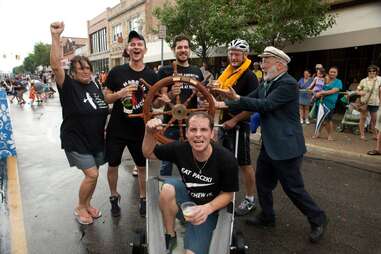 Here's what's happening: the "yacht" race, fowling, carnival rides, music, and food… Plus the Polish Day Parade. 'Nuff said.
Good friends, good tunes, good food; this is Detroit's biggest little party that you need to be a part of. Keep it classy, but not too classy, because, you know, it's Dally.
Whether you run the 10-miler or the 5K at Growler Gallop Detroit, your reward is beer. You can also just drink without running, but earned beer tastes better than unearned beer.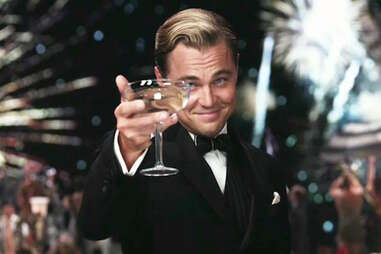 It's a good old-fashioned Jazz-Age lawn party, complete with era-appropriate entertainment, cocktails, and food. No word on whether there will be an elusive gentleman reaching for a green light.
… so hit Bacon Bash, from 7:30-11pm, where $55 gets you unlimited food, 10 drink tickets, and a chance to vote on best bacon dish, best bacon dessert, and more.
You know what's great? Biking. So join 7,000 other Detroit-area residents who feel similarly and ride bikes with them to promote… bikes.
Mingle with Detroit's fashion-forward during a Champagne reception at the Whitney, a fashion show at the Fillmore, and an after-party back at the Whitney. Wear something nice.
More than 250 wines will be on hand for you to taste at Detroit Uncorked, along with some Michigan beer and spirits. The strolling dinner will be the work of the Rattlesnake Club.