Detroit has no shortage of museums. From the more grandiose and traditional museums like the Detroit Institute of Arts to the uniquely Detroit affairs like Dabls MBAD African Bead Museum, there's always some incredible art to see in the city. But because there's so much happening in Detroit, we rounded up the most exciting exhibits passing through to make sure you don't miss them.
October 25, 2019 - May 3, 2020
Museum of Contemporary Art Detroit
The original Robolights is an incredible sight to behold. Nestled in Palm Springs, CA since 1986, Robolights is a sci-fi-themed art installation spanning over four acres and including 8 million lights. While Detroit's version won't be quite so humongous, you'll be treated to an immersive, colorful, joyously lit display of dinosaurs, robots, strange creatures, aliens, and more. Note that it's only open Thursday through Sunday!
Cost: $5 suggested donation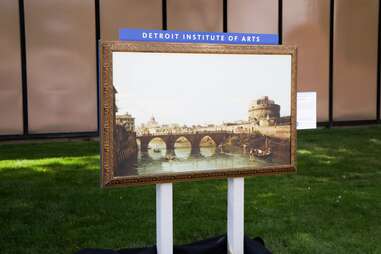 Until January 5, 2020
Detroit Institute of Arts
The word "treasures" in this exhibition's name should not be taken lightly: Humble and Human was supposed to come down in October, but the DIA extended its run as it became the museum's most popular exhibition in nearly 20 years. See masterpieces by the most celebrated names of the impressionist movement, including van Gogh, Monet, Cézanne, Degas, and more.
Cost: Free with admission
Now through January 5, 2020
The Henry Ford Museum
It's hard to look at something epically constructed out of Legos and not feel a rush of childish glee. And if it's that glee you seek, a temporary exhibit at the Henry Ford will showcase 20 of the world's tallest skyscrapers at a 1:200 scale -- and made entirely out of Legos. The exhibition uses 1.5 tons of Lego bricks and was constructed by one of the world's 14 card-carrying Lego professional builders. Talk about career goals.
Cost: $24 general admission for non-member adults
November 1, 2019 - January 26, 2020
Arab American National Museum
Dearborn's Arab American National Museum holds the incredible distinction of being the first and only museum dedicated to Arab American history and culture in the whole country. As such, their exhibitions are top-notch. The Art of Weeping focuses on a stunning series of deceptively simple ink drawings by Mary Hazboun, which all focus on the artist's experiences living under occupation in Palestine.
Cost: $8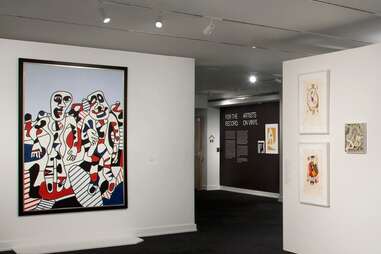 Now through April 19, 2020
Cranbrook Art Museum
The importance of an album cover cannot possibly be overstated: The art leaves a profound first impression, and many covers are just as iconic as the music itself. Knowing this, the Cranbrook Art Museum is exhibiting an in-depth survey of album art, often pairing record covers with artists' other works. The artists on display are temporally and stylistically diverse -- you'll see everyone from Dali to Yoko Ono to Banksy.
Cost: $10
November 22, 2019 - March 8, 2020
Campus Martius
Okay, so Campus Martius's ice skating rink isn't an art installation -- unless you're super into giant Christmas trees. But it is a temporary pop-up that remains a cherished tradition in the Detroit calendar. After all, it's hard to give up a chance to go skating in the very heart of Downtown.
Cost: $10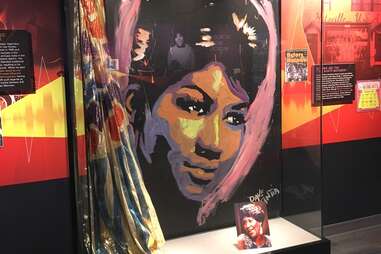 Temporary Exhibition
Detroit Historical Museum
Despite being housed in the unfortunately named "Kid Rock Music Lab" (ugh), the Detroit Historical Society's new tribute to Aretha Franklin is worth the visit for any fans of the Queen of Soul. You'll find art, artifacts, costumes, records, her hand print, and more. And definitely check out the Streets of Old Detroit while you're there.
Cost: $10
Sign up here for our daily Detroit email and be the first to get all the food/drink/fun the Motor City has to offer.