We've already told you about 50 Detroit (err... okay, Michigan) things to do before you die, but what about sweet things to do in, like, July? Or August for that matter? Don't worry, our summer calendar's got you covered...
Music, food, Jet Skis, zip lines... this is what's in store this year for River Days, and if that's not incentive enough to hang out on the Riverfront for a day, then we don't know what is.
It's a celebration of craft brews from near and far, and as far as food goes, Detroit BBQ Company will be there as will comfort food-producing Delectabowl.
Most cities blow stuff up in July to celebrate our nation's independence, but for some reason Detroit figures June is better, so that's just what we do.
Nothing says 'Murica quite like the Stars & Stripes Festival. There's the fireworks, the monster-truck ride, and the Budweiser National Stage where you can see Buckcherry, Hoobastank, P.O.D., and more.
The Stones rank #4 on Rolling Stone's list of the 100 greatest artists of all time. But since the Beatles are no more, Bob Dylan's nearly unintelligible, and Elvis is dead, the Stones might as well be #1 now. Check 'em out.
You like booze and you like animals. The Detroit Zoo knows this, which is why it's providing you with a cash bar, live music, and no kids allowed.
"Double, double toil and trouble"... is from Macbeth and not at all what you'll find at New Center Park during this Bard-fest. Actually you'll find Macbeth performed for you outside.
The Michigan Brewers Guild knows how to throw a party. The key: lots and lots of Michigan-made beer. Of course, the pleasant Riverside Park location helps, too.
Indie fans, rejoice! Modest Mouse, Iron & Wine, and Passion Pit will be playing, along with your favorite local kickass rock band Jessica Hernandez & The Deltas.
Detroit's favorite rap-rocker has 10 shows lined up at DTE this year, and as a special offer, anyone who can scream "My name is KIIIIIIIIIIIIID ROCK," for as long as he does in "Bawitdaba" gets in free... just kidding tix are $20.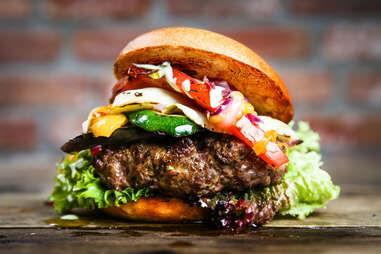 Who has the best burger in Detroit? In 2013 it was One-Eyed Betty's. In 2012 it was Townhouse, and in 2014 no one won because the main sponsor pulled out, leaving backyard BBQ-ing dads throughout the metro Detroit area to claim the title for themselves.
It's the largest one-day celebration of classic-car culture in the world: check the official website for all the stuff going down along Woodward in Ferndale, Pontiac, Birmingham, and beyond.