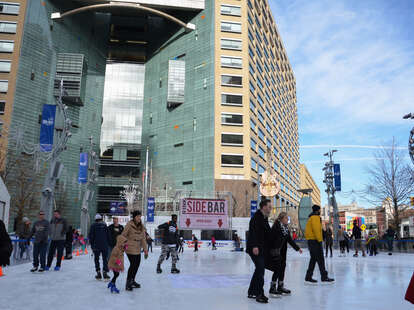 2017 is coming to a close, which means the holidays are upon us once again. Some Detroiters are filled with holiday cheer at the sound of sleigh bells echoing through Midtown, while others wish the entire season would burst into flames -- but no matter which side you stand on, though, Detroit has something for you during the holidays. Whether it's a Krampus-themed art fest, a gigantic menorah lighting, or a drag queen Christmas, at least one of the events below will be enough to make your Grinch heart grow three sizes.
Christmas is more than a month away, but if you're already sick of yuletide merriment, the Drag Queen Christmas may be just what you need to get some laughs in before the wrapping paper hits the fan. The event will feature all-stars from RuPaul's Drag Race, all of whom will be blowing the roof off the theater by performing holiday classics (injected with all the attitude you'd expect from stars of RuPaul's Drag Race).
Cost: Tickets range from $63-251
Watch the Thanksgiving Day Parade (and the Lions game)
Downtown will be as alive as you've ever seen it on Thanksgiving Day, when the Detroit Lions host the Minnesota Vikings, all while the annual Thanksgiving Day Parade marches down the streets. Arrive early (like, really early) and get a tailgating spot close to Ford Field where you can catch a glimpse of both festivities. Or better yet, belly up at a local bar along Woodward and enjoy the vibe of a lively town.
Cost: However big a bar tab it takes for you to not care whether they win or lose
Dreading the love and gratitude with the family over Thanksgiving dinner? Well, you can spider-dance off the gluttony in the darkest club in Detroit: Leland City Club. Well revered as Detroit's mecca for the goth scene, City Club has proven it has staying power over the decades. With two rooms of dancing and goth/industrial jams, "GothsGiving" is the place to be after the turkey is retired.
Cost: $5

Always an entertaining place to get some shopping done, Eastern Market has some specifically holiday-minded dates where you can do gift shopping and/or stock up on ingredients to make your meals spectacular. Be on the lookout for unique Michigan-made gift options including clothing, art, jewelry, beauty products, and more. Sundays November 26 through December 17, plus December 19.
Cost: Free to attend, but prices vary by vendor and product
Are you up to your scarf-laden neck with holiday cheer? We suggest you check out the other, creepier side of Christmas: Krampus. The legend of Krampus -- who's basically a super gnarly goat-type fella from Eastern Europe that terrorizes children -- is the backdrop to this "Not-So-Holiday" charity benefit, featuring a silent auction, a short film festival, and art exhibits that have more to do with being naughty than nice.
Cost: $15-$20
Arguably the best place to pick up some locally made goodies for those on your holiday shopping list, this is the 12th year of the Detroit Urban Craft Fair, which couldn't be held in a lovelier spot. You can get something for everyone here, including your four-legged friends and discerning ultra-hipsters who already seem to have everything before it's cool. Expect lots of Michigan-themed crafts, and to feel good about supporting your metro Detroit comrades.
Cost: $1 on Saturday and Sunday, $10 on Friday (opening night)
Tour some of Midtown's cultural hotspots at Noel Night
This annual event (45 years running!) sees more than 100 Midtown Detroit venues open their doors to the public for a night celebrating arts and music. Take horse-drawn carriage rides through Midtown, do some holiday shopping, make crafts, and enjoy performances by over 200 artists, or just stroll around and check out some of the best museums in town.
Cost: Free
The Old Redford Theatre is a beautifully restored spot that specializes in showing classic movies at classic prices -- it's even got reasonably priced Faygo -- and will be showing a different holiday classic each weekend throughout the month of December, including Home Alone, A Christmas Story and It's a Wonderful Life.
Cost: $5
As part of the Indian Village Holiday Home Tour, you'll get to catch a glimpse of holiday decor inside some of Detroit's most lavish and historic homes, all of which you'd never (probably) be able to afford in your wildest dreams. 2017's docent-led tours on December 3 will include five homes, and will be followed by refreshments afterward -- or, you can shoot for the VIP Gala Preview on December 2, which is more expensive but includes a strolling dinner and free drinks.
Cost: $40 for the basic tour, $100 for the VIP Gala Preview
Detroit's holiday season isn't just about Christmas, and we've got the humongous menorah to prove it. The lighting of this 26-foot ceremonial lamp in the city's center is a pretty big deal, and the pre-ignition festivities will include marshmallow roasting, face painting, a complimentary snack bar (with hot cider!), and horse-drawn carriage rides.
Cost: Free
This event's been going for years, with buses shuttling revelers dressed in Santa costumes along a bar crawl route. The buses go from bar to bar every 10 minutes, and purchasing a pass allows you to skip the cover charges of each bar on the route -- provided you're wearing a costume, of course.
Cost: $20 per pass
Between Manheim Steamroller (that's still a thing?), Moscow Ballet's Great Russian Nutcracker and Elf the Musical, there's something to please the entire fam. The Fox gets mighty dolled up for the holiday season, so if you're gonna go all out on the musical limb, this is the place to do it.
Cost: $19-$122
Detroit is alive with New Year's Eve parties, but The Drop is an annual tradition that's been going since 2011, and well worth skipping the typical Gatsby-themed bash for. Yes, it'll be brutally cold outside in Campus Martius, but once you're huddled together in the crowd with your fellow partygoers, you'll hardly notice. There will be live music and food trucks aplenty, as well as ice skating, but there'll be plenty of alcoholic beverages available if you're looking to get rowdy.
Cost: Free
Sign up here for our daily Detroit email and be the first to get all the food/drink/fun the Motor City has to offer.
Megan Frye is a Michigan native currently transplanted in Mexico City. Come December, you can usually find her knee-deep in hot toddies. Tweet her your favorite holiday activities at @fryechild.