Woodward Avenue, the America's Thanksgiving Parade

| Icon Sportswire/getty images
Woodward Avenue, the America's Thanksgiving Parade

| Icon Sportswire/getty images
Why watch the America's Thanksgiving Parade on TV when you could see all the action unfold in person, right here in Detroit? And don't go using the wintry temperatures or early morning start as an excuse -- nothing compares to watching the world's largest paper-mache head collection pass jovially by before your very eyes.
Besides, it's not every day that one million people descend upon downtown Detroit all at once. This year, the city is offering a triple hitter: the Turkey Trot, the Thanksgiving Day parade, and the Lions vs. Bears game at Ford Field. But don't stress -- here's your guide to checking out the parade like a pro.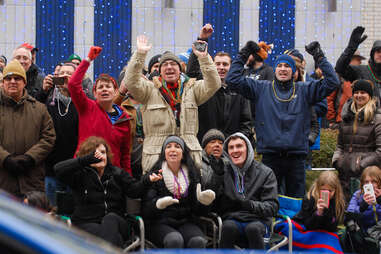 What's the route?
The starting point is at Woodward and Kirby -- right outside the Detroit Institute of Arts and Wayne State, for all those lucky college students who probably aren't even in town. From there, it's simple -- the route never leaves Woodward. It just goes all the way south unit it stops at Congress.
So, yes, make a mental note that the route passes right by Ford Field, where the Lions are playing at 12:30pm. If you're watching the parade near Grand Circus and are staying for the whole thing, you're sure to run into hordes of Lions fans.
If you want to avoid Lions madness, but still want in on some action, try the northernmost point of the parade. The finish line of the 10k Turkey Trot race is right at Woodward and Kirby.
What time is the parade?
The parade gets rolling at 9am from the DIA.
The "TV Zone" will be near Campus Martius, which is towards the south end of the parade. Given that they'll be broadcasting the parade on WDIV from 10am to 12 noon, super high-level math tells us that the event is two hours long -- the actually parading itself takes an hour to travel the whole route. End result? After the parade finishes, you'll have a half hour to get ready for the Lions.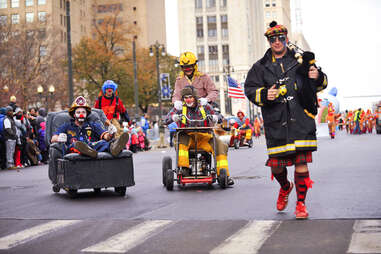 How can you get there?
The QLINE will be closed along Woodward Avenue Corridor for the entirety of Thanksgiving Day. Otherwise, it would run into the parade, duh. But with a combination of Detroit's bus system and a little bit of walking, you'll be sweet. Just get yourself to Midtown, Greektown, or the Cobo Center, and complete the journey to the parade route on foot.
If you reach Greektown, the Cobo Center (which has two parking lots), or elsewhere near downtown, you can take the People Mover for free from 6am to 7pm. Keep in mind that the Grand Circus Park, Broadway, and Cadillac Center stations will be closed for the actual duration of the parade.
If you want to park closer to the parade, in Midtown, you can pull into a Wayne State garage or the lots on Warren or Putnam. Closer to downtown, there are plenty of garages for Grand Circus Park, the Fox, Little Caesars Arena, and more.
What are the best viewing spots?
Grandstand tickets are already sold out, so you'll have to either stand or get creative. If you have any friends with apartments or offices facing Woodward, now is the time to say hello. District Market is also having a Thanksgiving Day party, where you can buy some early morning booze and watch the parade go past in style.
But if you want to see the parade on ground level, the Parade Plaza is near Woodward and Montcalm. And the TV Zone is near Woodward and Gratiot if you want the satisfaction of seeing what's on the TV in real life.
Where can you get coffee (and some food) nearby?
Let's face it: you're going to have to get up early for this thing. Here the places we know you can grab a coffee and perhaps a bite to eat before the big dinner, arranged from north to south.
Great Lakes Coffee Roasting Company (3965 Woodward Ave) -- While Great Lakes will technically be closed on Thanksgiving, there will be a stand outside the store during the parade, dedicated solely to providing you with coffee and hot chocolate.
Whole Foods (115 Mack Ave) -- Sure, it's a cop-out, but their baked goods can be surprisingly affordable, and you're sure to find some coffee in there somewhere, probably at the far end of aisle 37. They're open from 9am to 2pm.
New Order Coffee Roasters (3100 Woodward Ave) - New Order is another delicious coffee roaster right in the heart of Midtown. They'll be open from 6am to 1pm -- why not treat yourself to a cereal milk latte?
District Market (2645 Woodward Ave) -- Taking full advantage of its location right on Woodward, District Market is offering a free viewing party and will be serving food and cocktails almost from the break of dawn.
Avalon Cafe and Bakery Downtown (1049 Woodward Ave) -- Avalon's location right near Campus Martius has never looked more appealing. They'll be open from 6am to 1pm for you to stock up on baked goods, sandwiches, and steaming hot coffee.
American Coney Island (114 W Lafayette Blvd) / Lafayette Coney Island (118 W Lafayette Blvd) -- You were honestly thinking of having a Detroit-style Thanksgiving without a coney island?! Right next to each other -- and right along the parade route -- are two of Detroit's best coneys. American is open 24/7; Lafayette will open at 8:30am.
Roasting Plant (660 Woodward Ave) -- This place is often credited with serving the finest coffee anywhere in Detroit. Frothy lattes and excellent espresso will be brewed from 6am to 2pm.
Sign up here for our daily Detroit email and be the first to get all the food/drink/fun the Motor City has to offer.