Yes, there will be ribs from places like Old Carolina BBQ, Rub Pub BBQ, and Detroit BBQ Company, but there will also be so much more including cocktails, beer, cigars, and pig races. Yeah. Pig races.
Metro Detroit's 23rd annual diversity festival kicks off on July Fourth with a concert by Latin funk band Spam All-Stars in New Center Park. Shows the following week (9th-12th) include folks playing everything from rock to reggae.
You like drinking. You like hanging out. So does your dog! So head to Northern Lights where other like-minded individuals (and dogs) will be gathering for a fine evening of pups and cups.
Apparently, Grand Trunk has a few speciality kegs from Founders sitting around, and it's generously decided to share 'em. Prepare to drink some Kentucky Breakfast Stout and Devil Dancer!
It doesn't matter if you prefer the skinny Elvis or the fat Elvis; both versions will be here, along with every version in between. Be sure to check the site to see the full lineup of tribute artists to the one and only King of Rock and Roll.
By now you've seen Jurassic World and you were like, "Yeah, I liked the part where the mosasaurus ate that lady, but overall, it's got nothing on the original." So go see it, already.
July is time to drink outside, so join Experience Detroit as it leads you to some of Detroit's most appealing patios at Old Miami, the Alley Deck, and HopCat.
Windsor is more than just another casino option or a hazy memory from your 19th birthday party. Allow the good folks of Model D to expound upon the finer points of our friendly Canadian city to the south. Yes, south.
Of all the people to emerge from the 1960s, Neil Young is pretty much the coolest. He still effing rocks, he still effing does whatever he wants... which is apparently to to play this show on the 14th.
Whiskey, bourbon, beer, BBQ. Finally a reason to go to Ferndale. Well, four of 'em actually.
Sample Michigan's best burgers, fries, mac & cheese, and more while also enjoying some local brews from the likes of Dragonmead, Griffin Claw, North Peak, etc.
If there's one beer festival to hit in southeast Michigan this summer, this is it. More than 100 Michigan breweries, more than 1,000 beers. Hopheads and casual drinkers alike can get behind those numbers.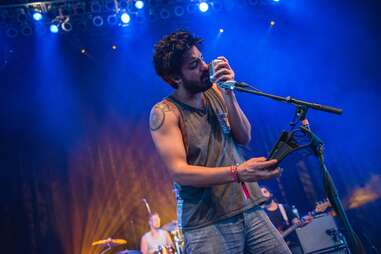 Modest Mouse, Passion Pit, Iron & Wine, Jessica Hernandez & The Deltas... there are plenty more, but those are a few highlights. There will also be a smattering of food trucks, a biergarten, and a craft bazaar.