There's probably plenty of new places that you've been meaning to try, and there's no better time than DRW (not Detroit Red Wings). Participating restaurants are still TBD, but those that are game will be offering up three-course dinners for $30/person. Bon appetit!
Cinco de Mayo
We would be remiss if we didn't include Cinco de Mayo on this calendar, and while there may not be a whole lot of specific events to attend, you should at least get some Mexican food from
El Barzon
,
Taqueria El Rey
,
Alley Taco
, or any of the other fine establishments on
this list
.
Long ago, Dylan made a
"bargain"
of sorts, part of that bargain being that he would continue doing shows in perpetuity. Who knows if that's true; though, just to be sure, you might as well catch him while you can.
There's a whole slew of events and movie screenings worth checking out this year, plus noteworthy appearances from several cast members of The Walking Dead; Katey Sagal and Ryan Hurst from Sons of Anarchy; and the original Karate Kid, Ralph Macchio.
There probably isn't a comedian hotter than Kevin Hart right now. If you can't make his first show of the night, don't worry, there's a second. He just has to take a short break in between to crank out another movie real quick.
The master of observational comedy's still got it, and his show is top-notch as always. Now you just need to decide whether you're seeing him or Kevin Hart. Or figure out a way to be in two places at once.
In a Midwest city full of craft beer and distilleries specializing in bourbon and vodka, tequila often (sadly) gets overlooked. But not on this day. Not when over 60 tequilas are assembled for your enjoyment, and you have a couple of tacos, and you say, "I should have way more tequila in my life."
You've already been riding your bike for, like, a month, right? Great, so you're all set to join Wheelhouse Detroit for a Belle Isle cruise, during which you can learn about Belle Isle gems like the aquarium; the conservatory; and Alpheus Starkey Williams and his beloved horse, Plug Ugly.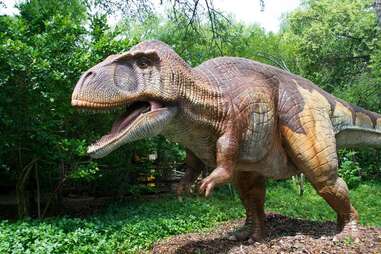 To tide us over until Chris Pratt and the Jurassic World crew submit their final report on the viability of a full-on dinosaur theme park, we have Dinosauria -- the Detroit Zoo's animatronic dinosaur exhibit. Depending on the Jurassic World report, maybe they'll be real next year.
It's time once again to don your neon and Lycra and remind the world where electronic music came from. Stay tuned for official (and non-official) after-parties, and remember that it's a three-day thing, so, you know... pace yourself.
You don't have to know an IndyCar from a TUDOR Championship Prototype to enjoy the Grand Prix. All you need to know is that there are ridiculously expensive cars going ridiculously fast. And if that's not really your thing, 3 Doors Down will be playing after the races on Saturday, and Smash Mouth will be playing on Sunday.
It's not easy when you first realize
you love Taylor Swift
, but eventually you come to terms with the fact that you and a 12-year-old girl share a small slice of musical taste. But, just because you're at the same concert doesn't mean all maturity, responsibility, and sophistication immediately go out the window. Right... ?