Mid-December in Detroit features the usual festive stuff you'd expect from the season, but you'll also find surprising large-scale events this weekend -- like a Monster Drawing Rally, or a three-floor music extravaganza in a bath house, or an indoor beer garden with mini-golf and a retro arcade. Whether you're seeking the holiday spirit or want to find something a little more unexpected, here are your best bets for the weekend.
Recommended Video
Brookfield Place Is Hosting the 5 Borough Challenge: Best Brews of NYC
Friday, December 14
MOCAD
The Monster Drawing Rally is, simply put, a brilliant idea: Over one hundred local artists fill MOCAD and create new works in two-hour shifts. As you watch the creative process play out all around you, the artists' new pieces will be on sale immediately upon completion for $40. Pleasantly manic excitement awaits you!
Price: $10 (free for MOCAD members)
Friday, December 14
Schvitz Health Club
Ever wanted to attend a techno/funk show in a sauna? Then the Schvitz is making your dreams come true! The historic (and gorgeous) bath house will be hosting a mini-festival spanning all three floors, so you can alternate between swimming, steaming, and dancing to your heart's content. Don't forget to bring your own bathrobe, bathing suit, and the like!
Price: $25
Friday, December 14
Belle Isle
Cold weather aside, Belle Isle is every bit as beautiful in the winter as it is in the summer. The Belle Isle Holiday Stroll highlights this often overlooked fact and provides you with some hot cocoa and cookies to combat the cold. Enjoy free holiday-themed crafts, music, visits with Santa, and more.
Price: Free
Friday, December 14 - Saturday, December 15
Masonic Temple
The 12 Days of GRiZMAS have included everything from yoga to bowling to "future roller disco." But the young electronic phenomenon's intriguingly cultivated events have all lead up to this -- the fifth annual GRiZMAS concerts. Both shows are sold out, but tickets seem to keep popping up. Good luck to you, and a merry GRiZMAS to us all.
Price: $42 and up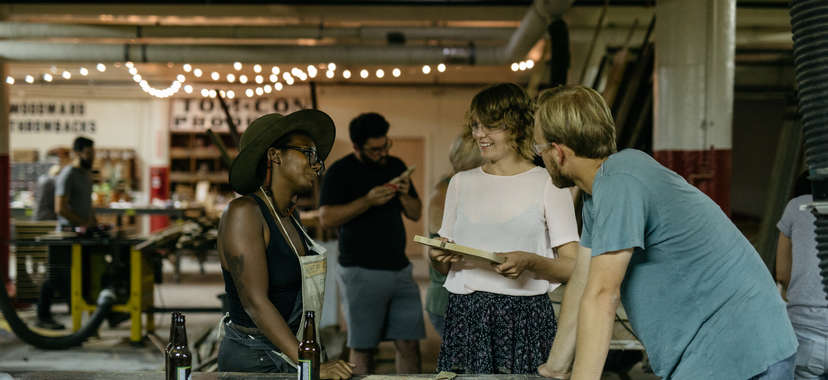 Saturday, December 15
Woodward Throwbacks
The Hamtramck Open Market is a carefully curated craft fair displaying a wide variety of local artisans and vintage and antique sellers. This year, the fair is partnering up with its neighbor, The High Dive, to make sure you can have beer with your crafts. There will be plenty of other local food and drinks vendors on site, too - including Paczkis!
Cost: $1
Saturday, December 15
Fisher Building
Calling this event a "holiday beer garden" is somewhat misleading -- because it's way cooler than that. Sure, having Founders provide beer is great, and it's helpful to have all the Fisher Building's shops open super late so that you find some gifts, but you're definitely going to want to come for the massive amount of free retro arcade games and the indoor mini-golf.
Cost: $5
Have a diverse music experience without leaving the room
Saturday, December 15
Marble Bar
Marble Bar is hosting not one, but two events on Saturday night that are worth your attention. First, Third Man Records is celebrating the first time rockers Laughing Hyenas have had their full catalog pressed on vinyl in 25 years. Then, starting at 1pm, Haute to Death will give you the gift of techno and house all night long.
Price: $5
Sunday, December 16
Senate Theater
The Ballet Folklorico De Detroit passionately dedicate themselves to showcasing traditional dances from Mexico. The resultant combination of dancing and costuming is stunning and beautiful, and their fifth annual holiday concert is shaping up to be a hot ticket.
Price: Free
Sunday, December 16
Orchestra Hall
The Deaf and Loud Experience is a collaboration with three genre-diverse composers who share an unexpected commonality: virtuosic percussionist Dame Evelyn Glennie, hip hop artist Sean Forbes, and jazz/pop singer Mandy Harvey are all deaf. Be ready for the Detroit Symphony Orchestra to show you how to experience music in a whole new way.
Price: $50-95
Sign up here for our daily Detroit email and be the first to get all the food/drink/fun the Motor City has to offer.