Sure, there may be a new chill in the air some evenings, and school may have already started back up, and the sun may be setting noticeably sooner -- but we promise summer's not quite over yet. No, before this best of seasons ends, there have to be sidewalk sales, hydroplane races, burgers, and art fairs. And Flying Lotus, of course. Here's our picks for enjoying one of the final weekends of proper summer (and here's how to make the most of the rest of it).
Recommended Video
Check in to Hotel Thrillist this September!
Friday, August 23 - Sunday, August 25
Detroit Film Theatre (DIA)
The Detroit Dance City Festival triumphantly returns to remind you exactly how jaw-droppingly incredible and diverse professional dance can be. Performers from distant corners of the globe like Korea and Spain will join local dancers for the Festival's stellar lineup. Festivities will also include workshops, a dance party, a screening of films that incorporate dance, and much more.
Cost: Varies by event; $35 gets you an all-day performance pass
Friday, August 23 - Sunday, August 25
Various locations
Perhaps the only thing that can beat a delicious burger is a cheap delicious burger. Knowing this, over fifteen of Detroit's best restaurants decided -- for one week only -- to offer their burgers for a mere $6. Which is objectively delightful. And yes, quite a few of these restaurants are offering veggie and gluten-free substitutes.
Cost: $6
Friday, August 23
Michigan Lottery Amphitheatre
If you were to brainstorm some of the most '80s-est '80s bands, Hall & Oates would almost certainly be near the top of your list. The cultural ubiquity of songs like "You Make My Dreams" and "Maneater" certainly adds to their catchiness. So why not just dance to your favorite '80s duo in person?
Cost: $39.50 and up
Saturday, August 24
North Cass
The end of summer is objectively sad, but at least it means you can hit up some good sales. On Saturday, over thirty stores around the North Cass area of Midtown will offer one-day-only deals. Not only that, but several locations will liven things up even more with events like live music, free refreshments, DJs, painting demonstrations, and more.
Cost: Free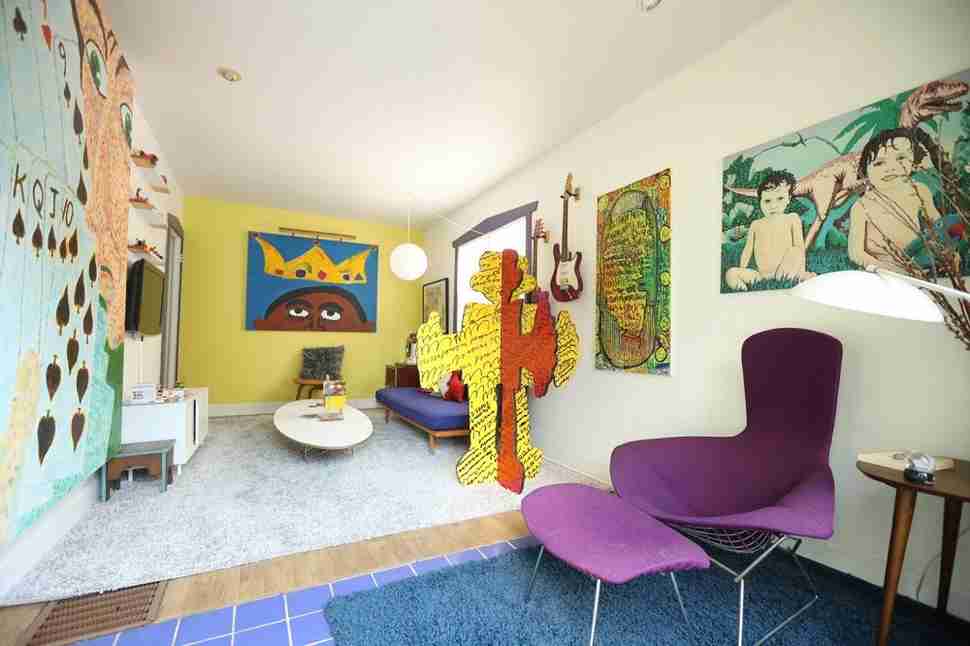 Saturday, August 24
Riverwalk
The Weird Homes Tour has, city-by-city, been cultivating intriguing afternoons around the country, and they're returning to Detroit for the second year in a row. You'll find yourself inside seven locations that are technically people's homes, but might as well be art museums. The tour allows you to drive yourself and go at your own pace, so you can ogle as much as you want.
Cost: $30 in advance, $35 day of, $45 VIP
Saturday, August 24
Royal Oak Music Theatre
Flying Lotus released his classic third album, Cosmogramma, nearly 10 years ago, and the LA-based producer has been on a roll ever since. One contributing factor to FlyLo's unstoppable presence is his live sets, where he does everything he can to combat the "just a guy with a laptop" stereotype -- by adding crazy 3D visuals.
Cost: $29.50, or $35 at the door
Saturday, August 24 - Sunday, August 25
Hazel Park
What's summer without an art fair? If you find yourself frantically searching for this classic summer experience, the Hazel Park Art Fair will feature tons of local and regional artists specializing in everything from jewelry to house decor to poster art. The Fair also includes activities like live figure drawing, performances, and more.
Cost: Free
Saturday, August 24 - Sunday, August 25
Detroit River
Let's admit it -- races are enthralling, especially when you're talking about some ridiculously speedy boats in the world kicking up huge waves. Hydrofest includes a grand prix of the world's fastest hydroplanes, plenty of insane race boats (including "speed skiffs"?!), and a hot rod show. Fun fact, it's also the "oldest active motorsports trophy" in the country.
Cost: $10 and up
Sunday, August 25
Charles H. Wright Museum of African American History
Detroit's musical legacy is vast, but perhaps no one movement is quite as synonymous with our city as Motown. Black Scroll Network History & Tours is therefore offering to take you on an adventure through the lives of the artists and producers who made Motown possible -- from their homes, to their schools, their clubs, and more, right to the front steps of Hitsville USA.
Cost: $35
Sign up here for our daily Detroit email and be the first to get all the food/drink/fun the Motor City has to offer.