We came. We saw. We zip lined. Denver might never recover from the 9th annual Hotel Thrillist Presented by Chase Sapphire, hosted at the AC Hotel by Marriot Denver Downtown. The weekend-long party stuffed full of food, drinks, and adventure blew through the Mile High City, packing a lifetime's worth of memories into one weekend. Here's a taste of the action for those who weren't lucky enough to score an invite.
FRIDAY
Guests were greeted at check-in with specialty cocktails inside the Chase Sapphire Lounge and a welcome bag full of Denver essentials. After hitting the 54Thirty Rooftop for cocktails and city views, it was time to chow down.
A Denver Feast Food Festival
This was not your typical dinner party. Thrillist curated Denver's best food vendors and local breweries to set up shop inside the AC Hotel by Marriott Denver Downtown. Guests could travel around the globe without leaving the second floor ballroom. Check out the diverse array of dishes on the menu...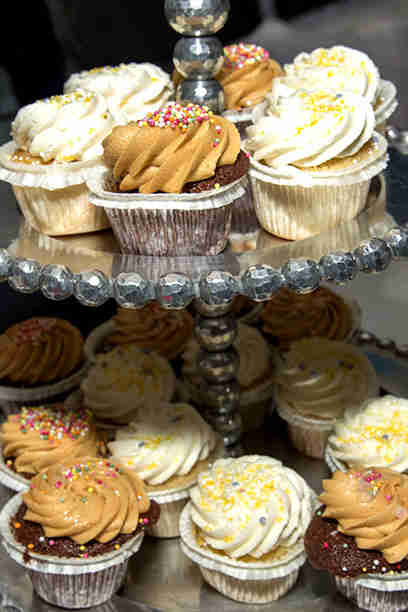 Church of Cupcakes
Pillar of Salt-ed Caramel -- rich ​chocolate cake with our own fleur-de-sel caramel buttercream
Bee-titude -- lavender-blessed cake with a honey-lemon buttercream
Chow Morso
Pasta Fritta Con Salmone -- puff pastry with salmon and herb creme fraiche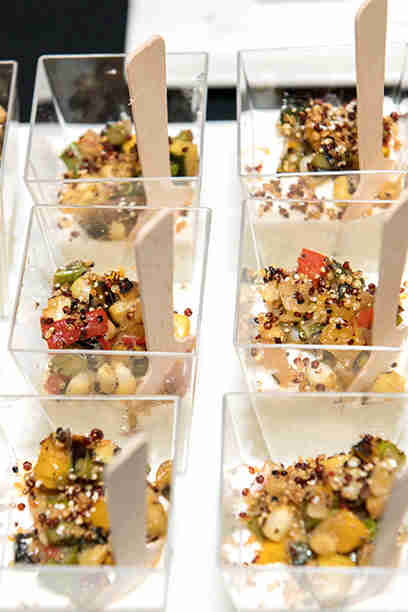 Barolo Grill
Parmigiano Reggiano Panna Cotta -- grilled summer vegetables, puffed grains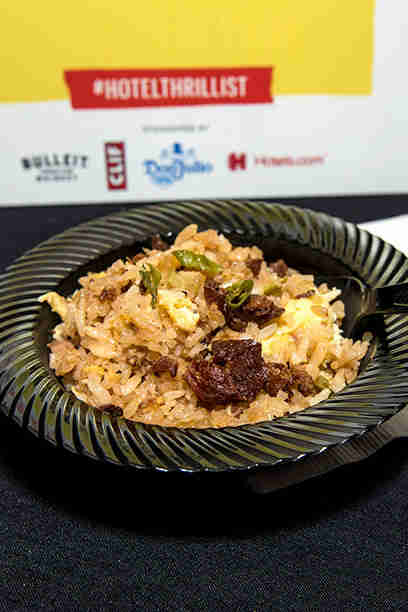 Onefold
Bacon Fried Rice -- fried duck egg, bacon, scallions, garlic, soy sauce, chili oil 
Cattivella
Pasticcio -- meatballs, three cheese tortellini, bolognese
5280 Burger Bar
Palisade Peach Cobbler - House-made Palisade peach ice cream with a house-made cobble
Senor Bear
Slow Braised Beef Short Rib -- with corn humita and vegetable escabeche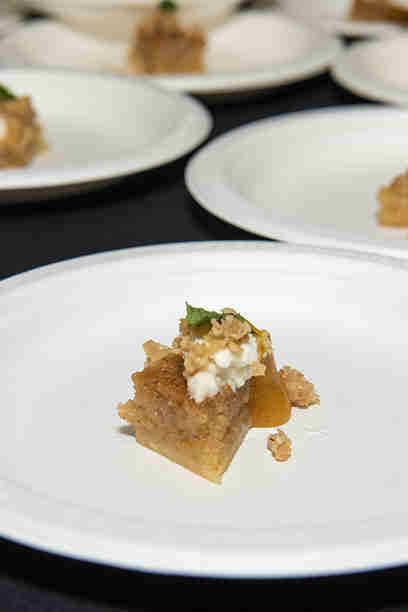 Bistro Georgette
Brown Butter Honey Pie -- Oat Crumble, Fresh Mint, Chartilly
Dos Santos
Pork Belly Al Pastor -- pork belly, handmade corn tortilla, pineapple, purree, cilantro
Ophelia's
Duck Meatballs -- Duck meatballs with green chili grits, lingonberry jam and pickled fresno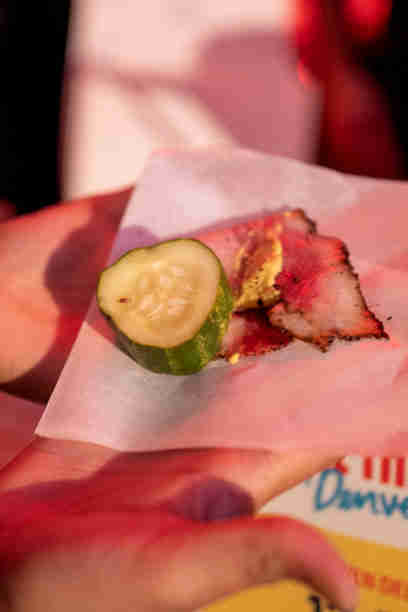 Leven
12 Day Pastrami + Mustard -- 12 dry age, 12 hour smoke, "holy trinity' peach hickory mustard
Ace Eat Serve
Brown Butter Lobster Siu Mai  -- Sea beans, kewpie garlic aioli, chili threads
The Plimoth
Smoked Pork Shortrib -- Peach BBQ, white bean hummus, hazelnut dukkah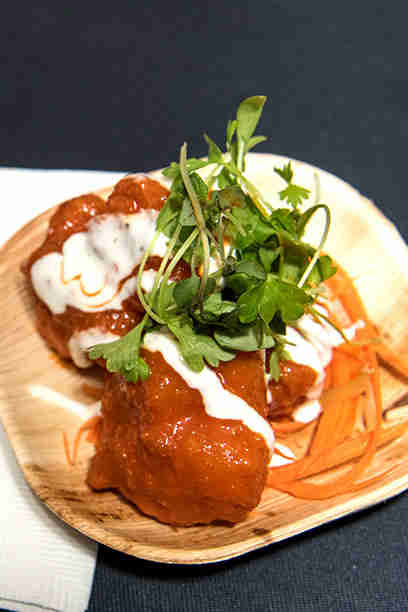 Corinne
Buffalo Cauliflower -- Cauliflower, House Made Ranch, Carrot, Celery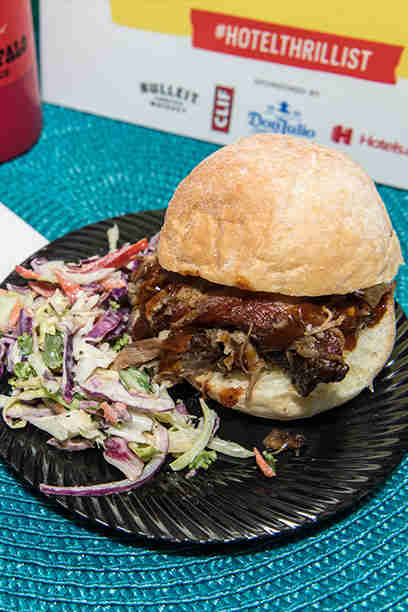 Roaming Buffalo BBQ
Smoked Lamb Sliders -- Cilantro Lime Coleslaw
Comal Heritage
Tamalitos Derajas A La Mexicana -- Corn masa stuffed with roasted pablano peppers, tomato, queso fresco & jalapenos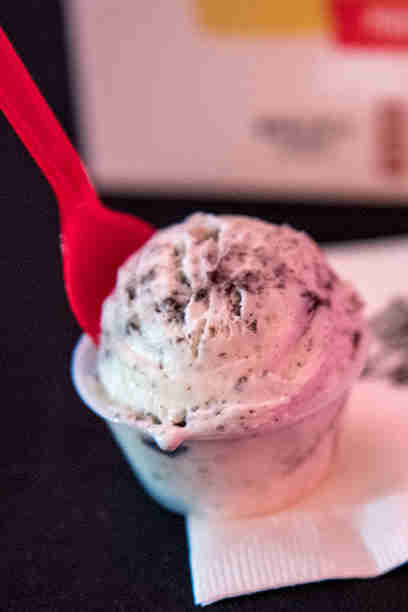 Little Man Ice Cream
Salted Oreo -- Handmade ice cream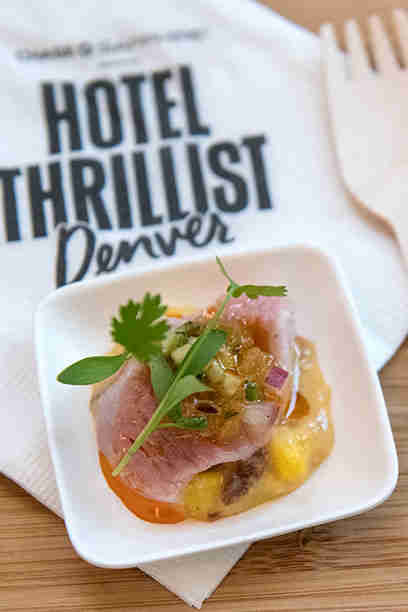 Avelina
Buttermilk Sous Vide Pork Tenderloin -- sous vide pork tenderloin, creamed corn, chorizo, peach salsa
BEERS
An eclectic array of brews from the neighborhood
ODELL BREWING
Sippin Pretty Fruited Sour, Cloud Catcher Milkshake IPA, Mountain Standard IPA
GREAT DIVIDE
Denver Pale Ale, Strawberry Rhubarb Sour, Yeti Imperial Stout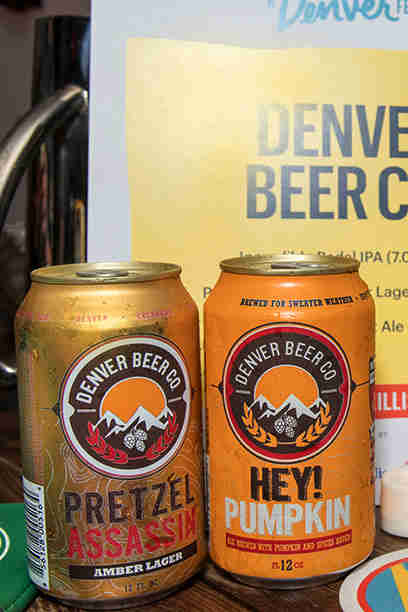 DENVER BEER CO.
Incredible Pedal IPA, Pretzel Assassin Amber Lager, Hey! Pumpkin Harvest Ale
RATIO BEERWORKS
Sparks Fly Juicy IPA, Stay Gold Oktoberfest Marzen, King of Carrot Flowers Carrot Elderflower Saison
COCKTAILS
From Tequila Don Julio & Bulleit Frontier Whiskey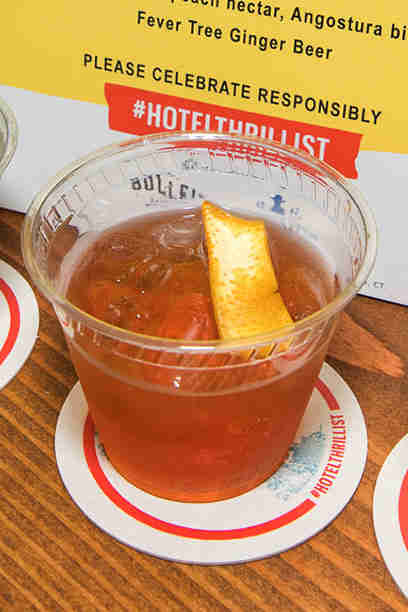 The Earl of Louisville
Bulleit Rye, Earl Grey Tea Syrup, Angostura Bitters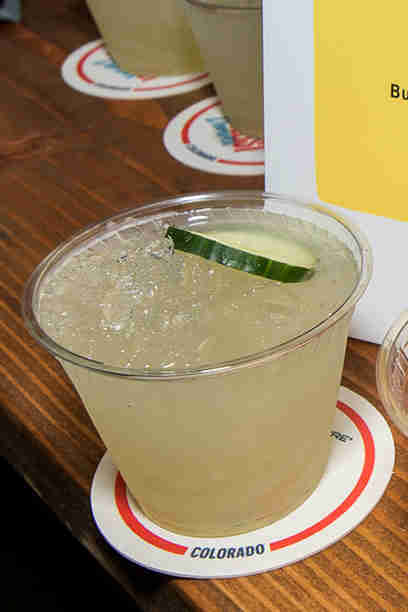 Going Green
Tequila Don Julio Blanco, Cucumber Syrup, Green Apple Juice, Lillet Blanc, Bitterman's Hellfire shrub, dash Scrappy's Celery Bitters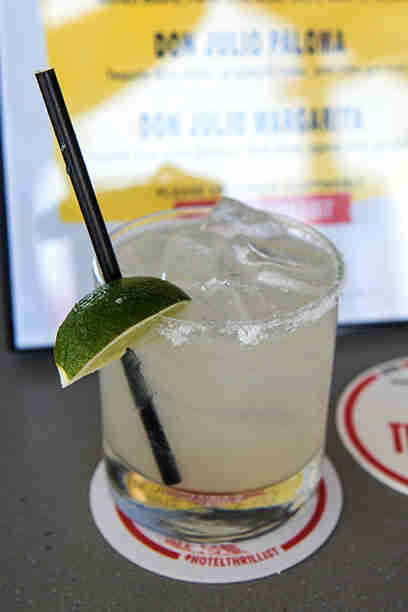 Don Julio Margarita
Tequila Don Julio Blanco, Lime Juice, Lime Garnish
10-Point Buck
Bulleit Bourbon, peach nectar, dash angostura bitters, fever tree ginger beer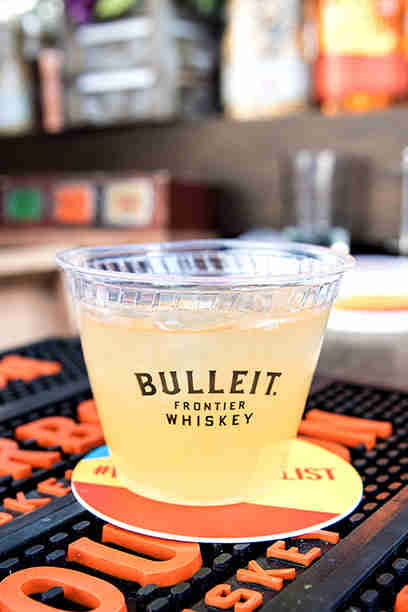 Bulleit Rye Mule
Bulleit Rye, Ginger Beer & Squeeze of Lime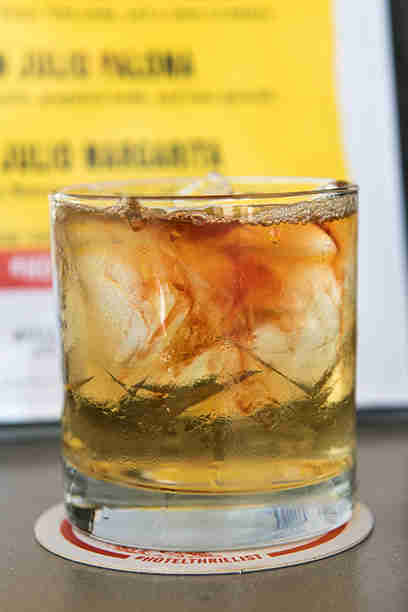 Bulleit Bourbon & Soda
Bulleit Bourbon, Fever Tree Soda, Dash of Bitters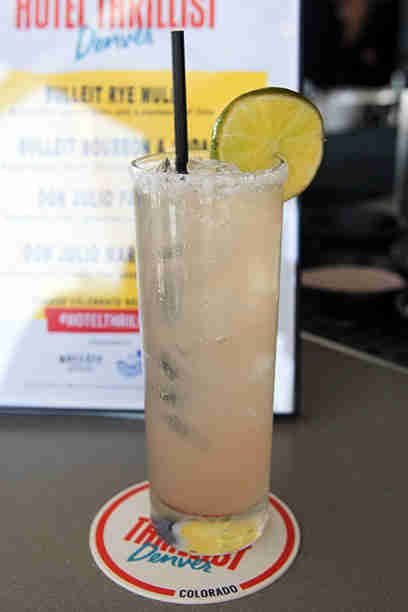 Don Julio Paloma
Tequila Don Julio Blanco, Grapefruit Soda, Lime Garnish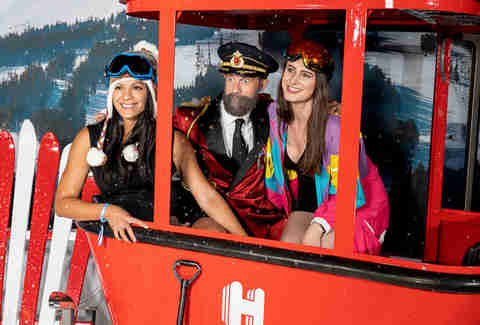 This was way more than just a dream come true for foodies. Guests could snap photos with Captain Obvious at the Hotels.com photo area, play pinball and ride simulation snowmobiles in the Bulleit Arcade Lounge, or let loose to the outlaw country-rock of Gasoline Lollipops reverberating from center stage.
Chase Sapphire cardholders were treated to the VIP experience inside the Chase Sapphire Lounge featuring even more food and drinks. Upon entry, guests were transported to an outdoor oasis, complete with dishes from Señor Bear and Bistro Georgette, a dedicated bar serving signature cocktails, and a loveseat swing for photo opps (pics or the VIP didn't happen).
After that, it was time to head to bed and rest up for the next day's busy itinerary... um, take the party to the next level. Shuttle buses brought the crew out to Temple, a multi-floor night club where the Tequila Don Julio & Bulleit Frontier Whiskey bottles lined the bar and confetti filled the air. The DJ duo Tritonal unloaded an endless cascade of beat drops in front of an undulating sea of dancing bodies accented by the giant red glow sticks being passed around.
The only thing left to do back at the hotel was...keep dancing. The food festival had transitioned into a silent disco. Dancers spilled out of the dance room and into the hallways, swaying in silence to the party popping off in their headphones. Headphones or not, there was still more food to gnosh on, including mini-burritos, chips & guac, and endless towers of pizza. 
SATURDAY
A couple hours later, all of the night owls transitioned into early birds. (Well, most of them, anyway). Snack bags packed with CLIF's Tart Cherry and Spiced Almond Ginger Whole Lotta bars served as the perfect sustenance for the trip out to Castle Rock Adventure Park. Plus, we served Present CBD-infused sparkling waters to keep everyone zen. A 6-part zip line tour eased newbies into the terrifying finale -- a 1,500-foot long, 100-foot high, 50mph race over the park to the finish line. The Adventure Tower sat at the center of the Park challenging visitors to "The Superman Leap of Faith" off the 75-foot tall platform at the top.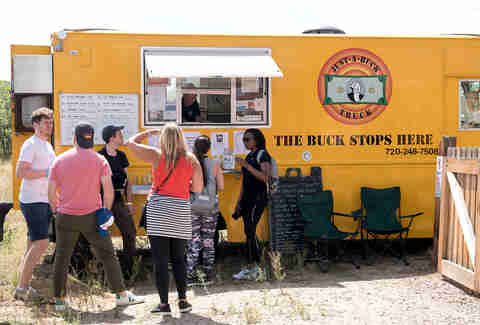 Street Snack Bubble Waffles, Just A Buck Truck, and Philly On The Go food trucks serving breakfast and lunch kept everyone full all day, while the indie pop of Wildermiss provided the soundtrack for climbers above on CLIF's Epic Sky Trek challenge course.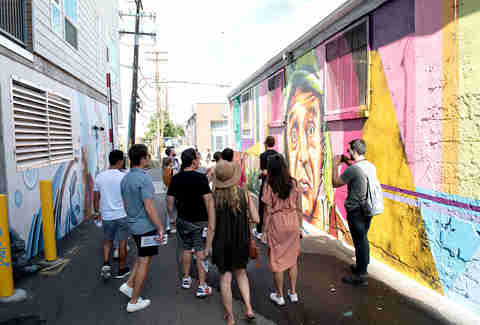 After all of the outdoor adventure, it was time for some culture. All afternoon, Hotels.com presented guided tours through the RiNo Art District, offering up a taste of the city's vibrant street art scene -- as well as the many local microbreweries in the surrounding area. Bierstadt, Ratio Beerworks, 14er Brewing Company, and River North Brewery treated guests to a variety of different flavors while artists worked on outdoor murals and installations. Patrick Kane McGregor provided a Hotels.com mural of the Denver skyline while TUKE One created a custom Thrillist logo mural.
A block party at Improper City wrapped up the events in RiNo, complete with food trucks and drinks for anyone who was parched from all that walking. Party goers had their pick from Lucky Bird, Veggie Whisperer, Bamboo Skewers, and Kings Counter Kitchen and could wash it all down with more delicious custom Bulleit Frontier Whiskey and Tequila Don Julio cocktails.
Another night of music kicked off when De La Soul bumped beats inside the historic Ogden Theatre in downtown Denver, ripping off classics from every decade of their discography while getting even the VIPs in the back to wave their hands in the air (as if they just didn't care). After the show it was the (surprise) after party, a neon-infused night inside the private "apartment" venue, Invisible City, thanks to our friends at Chase Sapphire. MICK effortlessly cut up hits from every genre of music you can imagine while guests danced along until they remembered they had a flight home the next morning.
A farewell breakfast at the AC Hotel by Marriott Denver Downtown on Sunday sent guests back to the real world with a full stomach -- and a phone full of photos to show off to everyone back home.