Aloha Festival

| Courtesy of Aloha Festival
Aloha Festival

| Courtesy of Aloha Festival
Autumn in Hawaii means more of the same -- blue skies and warm breezes. Luckily for us, the island still offers a bounty of outdoor festivals and concerts as well as indoor activities in ice-cold A/C to help us get into the pumpkin-spice-drinking weather. Get ready to wear your rubber slippers or break out your closed-toed shoes and hit the road this season with everything from marathons and food events to Oktoberfests.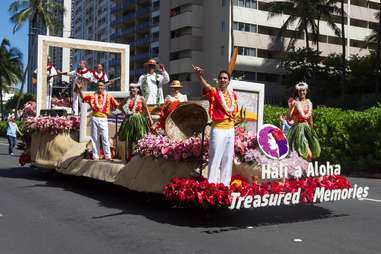 There's still have time to partake of the best new Korean cinema of the year. The Doris Duke Theatre has showtimes for The Battleship Island, the WWII true story of hundreds of Koreans struggling to escape forced labor; Anarchist from Colony, the tale of an innocent Korean man's arrest in Tokyo during the war; and Gook, a Sundance Film Festival selection about Korean brothers who struggle to run their late father's shoe store when tensions flare during the 1992 LA Riots.
Cost: $35 for GA; $30 for museum members
The chart-topping hip-hop artist stops in Honolulu for one night only on the second leg of his Future Hndrxx Tour. Earlier in 2017, Future became the first artist in the history of the Billboard 200 to drop two chart-topping records back-to-back with the releases of Future and Hndrxx a week apart. If you liked those records, expect to have a blast.
Cost: Tickets start at $59 + fees
Known as the "troubadour of heartbreak," the singer-songwriter and pianist returns to Honolulu to performs her hits about heartache, as well as songs from her new album Tightrope Walker, which features a new sound and discusses themes of perseverance and compassion.
Cost: Tickets start at $25
Part of the Aloha Festivals celebration, the 65th Annual Waikiki Hoolaulea block party shuts down the streets of Waikiki and fills them with food, entertainment, live music, hula, Hawaiian crafts, flower leis, and fun.
Cost: Admission is free
That's right, Ginuwine, 112, and Dru Hill unite to make all of your '90s girl-crush dreams come true. It's called the "Something for the Ladies Tour" for a reason.
Cost: Tickets start at $69
The Grammy-winning artist Brian McKnight's career spanned from gospel to R&B. These days he plays with a jazz quartet that features McKnight on keys, Isaiah Sharkey on guitar, Chris Loftlin on bass, and Gregory Daniel on percussions.
Cost: Tickets start at $45
Grammy-winning reggae artist Damian "Junior Gong" Marley hit the road for his
Stony Hill
album tour and pairs up with island music star J Boog to take over the Blaisdell Arena stage for a mega concert with special guest Eli-Mac and DJ Westafa. Their second date is
at the Maui Arts & Cultural Center
if you can't make the first one.
Cost:
Tickets start at $49
The island's largest food truck rally goes Deutsche for a full weekend of food and beer. On Friday, peruse 42 food vendors with at least one German-themed dish and choose from at least 11 beers in the beer garden. On Saturday, the food-to-beer ratio flips as the beer garden doubles their beer selection while the food truck choices wane, so strategize your Oktoberfesting wisely. For bonus enjoyment, pre-buy your limited-edition Oktoberfest stein, which gets you into the beer garden on both days, with one free pour.
Cost: $40
The fragrant parade closes out the largest cultural Hawaiian celebration in the nation with a procession from Ala Moana Beach Park through Kalakaua Avenue to Kapiolani Park, with horseback riders, floats, hula dancers, local bands, Hawaiian music, and thousands of beautiful Hawaiian flowers.
Cost: Admission is free
Couldn't make it to Europe this summer? Fear not, the Friends of Italy Society of Hawaii are curating the best of Italy in Oahu for a day, where you can stuff yourself with pizza, pasta, cheese, wine, bread, and gelato and learn a little Italian history. If wine is your favorite of the Italian food groups, you might want to opt for the Passport to Italy VIP Experience, which gets you a curated tasting, featuring 9 different Barbaresco Riserva Cru vineyards from Produttori del Barbaresco Riserva 2011.
Cost: GA is free, while VIP tickets cost $85
Support local agriculture at the 5th Annual Kahumana Farm Festival, a free community event where you can peruse over 60 local vendors, learn about plants, and participate in a seed and plant exchange while listening to live music.
Cost: Admission is free
Hips shake and torsos twist in beautiful shapes at this year's annual belly dance convention, which opens with a Q&A panel and follows with a Shimmy Showcase at the Doris Duke Theatre and workshops at the Blaisdell Center. It all wraps up with a VIP after party at Wisp Restaurant and Lounge.
Cost: Tickets start at $12
Two weeks before Halloween is the perfect time to pick out a locally grown pumpkin or two to get into the holiday spirit. Jump on a free tractor hay ride or carnival rides, play festival games, or just sit and eat local food before finding your perfect pumpkin match.
Cost: Admission is $3 and pumpkins will be priced according to size. Note: It's cash only.
Over their 90-year history, the Globetrotters have entertained dignitaries, popes, queens, kings, and millions of fans across 112 countries. They return to Oahu for two nights of expert ball handling, spectacular dunks, trick shots, and trademark comedy.
Cost: Tickets start at $18
This yearly festival brings together local and internationally renowned chefs to serve up delicious food and beverages. The epicurean events span three islands and three weekends. This year, 12 events are offered on Oahu alone, where you can explore raw and wild food foraged from the islands, drink specialty cocktails, and sample East-meets-West flavored dishes poolside at The Modern Honolulu, taste brothy and noodley concoctions designed by celebrity chefs, or -- if you have $1,000 to spend -- attend the Halekulani Culinary Masters Gala, which will pair the elegant cuisine with high fashion.
Cost: Prices for individual events vary from about $5 for museum admission and $32 for cooking classes, to over $1,000 for the gala, with a broad range of options in between
The island's largest pride parade marches through Kalakaua Avenue, culminating in a festival at Kapiolani Park, with live entertainment and a broad range of special events, including seminars, a pub crawl, parties, and fundraisers. This year's theme is "Celebrate the Rainbow."
Cost: Varies by event
The Canadian rock band passes through Honolulu to celebrate 15 years of its legendary debut album No Pads, No Helmets...Just Balls. The album helped launch their career with hits like "Addicted" and "I'm Just a Kid," hence the cross-country tour.
Cost: $39 + fees
If you missed seeing Moana on the big screen, you have a chance to catch the Disney movie from the top of the Convention Center. After the sun sets and the live Hawaiian music plays, watch the adventures of Moana as she sails across the open ocean.
Cost: Admission is free, but parking is $5
In its 37th year, the festival continues to bring together a curated collection of films about the human experience across the Asia-Pacific region. This year, the festival includes a European film section and the Film for Thought program, which combines thought-provoking film with scholarly debate.
Cost:
Not yet available, but check
hiff.org
for the latest info
The first concert of the Hawaii Symphony Orchestra's "Music That Rocks" series brings the legendary singer back to life with Who's Bad, Michael Jackson's longest-running tribute band, which features dancing and vocals by James Times.
Cost: Tickets start at $29
"Around the Globe in a Glass" is an event that lets you drink your way through tons of wine from around the world paired with a five-course dinner prepared by Executive Chef Rey Baysa in the private entertaining room at the Hilton Waikiki Prince Kuhio. Come for the food and drink, stay for the panoramic ocean and sunset views.
Cost: $80
Fall and winter on Oahu mean that it's big wave season for the North Shore. This 39-day surf series starts at Haleiwa Alii Beach Park with the Reef Hawaiian Pro, then stops at Sunset Beach for the World Cup of Surfing, then closes at Pipeline for the Billabong Pipe Masters, where the world's greatest male and female big wave surfer will be crowned.
Cost: Admission is free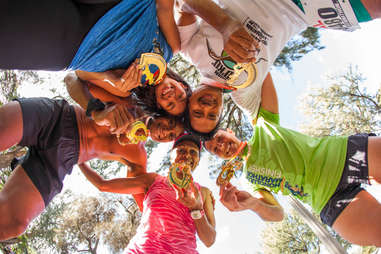 Watch the classic animated television special come to life on stage as Charlie discovers the true meaning of Christmas in this Eric Schaeffer adaptation of the Charles M. Schulz classic.
Cost: Tickets start at $15
You don't have to be in world-champ shape to run this course, which offers everything from a half-marathon championship course, a 10K, 5K, and a brisk adventure walk. The run traverses through the working 4,000-acre cattle ranch, winding you through rainforests, mountain cliffs, and open valleys that also served as backdrops for many movies and television shows.
Cost: Admission prices vary by event
This year marks the 75th anniversary of the attack on Pearl Harbor. The National Parks Service and US military will host day-long events, including a remembrance day ceremony at the exact time of the attack, ringing the Spirit of Liberty Foundation Freedom Bell, a memorial medley played at the USS Missouri, and a parade from Fort DeRussy to Kapiolani Park. Many of the events are open to the public and some will be live streamed on television for those who cannot attend.
Cost: All events are free, but note that some are limited
One of the most-finished marathons in the world, this destination marathon is a bucket-list item perhaps for its occasional scenic ocean views and path straddling volcanic craters. It's a lofty task, but all you have to do is complete the 26.2 mile course once and you'll have bragging rights forever. Best of all: Unlike many other marathons, there's no time limit, so you could cross the finish line long after the sun goes down.
Cost: Cost for the marathon and other events vary, but they'll be pricier the closer the date gets
Sign up here for our daily Honolulu email and be the first to get all the food/drink/fun in town.
Summer Nakaishi is a freelance writer for Thrillist who's not the biggest fan of pumpkin but will consume pumpkin-flavored items in the name of fall.