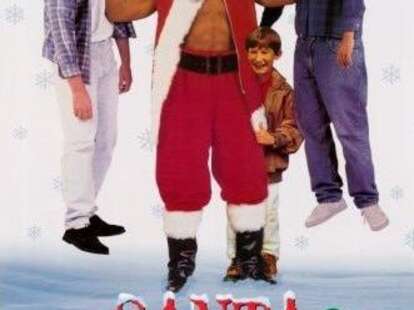 There're good movies, there're bad movies, and then there're movies starring Hulk Hogan as an amnesiac millionaire who thinks he's Santa, and beats up Garrett Morris to save an orphanage. Giving you number three, Horrible Movie Night
Started two-and-a-half years ago as a living-room tradition by a longtime animator for The Simpsons and his wife, and just recently opened up to the public with theater screenings, HMN's a monthly showing of the truly worst movies ever made, with an emphasis on finds via YouTube, bargain bins, and IMDB's bottom 100, yielding deep catalog classics like Suburban Sasquatch, rather than typical "Worst Movie Ever" fare, because TNT already bought the broadcast rights to those. Each's shown on theatre row in Hollywood, with a liberal alcohol policy and beer for sale in the lobby; to maintain the casual feel of early screenings, the film's stopped in the middle for a short performance by improv troupe The Omelettes, who riff on audience suggested "nuances", and return post-screening to do a skit based on how they assume casting went or what the sequel would be like... so now you know when to use the restroom. Mystery Science Theater 3000-style audience participation's also encouraged, with the funniest attendee one-liner given a small prize, like a poster of the film signed by the director himself -- no surprise 'cause that dude is always super cool about letting you order off of P.F. Chang's dinner menu even when you're just kickin' it at the bar.
This Thursday, HMN will be screening the aforementioned 1988 Hulk Hogan vehicle Santa With Muscles, also starring Ed Begley Jr-- 'cause there're good actors, there're bad actors, and then there's that ginger from St. Elsewhere just driving around LA in an electric car.