Halloween comes at the perfect time in Houston, when the weather is cooling down but it's still warm enough to wear that sexy Lil Nas X costume you've been working on. It makes sense, then, that the city would treat the holiday not as a one-day event, but more as a month-long mini season. From monster Halloween night costume parties and ragers to "boo"zy pub crawls, haunted balls and masquerades, and creepy ghost tours, here's everything Halloweeny you need to pack into the schedule this month:
Spending Halloween outside of town? Check out our guides to the best Halloween parties and events in NYC, LA, Chicago, Las Vegas, Nashville, San Francisco, New Orleans, Miami, Seattle, Portland, Atlanta, DC & Boston.
Every day in October
Houston
Walk with the spirits and (hopefully) live to tell the tale on this local ghost tour, with tours in Houston (including stops at Hermann Park after dark and a hospital), Old Town Spring (one of the most haunted Old West Towns in America), and Humble and Tomball (two eerie railroad towns that hold secrets and stories from the past).
Price: $14.95 to $20
Wednesday-Sunday starting October 2, with additional dates closer to Halloween
Downtown
Take a haunted pub tour of Houston to discover the city's creepy, spirited past. The haunt begins at Charbar (one of the oldest bars in town), where you can collect some spirits before running into the real deal spirits on the 2.5-3 hour walking tour. 
Price: Tour tickets are $25, with drinks on you (or your new ghost friend)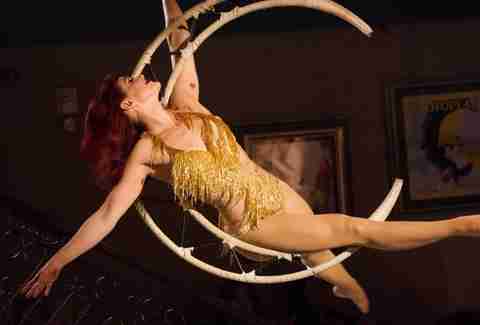 Fridays in October, plus Saturday, October 26 and Halloween night
Prohibition Theater (Downtown)
No plague has been so fatal, so hideous, as the "Red Death." Though Prince Prospero foolishly feels plenty safe in the confines of his castle walls, so he's throwing a most opulent party… and you're invited. See if you can be saved from the gory epidemic as burlesque troupe the Moonlight Dolls puts on an ominous, immersive theatrical production perfect for the season. 
Price: $58 for general admission, $70/person for a private table for two
Friday, October 11
Scout Bar (Webster)
Costumes are encouraged at this Halloween edition of Scout Bar's '90s throwback. Expect music (and outfits) from Britney and Mariah to 2Pac, Nirvana, and Blink182. The party runs from 9pm to 2am.
Price: $5 in advance, $10 day of the party, $30 for VIP, or FREE before 10pm with RSVP
Saturday, October 12
Numbers Nightclub (Montrose)
Get titillated as the local artists and performers of the Kinky Collective put on a show at Numbers Nightclub from 9pm to 2am. The event is 18+, and you'll need an ID to drink. 
Price: $7 online, $10 at the door
Saturday, October 19
Axelrad Beer Garden (Midtown)
Bring your mat and hit the beer garden for a Halloweeny, '80s-style Thriller yoga session at 10:30am, then stick around for brunch, coffee and booze. Vendors will be offering Southern breakfast sandwiches, burgers, Jambalaya egg rolls, iced coffee, and Pumpkin spice lattes, while the bar has your back with drinks like mimosas, Bloody Marys, and beer. 
Price: $10 day of
Saturday, October 19
200-300 blocks of 19th (Heights)
The Houston Zombie Walk's ninth annual fundraiser will go down from 5-10pm on the 200-300 blocks of 19th Street, with live music, food trucks, arts and vendors, beer tents at which you can drink beer to support Pup Squad Animal rescue, and a special FX blood splatter zone. 
Price: $10 donation to enter, with monies benefiting HZW's Too Ghoul For School Education fund
Select days beginning October 19
Ashton Villa (Galveston)
Explore all the creepy nooks and crannies of the 1859 mansion of Miss Bettie Brown. The Italianate villa miraculously survived the Great Storm of 1900, and rumor has it some spirits may have as well. 
Price: $30
Saturday, October 19
40 Below (Downtown)
Head to 40 Below, the underground club beneath Revention Music Center, for a Halloween-themed Silent Disco Party starting at 9pm. Put on your headphones and jam to beats from E-Major, Vanilla Trill, Pearbear, DJ Dez and Lanke. The event is 21+.
Price: $18
Friday, October 25
Hamburger Mary's (Montrose)
Hit Mary's After Dark to experience an LGBTQ pop-up party hosted by 93.7 The Beat DJ Shante, iiAmDevin The Emcee, and Kea Wunofakind. Sexy, fun, and diverse costumes are not required, but are requested nonetheless.
Price: $5 online and $10 at the door (free with RSVP 'til 11pm), with tables and bottles available
Friday, October 25
National Museum of Funeral History (North Houston)
It doesn't get freakier than a Halloween bash at a museum of funeral history. Doors open at 10pm, when you can creep your way through the haunted house to get to the dance floor, two bars, live DJ music, and a costume contest with a $500 prize.
Price: Tickets start at $30 early bird
Saturday, October 26
Karbach Brewery (Lazybrook/Timbergrove)
This Halloween-themed run starts bright and early at 7am, so it's a good thing there's beer afterwards.
Price: Register for $45 for the 10K and $40 for the 5K (kids run $20)
Saturday, October 26
No Label Brewing (Katy)
Bring your pup for a Halloween Pawty at No Label Brewery, complete with the cutest costume contest for your four-legged friends, and beers for you.
Price: Free to attend; there will be a $5 contest entry fee at the event, with all proceeds benefiting Greenawalds Service Inc / K9 Charlie's, rescue dog programs
Saturday, October 26
Howl at the Moon (Midtown)
Dueling piano bars are always a good time, so you can fully expect Howl at the Moon to bring the full moon crazy for Halloween. Sip witch's brew margaritas, truly spooky hard seltzers, and buckets o' blood (just kidding, beer), and bring your A game for the costume contest; 1st prize gets 100 bones.
Price: Cover starting at $5
Saturday, October 26
Westheimer (Montrose)
Now in its 13th year, The Montrose Crawl has become a Houston Halloweentime legend. Break out your best costume and make your way through 10 bars and restaurants between Dunlavy and Montrose on Westheimer, including Brasil, Poison Girl, La Grange, Pistolero's, Boondocks, Stone's Throw, Catbirds, Present Company, Slick Willie's, and Hay Merchant, plus The Burger Joint for the afterparty. The crawl starts at 6pm, and prizes will be awarded for the best outfits at each stop, with a grand costume prize awarded at Slick Willie's at midnight.
Price: No cover and no tickets, a portion of drink sales during the Crawl will be donated to the Houston Area Women's Center
Saturday, October 26
Downtown
With bars on bars on bars on bars, Downtown Houston is a choice spot for a Halloween Pub Crawl. You can go at it on your own, or join the Nightcrawlers edition, where ticket-holders are granted access to $3 drink specials from 3-9pm. Participating bars are TBA.
Price: $30 for full access to participating bars, plus $3 drink specials
Saturday, October 26
Midtown
A five pack of Midtown's hottest bars will be on the ticket for this pre-Halloween crawl. Hit Capitol Bar, Dogwood Houston, Front Porch Pub, and Jack & Gingers from 4-10pm, then go to the TBA after-party locale from 10pm to midnight.
Price: Tickets start at $20 and include two free drink tickets and special access to food and drink specials
Saturday, October 26
Grand Prize Bar (Museum District)
Get all the Blood, Beer, TeKILLa, and fear at Grand Prize Bar's Slash Bash, which features a collect the deck scavenger hunt, killer prizes, tunes by Grave City DJ, and tricks and treats performed by Dylan Bryson. 
Cost: Free to attend
Saturday, October 26
Houston Museum of Natural Science (Museum District)
HMNS is opening up its entire museum to you and whatever dumb, last minute costume you come up with this year. Expect live music, DJs, food trucks, dancing with the skeletons, and a spooky kooky good time. 
Price: $30 for members, $60 for non-members
Saturday, October 26 - Sunday, October 27
Todd Mission
Expect even better people-watching opportunities and costumes as The Texas Renaissance Festival takes on All Hallow's Eve, from 9am to 8pm both days. There'll be your usual kings and queens, knights and nobles, fairies, elves, and pirates, sure, but with a way creepier feel.
Price: Presale tickets start at $23.95 per day ($34.95 for the 21-and-up after dark experience)
Saturday, October 26
The Ritz (Hobby)
Unleash your carnal cravings at this 16th annual ball, a Carnival Mardi Gras-themed night of costumed erotica. From 9pm to 2am, clubbers can go wild over three different party zones, featuring three stages and four DJs spinning all night, plus an outdoor palapa bar. 
Price: $60
Thursday, October 31
Memorial Park
Get all Blair Witch with a hair-raising walk through the woods on Halloween night. The BCO club will be meeting at 6pm near the rugby/soccer field parking lot on the south side, departing at 6:30pm sharp. After you slither your way through the deep, dark forest trails, stick around for pizza, boos, and BYOB booze. 
Price: Free, but bring $5 if you want to share pizza
Thursday, October 31
Belle Station (Midtown)
Spend Halloween night at a Texas Chainsaw Massacre-themed party in Midtown. Beginning at 8pm, the evening will feature different categories of costume contests (Scariest, Sexiest, Best), multiple DJs, a haunted maze, and more.
Price: $10-$20
Thursday, October 31
Miller Outdoor Theatre (Museum District)
Bring a blanket and cozy up for a retro horror flick on the hill, as you settle in for zombie thriller Night of the Living Dead at Miller Outdoor Theatre. The show goes on rain or shine at 7:30pm.
Price: Free, with open seating on the hill and no tickets required for covered seating
Thursday, October 31
Bosscat Kitchen and Libations (Galleria)
Bosscat will be rocking treats, cocktails, costumes, DJ music and more at its Whiskey & Witchcraft party, held from 8pm to midnight. Dress up for the costume contest, where there'll be prizes for Best Couples Costumes, Scariest Costume, and Funniest Costume. 
Price: $35, includes one cocktails, passed apps, and a $10 donation to Hermann Park Conservancy
Thursday, October 31
Boheme (Montrose)
Celebrating Halloween night as well as its 13th anniversary, Boheme is throwing a spooktacular Drag Show from 9-11pm. Guests can also expect a Halloween Costume Contest with $1,000 in  cash prizes. Reservations are required, and there's a $25 cancellation fee.
Price: Minimum spend $25 per person 
Thursday, October 31
Hotel ZaZa (Museum District & Memorial City)
Hotel ZaZa's Fright Night party runs from 10pm to 2am at both Houston-area locations, with bottle service, spooky specials and light bites, DJs and dancing, costumes, and spine-chilling fun.
Price: $50.00
Sign up here for our daily Houston email and be the first to get all the food/drink/fun in town.